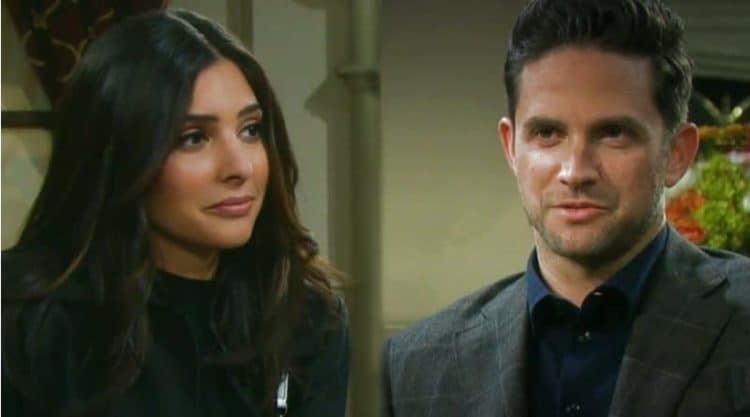 Days of Our Lives fans get to learn a lot about people, but we are wondering if there is a chance there could be a bit more to Stefan than we thought we saw coming. He's not that old around here, and he's not someone we even knew existed until about a year ago, but here he is always there making problems and causing issues and doing things that make us all feel uncomfortable and weird and unhappy about life. But, we also get it to the point that there is more going on than we thought. We are not sure he is a nice man, but we are also uncertain that he is a horrible man. He is not someone who doesn't get what he wants and then throws a total fit — all the time — but he is someone we'd like to get to know more about. It's just our thing right now.
He's a Long-Lost Child
We shouldn't be surprised by this, though. He's a child who no one seemed to know about, or at least want to talk about for a long time. He's a man who wants to be there for people, and he wants people to be there for him, and he's not someone who will ever change his opinion or his ways. But, we also know that there is a lot more to him than we thought — previously. Of course, there is something else we don't know and we don't get to focus on; he's a child of a woman who hates everyone, whom everyone hates in return, and a father who caused more problems than not. He's the long-lost son of Vivian Alamain and Stefano DiMera. He's no one that was even mentioned until he showed up in 2017 and made his mark on the families he is so connected to.
His Parents Did Not Know he was Alive
The real kicker here is that no one knew Stefan was even alive. He was born with his birth father was pretending to be another man so he could seduce Vivian and steal from her. She got pregnant, and Ivan lied to her when the baby was born and told her that the baby was stillborn. Except, the baby was perfectly fine, alive, and well, and he was taken off and raised elsewhere. He was raised elsewhere, with a different name, and a different family. He did not learn the truth about himself until recently, and he did what he could do to find Ivan and get the truth from him.
His Real Name was Changed
Stefan DiMera was not born Stefan. In fact, he was raised as Sam. He found out who his parents were before he came to Salem, and then he legally changed his name. He wanted to take on a name like his father, so he changed his name to Stefan Octavious DiMera simply so he could be Stefan O. DiMera and almost be just like his father. We liked it. And he liked it, and his family — his new family — did not like it. He was certainly not a man who was well-received when he came into town, and we do get that.
He's Forging His Own Path
While he might have some bad blood running in his veins — literally, with parents like his — he's not showing himself to be just like them. He's not afraid to stand up to the people in his life. He's not afraid to make sure his mother knows that he is not going to stand for her behavior and the many things she's done already. He will not allow her to make the same mistakes that were made in the past, and he will not allow her to become a total wreck in terms of his life. He's making some changes, and he may even be using his similarities to his parents in a way that doesn't work for them so much as it works for him. He's not afraid to make some changes, and that's why we feel that we like him so much. We also think he is growing on many — and that's something that they might not see coming in their own lives.
Tell us what's wrong with this post? How could we improve it? :)
Let us improve this post!