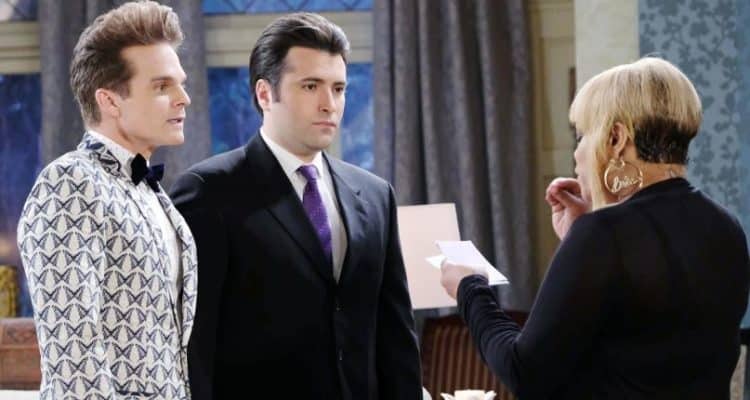 Days of Our Lives fans are all kinds of excited about all that happened in the past week, but it's time to start a new week. It's the last week before the holiday week begins, which means it's the last week in which you can handle things that might be doing you a disservice by nothing being what you want it to be. For now, we are going to stop and talk about some of the highlights and fine points that occurred last week. For one, we all saw that Leo and Sonny were set to get married. It's not what Sonny wanted. In fact, he was ready and willing to marry Will again, but Leo said that will never happen, and he blackmailed Sonny into a wedding for them. Of course, that's natural. Sonny killed Leo — or so he thought, and Leo now has the kind of power that could send him to jail for a very long time if he doesn't get his life together.
And that was interrupted. Then Jason gave Chloe a letter that changed her life forever. She might not be entirely sure what to make of that letter, but she's got the power to make some big changes in her own life if she takes that kind of time to herself. She can do this, but she has to focus on what might happen if she does not. She's not the kind of girl who can just get away with whatever it is she is working with. She's the kind of girl who has to focus. Eric wants Holly. Maggie changed her heart about all of it, and Julie made it her mission to go and see if she could catch Gabi in the act of ruining lives and being a totally awful human being. It was a good week.
What's Happening on Days of Our Lives
Mom♥️ @nbcdays ⏳#Days pic.twitter.com/rDeGaK8T7p

— Kyle Lowder (@KyleLowder22) December 13, 2018
We just love when people love their coworkers so much. It brings joy to our hearts and makes us feel good about the world around us!
What's Next on Days of Our Lives
Julie learns the truth about what Gabi has done… and pays dearly for it. Watch #DAYS, weekdays on NBC. pic.twitter.com/iJdQMDO7Ak

— Days of our Lives (@nbcdays) December 14, 2018
It's not going to be a good start to this week when it comes to Chad and his life. If there is a real situation in which "Could this day get any worse" was a real situation, it's all about Chad right now. This is not his time at all. He thinks he's lost his wife forever — which is entirely possible since what he did with Ben is not something she may ever forgive him for — and now he thinks her ugly personalities have taken over again and she's off living a beautiful life as Gabby with Stefan and their new baby. It's not good, but she's just playing a game. Everyone is upset with him, and it turns out that Victor is about to lay down the law with him for betraying the family. He feels that what Chad did to Sonny is something that no one can ever forgive.
And that's probably true, but he doesn't have time for this right now. All he can do is think of how he will get his family back, how he will put his wife back together, and how this will work for him. Meanwhile, the baby mama drama will continue with Chloe and Eric and everyone who wants to take Holly for themselves. Nicole wrote a letter, and that letter has completely changed the game for everyone. And that's what will be the big situation this week leading into the Christmas week next week and the New Year the week following. It's emotional and a little crazy, but we totally get it all.
Stay tuned for more Days of Our Lives and be sure to check out TVOvermind daily for the latest Days of Our Lives spoilers, news, and updates.