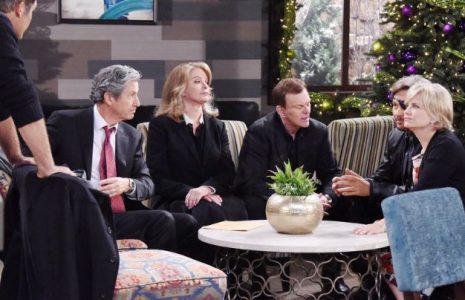 Things are gearing up for a new year on a brand-new Days of Our Lives as babies are born, relationships are tested, and friends become enemies. Deimos will do whatever it takes to make sure Nicole gets her baby back from Chloe, and he's not going to let her win. He's not even positive at this point that the baby girl Chloe had is Nicole's, but he's also not stupid. Holly is the baby's name, and Chloe isn't saying a word about this little girl not being her own. Nancy is on the scene with Chloe, and they know she knows the truth. Nicole is also there, and she's got an emotional attachment to the baby girl already, but they don't know how to make sure she finds out the truth. They're not giving up.
Rafe is now working hard to be sure that Stefano is not dead. He's got the proof thanks to Shane, but he's got to find out how this happened and how it can help Hope. She's in grave danger the longer she remains in jail, and he has to find a way to help her so he can get their lives back to normal as quickly as possible. Can he find the proof they need to make it impossible for Andre to keep Hope in jail for the alleged death of Stefano?
In the world of teenage pregnancy, it seems that Joey and Jade are finally on board with becoming parents. They've had more than their fair share of health scares and a crazy year, and they're ready to put an end to all the horrible things they view as being too awful to experience. Now they're excited and finally looking forward to their future. It's not going to be an easy road for them, but they're willing to work for it.
Chad isn't sure what's going on, but he's missed his wife so much and he's so happy she's home. He's angry, and he feels he cannot trust her anymore. However, he's also growing closer to her once again, and it's leaving Gabi out. She's not happy about it, but what did she expect when she became close to a man knowing his dead wife was actually alive?