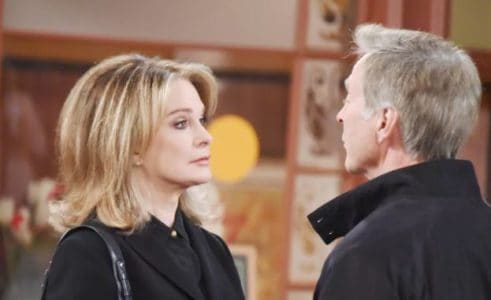 Days of Our Lives spoilers tell us more is going down at the end of this week than we previously thought. We know that Hattie was trying hard to win over Roman after she took over Marlena's life and dumped John, but it didn't work out for her. She's not a good person, so we aren't surprised. Even with Marlena's pretty face, her ugly attitude shines through like the sun on a beautiful day. The entire situation is made even worse by the fact that no one yet realizes that the real Marlena is missing. John is horrified she's chasing after an old flame.
Fortunately, Roman isn't all that interested. For one, he's been over her for a long time. Secondly, he's aware she's been with John for a long time and that she's happy. He might be confused right now, but he knows that things aren't always what they seem with her. She's making some questionable decisions, and we can't help but wonder if this is what will make people realize something else is going on.
John won't need much more time to realize that the woman he loves more than anyone in the world is no longer with him. He knows Marlena and her personality, and he knows this is not her. It won't take him any time now to realize that the woman he loves is not the woman in front of him — and we can't wait for him to realize this and go to work helping his love.