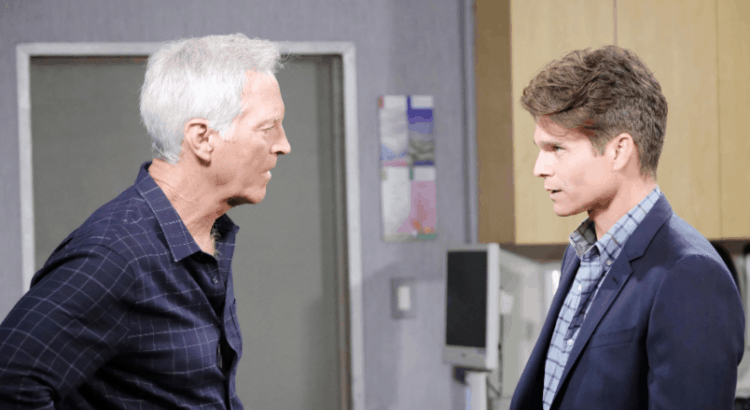 Days of Our Lives began the week with one of the biggest bangs of the year. Marlena died — kind of. Well, we don't really know what happened, to be quite honest. What we do know is that her life will never be the same, and she's been through something we cannot even fathom on almost any level. Her life changed dramatically when she was dead, and Sarah and Kayla tried hard to revive her. During the time she was 'dead' she encountered more than a few people from the past as some seriously familiar faces returned to the show. One of them was Belle, and the other was Tony DiMera. And she had a lot to say to them. She also spent some of her time looking to see if it's Kristin who did this to her or if she is, in fact, dead. Things got heated, ugly, and scary for some time.
John could do nothing but sit down and watch with nothing in his power to save his wife. He was helpless, and he's not sure how to handle that feeling in his mind. He doesn't want her to die. She is the love of his life, and we get that. She is the woman he loves more than any other, and seeing her like that did nothing short of almost kill him in return. Marlena's in the middle of a war with her own soul. Does she give up and spend her time with the people she's lost in a place that might be better for her, or does she spend her time fighting to go back to the world and be with the people who love her so much, and whom she loves in return? We don't know what she can do at this point, but we know it's hard.
What's Happening on Days of Our Lives
Heading into the weekend like…

📷: @kristianalfonso #DAYS pic.twitter.com/x4H3wKED7B

— Days of our Lives (@DaysPeacock) March 15, 2019
If they don't look strong, powerful, and ready to take down everyone in their way, who does?
What's Next on Days of Our Lives
The single ladies of Salem are thirsty this spring. #DAYS pic.twitter.com/LlUWXfk6Is

— Days of our Lives (@nbcdays) March 15, 2019
As Marlena struggles to live as she fights death and her soul is conflicted about what she needs to do and where she needs to go, Diana sits by John's side to support him. She did this to him and to his wife, but she will sit there, and she will do all she can to make sure that he believes she is there for him as a friend and someone she knew a lifetime ago — and who he only just found out he shares a child with. Why has no one put this together yet? We are confused about that, but we do get that there might be more going on than she is saying. But, we are going to watch her suffer along with John. She could end up being a murderer if Marlena does not make it, and she's worried she's left behind something that might tie her to this.
We can't figure out what she might have left behind, but she could end up going to prison for this. Worse, in her mind, she might end up losing John forever. She knows he is not interested in her in this moment, but her hope is that his grief will convince him to turn to her in his time of need so that they can be together when he is at his lowest point in life. He will be lonely and devastated, and she is sure she can use that to her own advantage, and we cannot handle how that might go down. But, for now, we have to deal with things as they go on.
Stay tuned for more Days of Our Lives and be sure to check out TVOvermind daily for the latest Days of Our Lives spoilers, news, and updates.