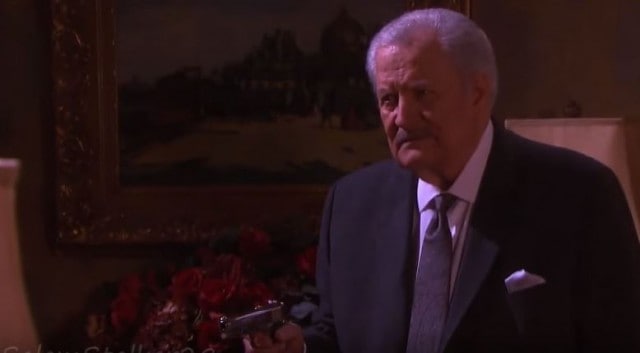 On Monday's episode of Days of Our Lives, fans saw Victor greet someone from his past. This is the day in which the past returns to haunt everyone in Salem, though none more so than Victor. Years ago when he played a role in having his brother, Deimos, set up and sent to prison for a crime that he was innocent of committing, things did not go well for Deimos. Now he is out and Monday brought with it the return of a brother who was set up, used and suffered at the hands of someone he once trusted. Clearly Deimos is out for revenge, and Victor is not surprised to find his brother standing in front of him.
In fact, Victor is so unsurprised to see his brother standing in front of him that he actually greeted his brother with a hello accompanied by a gun pointed straight at his brother. He wanted to use today to show Deimos that he means business, and he's not going down without a fight. Of course, knowing Victor, he doesn't feel as if he's doing down at all. Revenge is being planned and we know that Victor started watching his back today. The moment was dramatic, and everything that fans of Salem might expect, and it was delightfully dramatic to watch these two greet one another with such cold hatred. Eh anticipation of what is to come has fans on edge.
Elsewhere in Salem, Monday brought more of the past back to haunt those who live in the area. Hope has already gone to the police department to confess to murder, and we see her tearful confession as she bears her soul to the police and finds a way to make sure they know the truth. What will come of her confession seems fairly straightforward, but there are twists and turns on the way that no one saw coming in this little town. A masterful liar, she manages to tell a tearful tale of self-defense in a life or death situation. Her tale is so convincing that she spends most of Monday convincing everyone that her actions were to save her own life, and she even managed to convince everyone that she couldn't come to the police any earlier.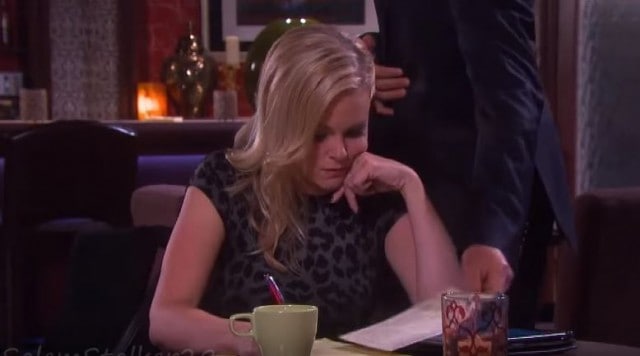 Eve spends most of Monday asking Justin where they stand. Like most women who have to ask this question in the first place, it should not have come as a big surprise that these two are not where she would like to be. Monday also brought with it a real life tweet from actress Kassie DePaiva confirming that her last date on the air with Days of Our Lives falls on February 2nd. She announced a while back she was leaving the show against her will, but that she would keep fans updated on her character. Eve will not be back after February 2, so it only makes sense that Justin will not have to commit to her at all. That did not stop Eve from trying to get him to commit on Monday, however, and now Justin is even less inclined than ever before to want to spend any time with her.
The past comes back to haunt Belle when her husband, who recently filed for divorce, called to tell her that he's changed his mind and would like to keep their marriage in-tact, staying together. Since Belle is in the middle of planning a trip to Vegas with Philip, the news could not come at a more shocking time. These two have maintained a fairly innocent friendship since Belle's separation, but fans have watched the sexual tension between these two heat up as their chemistry becomes more and more difficult to deny. Just when it looked as if they might have a chance at happiness, it was all taken from them as Belle was given something to think about in terms of her marriage.
It seems that the catalyst to all this is Claire, who cannot deny that there is a romance sparking between these two. Green with envy, she spent Monday plotting to keep these two apart so that they don't get any closer. She's desperate to keep them apart, and she's not going to stop until she gets her way.
Photo Credit – YouTube
Tell us what's wrong with this post? How could we improve it? :)
Let us improve this post!