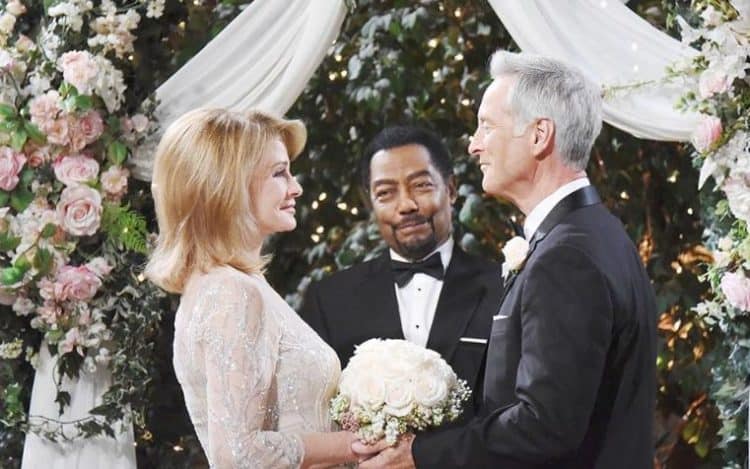 Days of Our Lives fans are super excited about all that life has to offer with the onslaught of this week before everyone breaks for a long weekend of fun in the sun for one last weekend of enjoyment before the new school year, the new fall season, and football season arrives. It's going to be interesting, and we've already been through one very interesting episode this week. We saw Marlena end up shot. At her own wedding. She's in a situation she cannot handle right now, and it's all because of Kristen. She's back, and he's losing her mind. She's been there to make sure that Sami hears what she has to say and why she has to say it, and she's not happy about it. She has to try and protect everyone, but it's going to turn into a mess with her ending up with the blame.
But what else is going on is the Kristen has taken Claire hostage. This is not good news for Shawn and Belle. To think that they were all kinds of upset about Ben and it turns out their daughter has bigger problems and people to worry about. There is not much they can do about it now that she's been taken, but someone has to get their lives together or get out of the kitchen. There's not much they have a choice to do at the moment, either. They have to rescue her or they have bigger problems to handle. They're not in a good place right now, so this is something they need to focus on. In addition, Will and Sonny were going through their very new and very serious reunion yesterday when all this went down, and their unexpected visitor is going to cause them problems of their own, too. That's not good news for anyone.
What's Happening on Days of Our Lives
What's a wedding without a little drama? #DAYS pic.twitter.com/3psSkcHVtl

— Days of our Lives (@nbcdays) August 23, 2018
We love a little drama, but we can't say it's our favorite at weddings. The biggest drama at any wedding we've ever been to was that one time when the bride didn't know the flowers were not right until she was walking down the aisle and they were shoved in her hands, but she was too excited to get married to care all that much. This wedding, though, was a little more dramatic. We like it on television — but no thanks in real life.
What's Next on Days of Our Lives
You never know what will happen at a John and Marlena wedding! #DAYS pic.twitter.com/kJ2sUCQUn9

— Days of our Lives (@nbcdays) August 20, 2018
We've mentioned that Sami has to go to jail when Rafe arrests her, and that's next. She's beside herself at the moment, and she's not even going to know how to handle this situation. Things are not working for her in the way she thought they might work for her, and she's been put in a situation that is going to cause her some serious issues. She's upset, she's worried, and she has to find a way to get her life back on track as quickly as possible so she can get her situation under control. Unfortunately, that won't happen right now. John, fortunately, is doing all he can for Marlena.
Sami is going to focus on her arrest, but Hope has something else to worry about. She's not happy about what is happening with this woman being back in town, and there is going to be a major showdown. Things are going to take a very ugly turn, and it will make them all miserable. They have to do something that will change the course of action here, and it's not going to end well. She's going to have a major confrontation, and we think that Hope might just initiate that confrontation with her. She knows what happened when Sami was in town the last time, and she's not making it a secret she's not happy with the way that all went down and the things that were said and done while she was here. She's angry — and she's showing that.
Stay tuned for more Days of Our Lives and be sure to check out TVOvermind daily for the latest Days of Our Lives spoilers, news, and updates.
Tell us what's wrong with this post? How could we improve it? :)
Let us improve this post!