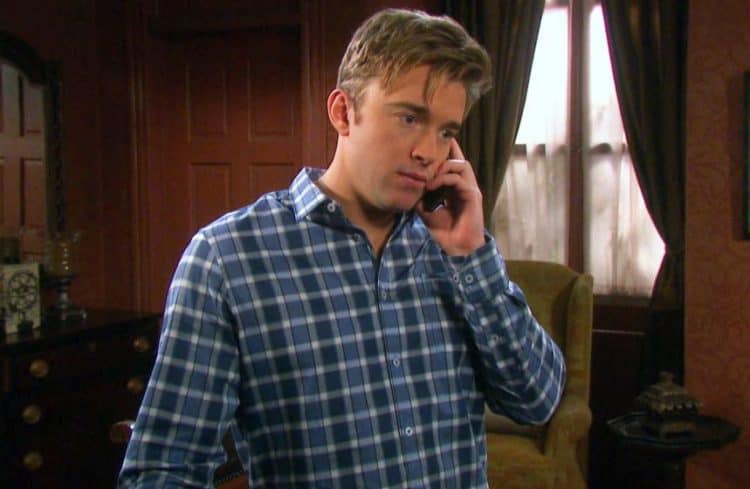 Days of Our Lives fans just can't help but feel sorry for Hope. No matter what she seems to do right now, she cannot win. Her daughter called her. We saw the hope and the relief on her face when she picked up the phone and realized that Ciara is just fine and not in any pain or danger. She was so afraid her daughter was dead or missing or something. But this is good news for her, and it was so evident. It didn't last long, though. It took her all of three seconds to realize what her daughter was telling her, and she's anything but happy about this. She's got to get her own life together and figure out where to find her. She might not be happy, but at least her daughter's call gave her some hope of finding her alive and well — and Hope will find her.
The other thing we saw was Steve lose his mind on Stefan for what happened to Abigail. He's unhappy, horrified, and completely disgusted what this man did, and it's clear to us that Stefan is not going to make any friends around here anytime soon. Steve basically blasted him and told him to get his life together and not be so awful, and that's been fun to watch. Kayla's situation was not so good, though. She got caught going through Kate's room, and we are positive that Kate does not have any good belief in her friend right now. This is going to lead to some horrible stuff if she can't get her truth out there for Kate to figure out and help her with. Kayla is horrified she was caught, and her excuse was as weak as weak gets. It's not good news for anyone.
What's Happening on Days of Our Lives
Happy Fathers Day @ericmartsolf !🌟
*
*
*@nbcdays @palomamodelandtalent #nbcdays #nbcdaysofourlives #daysofourlives #dool #twins #soapstar #tateblack #ericmartsolf #jenlilley #twinactors #childactors #childactor #palomamodelandtalent pic.twitter.com/1PWU186uAz

— The Schroeder Twins (@schroeder_twins) June 17, 2018
We might be a few days late on this one, but we really don't care at all. It turns out we are just over here feeling like we seriously love what's happening over on Days of Our Lives. Brady is always in trouble for being a jerk or a meanie or whatever he's up to on any given day, but his television kids sure do love him. We saw this sweet shout out to him on Twitter from his TV twins, and we thought it was the cutest thing we ever did see. What about you?
What's Next on Days of Our Lives
This week on #DAYS: an early labor puts Lani and her baby at risk. https://t.co/8nKLID6Nyk

— Days of our Lives (@nbcdays) June 18, 2018
Kate has something she needs to tell Chad, and we have a feeling it's not going to be anything good. She's been up to some seriously bad things lately, and she's done a lot that might make him question who she is as a person. We know that she doesn't want to see him hurt, but we also know that she's not someone who will ever do anything that benefits other people as much as it benefits herself. She's got an agenda, and it's time for her to break some of that news to Chad. How will he take it? Well, we can't imagine it will go over well given all that's going on in his life right now. However, we do think there might be a chance he can get over it as other things come to him.
It also paves the way for what is to come from next week when Abby returns to Salem. She's got a lot on her mind right now, and we wonder if she is, indeed, pregnant. It won't be a happy moment for her, but it might happen. We hear she's going to tell Gabi, whom we know hates her at this moment in time. That won't go well at all when she confides. We will also see a lot happening next week with Ciara and Ben. It seems she's falling in love with a killer, and we can only imagine this is not going to go over well with her mother, but that's neither here nor there at this point.
Stay tuned for more Days of Our Lives and be sure to check out TVOvermind daily for the latest Days of Our Lives spoilers, news, and updates.