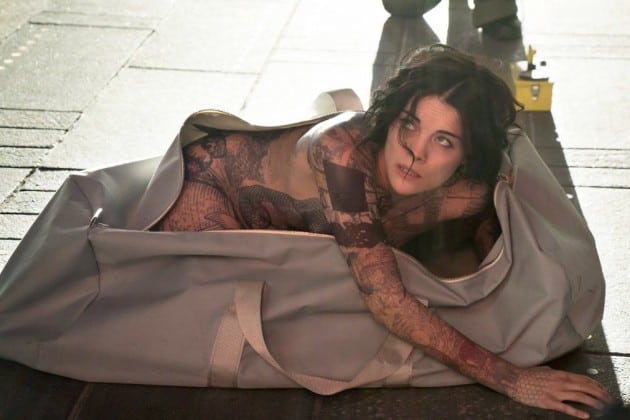 To clarify, this article and the ones similar to it that will follow are not reviews of this fall/midseason's pilots (because pilots can change a lot between now and when they broadcast). These are just my first impressions of the not-for-air network pilots that I have been able to screen. I last wrote about CBS' Supergirl. Next up: NBC's Blindspot, which premieres on Monday, Sept. 21, at 10 p.m.
The Premise: A naked woman, covered head to toe with tattoos, awakens from inside a duffel bag dropped in the middle of Time Square, with no idea of who she is. The only person who seems to have any shot at figuring out the identity of this Jane Doe is FBI Agent Kurt Weller, whose name is tattooed onto the woman's back, dragging him and his team into this ever-growing mystery.
The Cast: Jaimie Alexander (Thor) as Jane Doe, Sullivan Stapleton (Strike Back) as Kurt Weller, Marianne Jean-Baptiste (Without a Trace) as FBI Assistant Director Bethany Mayfair, Rob Brown (Treme) as Ramirez, Audrey Esparza (Black Box) as Tasha Olso, Ashley Johnson (The Killing) as Patterson Leung, and Ukweli Roach (The Royals) as Dr. Borden
First Impression: The quickest and easiest way I can describe Blindspot to people is that it's pretty much Bourne Identity: The Procedural. There's a lot to like about this show. Jaimie Alexander, who I've always been a big fan of, does solid work here as Jane Doe. You buy into her confusion and worry over not knowing who she is, and when the "real" version of herself starts to come through at certain parts throughout the pilot, Alexander plays the instinctual nature of that behavior and Jane's surprise about it very well. The mystery about Jane is also pretty engrossing. The series smartly provides just enough information about her real identity in the pilot, which sets up the first season's serialized story, while also establishing the show's more welcoming procedural elements. This is another spin on the familiar cop show construction, similar to the likes of recent series, such as Sleepy Hollow, Forever, and iZombie, but just not as fun.
And the lack of "fun" is where my main problems lie with Blindspot. Sullivan Stapleton lacks charm and really any kind of personality, period, as Weller (upon my initial viewing of the pilot, I referred to him as "The Least Interesting Man in the World"). That's not me saying that I need Weller to become Rick Castle, but I do wish I could differentiate between his emotions; Stapleton wears the same face throughout the entire hour, whether Weller is supposed to be angry, worried, or curious. Similarly, none of the supporting cast really sticks out here, and I couldn't tell you their characters' names off of memory if I tried. Still, I'm less worried about them than I am about Stapleton as Weller or the "twist" thrown in at the end of the episode, which comes out of nowhere and could prove to be more tedious than interesting to follow.
My Interest In Watching More: With Alexander as its lead, Blindspot will keep my attention for at least another couple episodes. There's a lot of strong material in this pilot, and this series is certainly much more Blacklist than it is any type of other NBC procedural. However, what's going to separate it from the pack isn't its central mystery but its characters. In order for me to stick with it completely, Blindspot needs to work on developing Weller and the supporting cast, making them feel real and authentic amidst all the high concept drama that's happening around them.
[Photo via NBC]