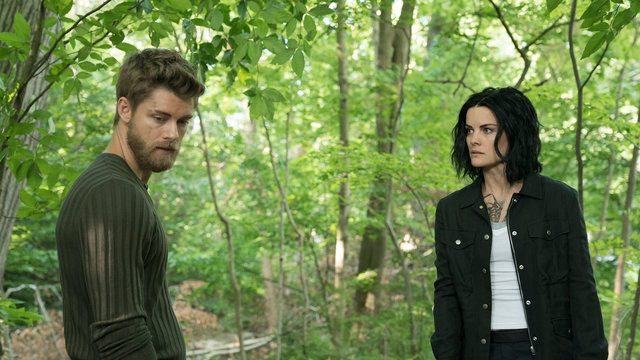 Largely because of the new additions to the cast, Blindspot has had a fresh feeling so far this season, even while it's been delivering more of what we all love. Let's take a look at what happened in this week's new episode, "Hero Fears Imminent Rot."
The episode opens in a very explosive way before jumping straight back to Jane being questioned by Roman and Shepherd about how she escaped and got back to them. It seems like they're quickly starting to figure out that she hasn't been entirely truthful with her family, and they decide to hold her back from her team until she does something for them. This "something" ends up being an order to kill someone that she once recruited, and she isn't at all thrilled by the task. She and her brother head to Jeffrey Kantor's house (and Roman is really proving to be a loose cannon, isn't he?), but Jane ends up failing the test that Shepherd set up for her. It's still early in the season, but it's been a nice change of pace getting to explore Jane's new double- and triple-agent status among the different aspects of her life. The actual reveals of Jane's past have been unexpectedly barren since the premiere, though, but we got so much at once that it makes sense to give the audience time to completely start associating the character with the new information that we've learned. Luckily for us, this has given us a ton of Roman and Shepherd.
The team is also starting to panic about Jane's disappearance from the grid, and even Weller (fresh with the knowledge that he's going to be a father) is rattled with worry. They can't focus on Jane exclusively, though, because they are thrust into a new case after the explosion that kicked off the episode. During the course of the investigation, we get some really fun moments from the pairing of Nas with Patterson, and I continue to be impressed by the performance Archie Panjabi is giving on Blindspot this season. Her scenes with Weller in which they discuss Jane are real highlights of the episode, and it's cool to have a figure of authority for Weller to pair with that is just as strong of a character as he is.
Another good moment in "Hero Fears Imminent Rot" was the session between Jane and Dr. Borden. These therapy sessions were always strong scenes of writing, exposition, and acting during the first season, and I hope that Jane's recovered memories don't render these sessions unnecessary to her character. Ukweli Roach has been extremely underrated for his work on Blindspot, and hopefully that can change with a (seemingly) renewed focus on the supporting characters (meaning, not Jane or Weller) that this season looks to bring. There was also another strong scene between Borden and Patterson, and I can't wait to see their relationship develop in the coming episodes.
It was slower than the first two episodes of the season, but "Hero Fears Imminent Rot" was still a pretty strong episode that did a good job of cementing Jane's status in sandstorm while making it clear that Roman is the person that's going to make or break her mission.
What did you think about this week's new episode of Blindspot? Let us know your thoughts in the comments down below!
[Photo Credit: NBC]
Blindspot Season 2 Episode 3 Review: "Hero Fears Imminent Rot"
Summary
While slower than episodes in recent memory, "Hero Feels Imminent Rot" did a good job at firmly establishing Jane's position in Sandstorm.