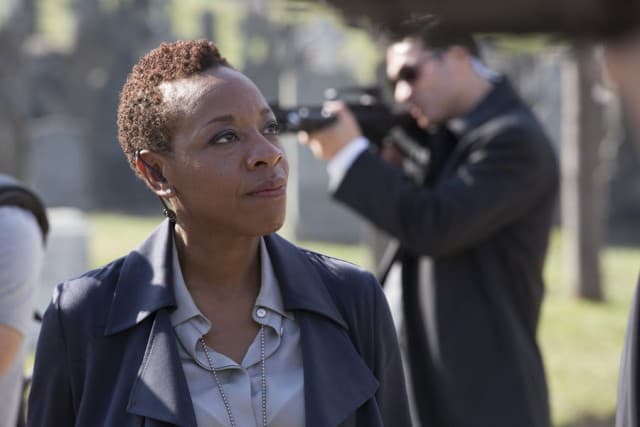 One of the undeniable hits of the fall television season has been NBC's Blindspot, a character drama that deals with the revelations ascertained from the tattooed body of an amnesiac woman (played by Jaimie Alexander). The woman, referred to as Jane Doe, works closely with the FBI under the command of Assistant Director Bethany Mayfair, played by the fantastic Marianne Jean-Baptiste.
Recently, TVOvermind, along with other media outlets, participated in a conference call with Jean-Baptiste
The most basic question that we always have for an actor is about what drew him or her to a given project. Jean-Baptiste reflected similar thoughts of co-star Sullivan Stapleton in that series creator Martin Gero absolutely knows what he's doing with his characters. She also mentioned that she loves "puzzles, conundrums, and mysteries, and so this sort of thing was right up my street. The elements of tattoos and Jane being a sort of treasure map…made me very excited about trying to sort of solve those pieces."
Jean-Baptiste previously played an FBI agent on the hit series Without a Trace, so she was able to jump into the role of assistant director pretty easily.
"Obviously, she's in a higher position," Jean-Baptiste told us, "so just sort of reacquainting myself with protocols and all that stuff [was all that was necessary]." She also mentioned that Mayfair is more likely to bend the rules than some FBI agents, especially when dealing with Agent Kurt Weller and Jane's inclusion on the team.
If you're concerned that Blindspot's unusually quick pacing and story development will slow down as the series progresses, don't worry. Not only will the show keep up at this speed, but according to Jean-Baptiste, it will also never be short on revelations.
"You've got an entire body covered from head-to-toe with these tattoos, so it's like there's no end to stuff that's going to be revealed," she said, "and I think it's great because it's like there's been quite a quick payoff to some of the mysteries." Jean-Baptiste also mentioned that she was a little worried about the pacing at first, but she quickly warmed up to it as she realized how clever and talented the writing team is.
One interesting thing about Marianne Jean-Baptiste is that she also plays a character on the British television series Broadchurch. When asked if she approaches a role on American television differently than a role for British TV, she said that an actor can't think in that way.
"It's got to be about the character," she said, "[and] the integrity of the piece that you're doing."
Marianne Jean-Baptiste has done an incredible job so far of bringing Assistant Director Mayfair to life, and I can't wait to see more of her character's secrets revealed in the upcoming episodes of Blindspot.
Blindspot airs Mondays at 10/9c on NBC.
[Photo via NBC]