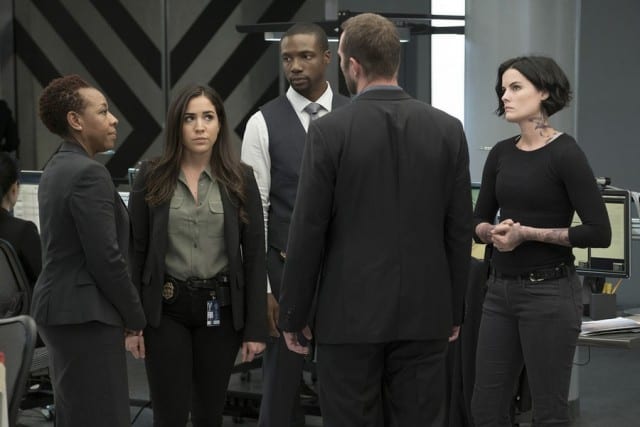 One of the most popular new shows of the fall season, Blindspot has become the first 2015 rookie series to receive a second season renewal. In light of this great news, let's take a look at this week's new episode, "Persecute Envoys."
The episode opens with a flashback of Mayfair and Carter from five years earlier as, in the present, Mayfair tells Weller about Daylight. While the deputy director tries to justify her actions from before, Weller is not at all accepting of what he's told. Mayfair is one of the more morally ambiguous characters on Blindspot at this point, and this continues to be the case as more information on Daylight is revealed. I like how this ambiguity pairs with Weller's strong positive identity, and it helps develop both of these characters even more. The flashback with Mayfair plays throughout the episode, and it continues revealing more about her character as it goes on.
The case-of-the-week in "Persecute Envoys" deals with the killer of police officers that are related to a prior incident. This incident, as many on procedurals over the past couple of years have been, concerns race relations and the possibly unjustified death of a teenager. While I think that Blindspot did make good use of this scenario, I can't help but feel that this trope has been played out enough lately. Maybe it's time that we put this particular storyline on ice for a while so that it can feel more unique later on. That said, though, it did tie in well with the story that the writers on this show were trying to tell, so I can't be too hard on it. It does also twist gears about halfway through, so it manages to stand out a little more than it may have otherwise.
I talked about it above, but "Persecute Envoys" really was a huge character building episode for Mayfair. Characters have been one of the biggest strengths that Blindspot has had during this first season, and it's one of the reasons that so many viewers have become attached to it. The past few weeks have given major development to plenty of the main cast (Patterson last week, Weller the week before), and it's impressive how deliberate the writers are being with this development while maintaining the breakneck pacing to which we've become accustomed.
There isn't much of note to mention on the Jane Doe front this week because her story actually took sort of a backseat to what was going on elsewhere. While Jane is the main focus of the show, it was nice that we got to step back and think more about what was going on with the rest of the characters on the series. It isn't something that we need every week, but it'll be good to mix the formula up like this every now and then.
"Persecute Envoys" was a solid episode of Blindspot that brought a lot of character development even though the core of its case-element was something that's been played out a lot over the last few years. Despite playing to cliches of the genre this week, I was still pleased with the hour as a whole, and I'm looking forward to finding out where this week's reveals lead in the future.
What did you think of "Persecute Envoys"? Are you excited about Blindspot already earning a second season renewal? Let us know your thoughts in the comments down below!
[Photo credit: Peter Kramer/NBC]