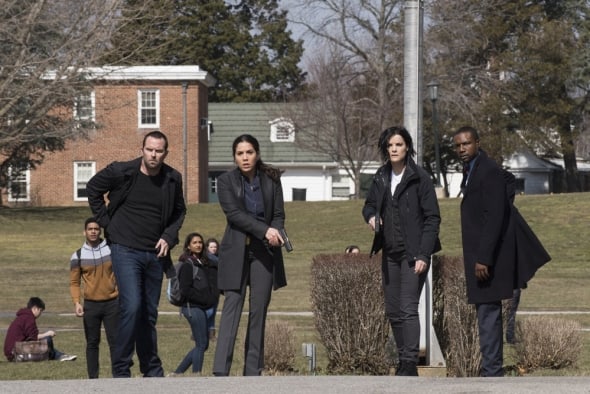 For the most part, Blindspot hasn't particularly focused itself on what we might refer to as "timely" subjects, but that looks to change in a big way with tonight's episode. Let's jump in and take a look at this week's new entry, "In the Comet of Us."
The episode opens with Mayfair reacting to the unexpected encounter that she had at the end of last week's episode, and it's clear that she isn't at all happy with this development in her life. She soon has other things to focus on, though, after Patterson and Zapata unlock another of Jane's tattoos. The team heads out to a school in order to investigate, but the conversation stalls before they can really find out much. Their timing at the school ends up being perfect, though, as it appears an active shooter is present on the campus. A lot of shows these days have started using school shootings as a major plot point, so it was really only a matter of time before Blindspot did the same. A plot like this is always going to be hit-or-miss, but Blindspot ends up doing a pretty solid job with it, focusing more on the tattoo tie-in than on just having a school shooting in the episode.
"In the Comet of Us" uses a different framing device than usual, sprinkling displaced timeline events throughout the team's investigation at the school. It works surprisingly well in the episode, giving the story a chance to break itself up just when things start to feel a bit stale.
As always, the acting in this week's episode is wonderful. Zapata and Reade both get a lot of good screentime for once, and the rest of the team gets his or her fair share. In particular, there's one scene between Jane and a security officer at the school that's intended to be a more lighthearted moment, and it's clear that it wouldn't have worked with someone less talented than Jaimie Alexander. She does a great job switching up the tone while not at all breaking from the character, and the scene stands out because of it.
One thing that I liked a lot about "In the Comet of Us" is the fact that so much of the episode took place in a single location. It certainly wasn't a bottle episode, but it may be as "small" (for lack of a better word) of an episode that we'll ever get from Blindspot. Just like last week's episode, "In the Comet of Us" serves largely as a one-and-done episode that progresses longer-running storylines just enough to keep them relevant while delivering something that works pretty well on it own. I want the larger storylines to keep progressing, of course, but I've found myself really enjoying Blindspot's episodes like this. Even though it's similar to what you would expect from a procedural, it just feels different with Blindspot. For whatever the reason, I like it.
All in all, "In the Comet of Us" was another great episode of Blindspot. It didn't quite reach the highs of the last two episodes of the series, but it was still among the strongest that the series has delivered so far. Since returning from its winter hiatus, Blindspot has gone from good to great, and I'm incredibly excited to see where the story goes through the rest of the season.
What did you think about "In the Comet of Us?" Let us know your thoughts in the comments down below!
[Photo Credit: NBC]
Blindspot Season 1 Episode 19 Review: "In the Comet of Us"
Summary
"In the Comet of Us" continues Blindspot's current streak of strong episodes, and it benefits from keeping things smaller than usual.