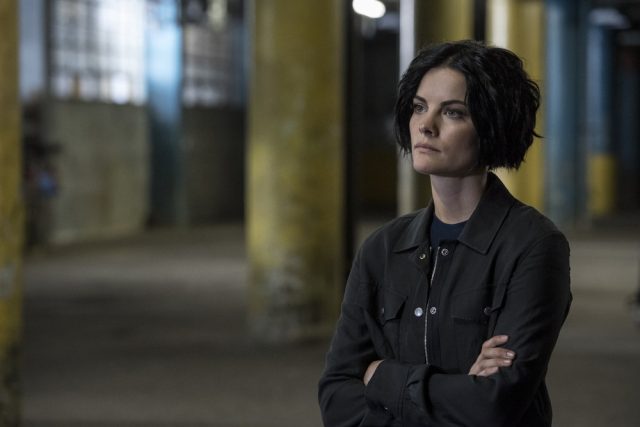 It's been a few weeks since my last review of Blindspot, but I'm back now and ready to jump back in. There have been some big developments on the show as of late, so let's take a look at the new episode, "We Fight Death on Thick Lone Waters."
The episode opens with the team mid-mission. With this mission, we get a brief pairing between Reade and Zapata (a usual team) and Nas and Patterson (a newer team), and it's interesting to be able to see these relationships evolving in such major ways. One of Blindspot's strengths has always been the way that it develops its characters and cultivates these relationships, and that strength has become even more obvious this season. As I've mentioned before, a lot of this reasoning has to do with the addition of Archie Panjabi's Nas, but it's truly a full cast affair.
A great development in "We Fight Death on Thick Lone Waters" is the return of Aaron Abrams' Matthew Weitz, and it's so nice to have Abrams back in the fold. He's an extremely underrated actor, and his addition to any show tends to work out for the best. It's also nice when writers know how to use guest stars in the best way possible, and Weitz here is another example of that.
I really appreciated the structure of this episode a ton. Keeping Jane and Weller separate from both the team and the present-time was a clever way of diving into the rest of the team in such a major way, and it was cool to see an adventure take place with just the two of them in a different context than usual. Hearing the story secondhand also allowed for some levity in the "re-enactment" of the events, and it was just a fun plot device overall.
One thing that I don't often talk about is the musical score on Blindspot, but it's usually one of the more impressive aspects of the series. In this episode in particular, you can really feel the retro/synth/80's style that the score homages, and it fits wonderfully with the story that Blindspot tries to tell.
Moreso than usual, this episode of Blindspot felt like a one-and-done adventure, and those are definitely my favorite ones with this show. I always enjoy the way that Blindspot blends a serialized story with more procedural structures, and this one is a great example of that.
Overall, "We Fight Death on Thick Lone Waters" was a pretty fun episode of Blindspot that breaks things up considerably from what the show has been delivering lately, and I'm excited to see more episodes like this in the future.
What did you think about this week's episode of Blindspot? Let us know your thoughts in the comments down below!
[Photo Credit: NBC]
Blindspot Season 2 Episode 8 Review: "We Fight Death on Thick Lone Waters"
Summary
Feeling one-and-done, "We Fight Death on Thick Lone Waters" was a solid episode that served its purpose completely.