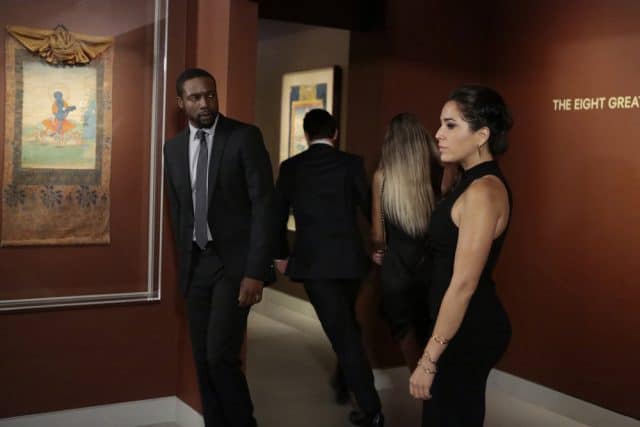 One of my favorite episodes of Blindspot last season involved the team dressing up to go undercover at a party, so the preview pictures for this week's episode got me pretty excited. Let's see how things shaped up in this week's episode, "If Beth."
The episode opens with Roman and Jane/Remi/Alice (what should we call her at this point?) reconnecting as he continues his effort at turning her back into the person that she was before the events of the series. The tug-and-pull between brother and sister has been incredibly interesting to watch play out over the past few episodes, and it's giving Jane's character development an entirely different side to explore. The unique thing that Blindspot gives us that few other series are narratively able to do is a character that completely develops on-screen. She had a history before the series, sure, but her memory loss has created a new person that knows no more about herself than we know about her. The show really doesn't get enough credit for its use of character development in this way, and it's been awesome getting to explore it for nearly thirty episodes. Adding Roman and Shepherd into the mix is a new wrench in that development, but it's been just as intriguing (if not moreso) than what came before.
For the most part, the best episodes of Blindspot are the ones that deliver more of a one-off adventure than a strict serialized progression (with exceptions, of course), and "If Beth" is more an example of the former than the latter. This team (and, by extension, this cast) works so extremely well together, and their chemistry as a well-oiled machine is always fun to see. These stories are also usually more fun when Patterson takes an active role, and this episode allows her to get out in the field instead of having to just spend time behind a computer screen. As expected, Ashley Johnson completely delivers (as she always does), and her computer purse is a cool little device that could allow her to do something similar at other times in the series.
It's not unusual for the series, but the fight choreography in "If Beth" really is something special. A fight between Jane and the (potential) terrorist at the gala plays out flawlessly on-screen, and it's done in a way that makes you believe the stakes are as real as they are for the characters in the show.
Roman and Shepherd are great additions to the show, and every scene that they share makes me want to know more and more about their story (which is probably the best compliment that I can give). Additionally (not to sound like a broken record), Archie Panjabi still continues to deliver a spectacular performance as Nas. Each week, I find myself liking the character more, and it would be hard for me to say at this point who exactly is my favorite character because of the Nas monkey wrench. Blindspot really struck gold when it cast Panjabi for the season, and I don't even want to think what the story would be like with literally any other actress in the role.
The second half of the episode switches over to simply progressing the story, and it turns more pages on the mystery than expected for a tight twenty-ish minutes. Pacing in "If Beth" is extremely fast without at all sacrificing the story, and it's an admirable example of the show's writing. Overall, "If Beth" was a great episode of Blindspot, easily bouncing back from the slight slump we got last week.
What did you think of this week's new episode of Blindspot? Let us know your thoughts in the comments down below!
[Photo Credit: NBC/Giovanni Ruffino]
Blindspot Season 2 Episode 4 Review: "If Beth"
Summary
With fast pacing and a great structure, "If Beth" bounces Blindspot back from the brief slump that the previous episode slipped it into.