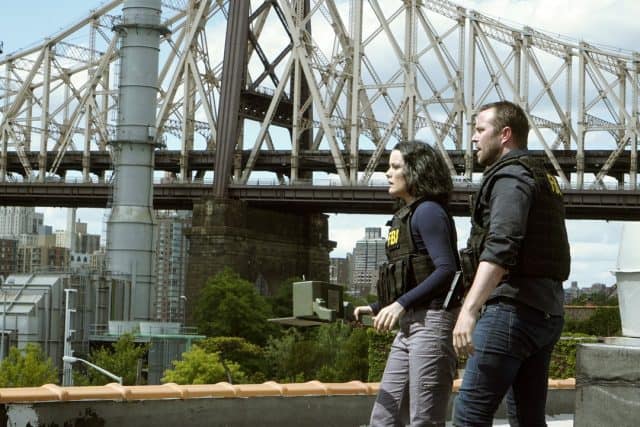 Blindspot returned in a big way with last week's season 2 premiere, and things definitely don't seem to be slowing down at all. Let's take a look at what happened in this week's new episode, "Heave Fiery Knot."
The episode opens with Jane (should we call her "Alice" yet?) relaying a newly recovered memory to her team at the FBI. In the memory, from 2013 in Afghanistan, Jane is injured in an explosion, but the big thing about the memory is that the reason she recovered it was because of Shepherd and Roman (who, remember, are her mother and brother). For us, it's another reminder that Jane is, once again, working as a double agent. We have to accept, though, that she's doing this now for the greater good and just hope for the best.
The memory leads the team to another of Jane's tattoos, but Kurt can't fully commit (emotionally, at least) because of his internal conflict surrounding both Jane and his father. We're getting to see a very mental side of Kurt in this episode, and it serves as a reminder that he really went through some tough stuff toward the end of last season. Sullivan Stapleton has often given a very understated performance on Blindspot, and that performance is starting to feel much more real now that his emotions are being forced to come closer to the surface. Blindspot has always had spectacular action, but there are moments like Kurt's session with Dr. Borden that show this series definitely has more to it than you would expect from a superficial analysis.
I only want to mention it briefly, but the budding relationship between Patterson and Borden is very charming (I loved that he presented her with a floppy of Oregon Trail). We got hints of this last season (particularly in the Patterson-centric episode toward the end), and I'm looking forward to seeing things develop more this year. Patterson is still my favorite character on the show (though I have to admit that Archie Panjabi's Nas is quickly climbing the ranks), and all I want is to see her happy. Borden seems like a good fit for her, and the chemistry between Ashley Johnson and Ukweli Roach is almost as good as it was with Joe Dinicol (last season's David).
The story surrounding Shepherd and Roman is being doled out in smaller portions than anything else on Blindspot right now, but it's being done so in a way that keeps you interested while only slowing investing you. It's both a good and bad thing as I want more of this, but I suppose that's more of a positive than a negative. Luke Mitchell is just as good on Blindspot as he's ever been, and he plays very well off of Michelle Hurd.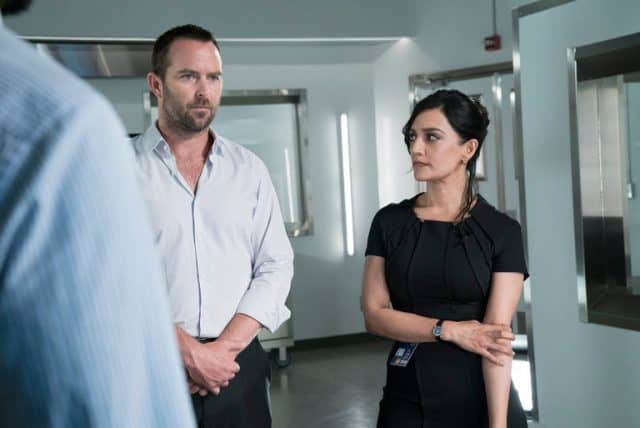 Guys, Archie Panjabi is so good in this role. Marianne Jean-Baptiste was clearly the "head honcho" of the cast last year, and Panjabi has jumped into that position completely in only two episodes this season. Blindspot definitely struck gold when they cast Panjabi as Nas, and I absolutely can't wait to watch her story play out. Another great performance in "Heave Fiery Knot" was Rob Brown as Agent Reade, and I hope that this season gives us a closer look at the "secondary" (though I hate to call them that) members of the team. It happened at times last year (though Patterson received much more of a focus than the Reade, Zapata, or Borden), but it should work even better this year now that all of the characters are so well-established.
"Heave Fiery Knot" wasn't quite as "wham bam" powerful as the season premiere, but it was still a very strong episode that allowed for plenty of plot development while showcasing the chemistry between some different groups of characters. It also delivered a very shocking twist in the final few minutes that will definitely change things for Kurt as we move forward, and I can't wait to see what happens next.
What did you think of this week's new episode of Blindspot? Let us know your thoughts in the comments down below!
[Photo Credit: NBC]
Blindspot Season 2 Episode 2 Review: "Heave Fiery Knot"
Summary
While a bit slower than the premiere, Blindspot remains one of the most intriguing shows on network TV in its latest episode.