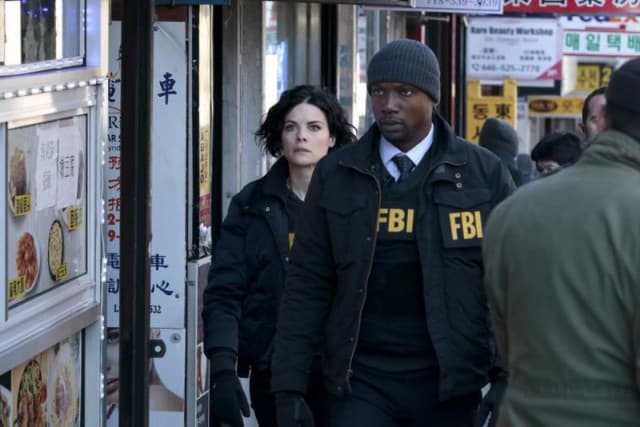 We've gotten small hints of progression here and there, but we've been badly overdue since the mid-season premiere for an episode of Blindspot with a strong focus on Ashley Johnson's Patterson. That changed tonight, so let's take a look at this week's new episode, "Any Wounded Thief."
The bulk of the drama in this episode comes from two characters: Agent Weller and Patterson. In the beginning of the episode, Weller arrives home to find that his sister has moved out with his nephew after her breakup in the previous episode, and this just compounds Kurt's emotional struggle that he's already going through with Jane. For Patterson, her previous refusal to grieve over David finally comes back to haunt her on what would have been their anniversary, and this lack of reconciliation within herself proves to be an incredibly powerful story for the audience once it finally begins to play out. So much of Blindspot centers around action (which, granted, is incredible), but it really manages to strike a chord when the focus of an episode is shifted to something more emotional and dramatic. That's not to say that "Any Wounded Thief" is without its share of action (more on that in the next paragraph), but I absolutely love that we're given the opportunity to follow characters with whom we've developed a connection down a strong emotional path. Patterson's scene at the restaurant toward the end of the episode is one of the strongest that any single character has had on Blindspot so far, and Ashley Johnson's raw talent as an actress has a lot to do with that strength.
"Any Wounded Thief" also, as usual, includes a case-of-the-week, with this episode's case stemming from a robbery of an armed truck. This robbery, of course, has a connection to Jane's tattoos, and the team is forced to deal with the ramifications of this robbery after it's revealed that the truck's contents were chemical weapons. The story feels oddly strong in the episode, but I can't really pinpoint why. I think that a lot of the strength bleeds over from the episode's great character moments, but the case manages to be both fun and action-packed. The stakes also feel real since our characters are so closely connected to the potential results, and there's one scene in particular in which Jane and Weller come in contact with the weapon that you really think (for a split-second) that something terrible could happen to one of them. It doesn't, of course, but the fact that we think it can, even briefly, speaks to the strength of the story.
Instead of focusing primarily on the action, "Any Wounded Thief" allowed itself to deliver some real emotion in very strong character moments, and this re-focus managed to make the running story of the episode feel stronger than it probably actually is. We need action on this show, but we also need episodes like this, and I'm glad the writers are aware enough that they can structure the season this perfectly.
What did you think of tonight's new episode of Blindspot? Let us know your thoughts in the comments down below!
[Photo Credit: NBC]
Blindspot Season 1 Episode 16 Review: "Any Wounded Thief"
Summary
"Any Wounded Thief" focused more on emotion than action, and the result was one of the best episodes of Blindspot so far.