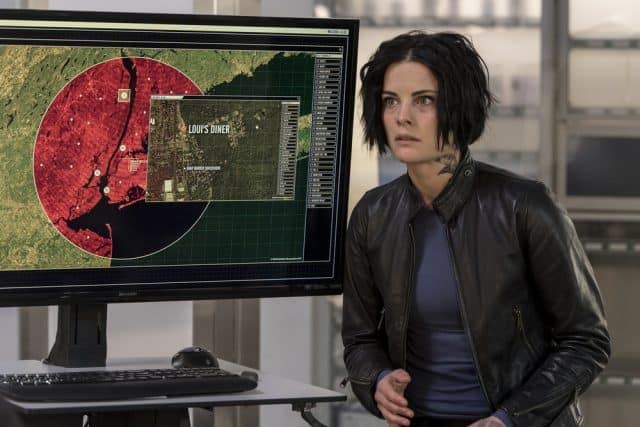 After that explosive mid-season finale, Blindspot has finally returned to answer all (maybe?) of your questions. Let's take a look at the first 2017 episode of the series, "Nor I, Nigel, AKA Leg in Iron."
The episode opens with the revelation that, after the huge cliffhanger in the last episode, Patterson has been shot by Borden. We knew that something would have to happen, but it's always a shame to see any bad come to Patterson, especially when you remember what all she's gone through over the past season and a half. Jane, meanwhile, is taking Roman to safety after their most recent situation, something that's made all the more interesting by the fact that Jane took her brother's memory, giving him no idea who his savior is. In the end, Jane is left overpowered and without Roman, who escapes in the car.
Zapata doesn't trust Jane (what else is new?) after she gets back to HQ, but everyone manages to work together when Jane starts giving all the information she has on Borden's identity as the mole. The team is eventually able to contact Roman to try and pry some information out of him, but the result is a lot of forgetfulness and misinformation that doesn't help them at all (even after the FBI has an entanglement with Sandstorm when Shepherd sends people to collect Roman). The team is, however, able to gain some information from some cell phones that leads them to Borden's car, and everyone storms a compound to recover a, thankfully, safe Patterson.
Weller has to deal with a new situation when his boss wants to take both Roman (who, remember, is a terrorist) and Nas (who is being held responsible for the deaths of twelve agents) away, but he manages to convince everyone that he needs them both to settle this issue. The episode ends nicely, though, and opens up a new mystery of a tattoo that Jane once had during a test that isn't actually on her body now.
Overall, "Nor I, Nigel, AKA Leg in Iron" is a really strong way to start the back half of Blindspot's season, and I'm impressed with the way that all of the mid-season cliffhangers were resolved. The action on the show remains among the best on television, and the intrigue that the story has added should continue to propel everything forward for the foreseeable future. Blindspot's strongest element is its ability to keep a viewer invested in a very convoluted story, and it's something that should entertain from here on out.
What did you think of Blindspot's return? Let us know your thoughts in the comments down below!
[Photo Credit: NBC/David Giesbrecht]