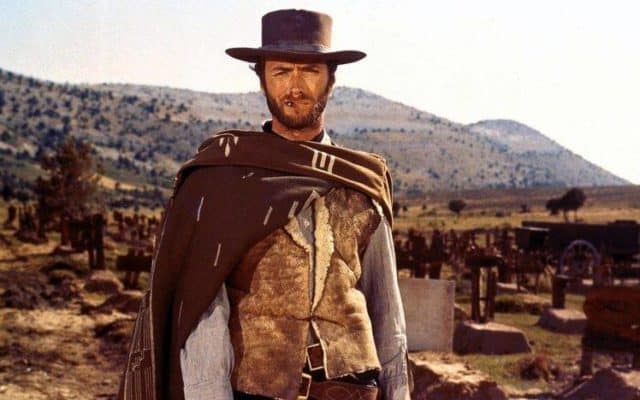 Western movies help to portray a part of America's history whether based on the facts or entirely fictitious. They're not only popular with American's but also with people in other countries. This was a time when our country was still in its developmental stage, just prior to the invention of the automobile, when horses and trains were the primary modes of transportation. We get to see what life might have been like before technology entirely transformed our world. The quintessential cowboy is a symbol of Americanism throughout the world. Some of Hollywood's biggest movie stars made a name for themselves by appearing in Westerns. We've put together a collection of the 20 best Western movies ever made for your enjoyment.
The Searchers (1956)
John Ways stars as Ethan Edwards, who comes bck home to Texas after fighting in the Civil War. He discovers that some members of his brother's family have been abducted by Comanches, and others have been killed. He sets out to track down his missing relatives and free them from their captivity, bringing them home in this Western action drama. The film won a Golden Globe Award for Best New Star of the Year for Wood.
High Noon (1952)
This is one of Gary Cooper's most famous films. He plays the part of former marshal Will Kane who prepares to leave the tiny town of Hadleyville, New Mexico with his new ride Amy, played by Grace Kelly, but his plans are interrupted with Frank Miller, a local criminal is released from jail and is on his way to get revenge on Kane for turning him in. He sets out recruiting a group of locals to deputize to help him fight when the eminent showdown takes place, but he is unsuccessful land must face Miller and his thugs by himself.This film won an Academy Award for Best Actor.
Unforgiven (1992)
This Western drama stars Clint Eastwood as the aging bandit William Munny, and his competition English Bob, played by Richard Harris to collect a reward for bringing to justice, the pair of cowboys who disfigured prostitute Delilah Fitzgerald played by Anna Thomson. The setting is Big Whiskey, Wyoming. Delilah's fellow brothel workers posted the reward. Gene Hackman plays the sheriff, Little Bill Daggett, who is opposed to vigilantism but he isn't doing anything about the crime himself. Munny and Bob clash with each other and the sheriff in this dramatic story from the old West.
https://www.youtube.com/watch?v=v2ssbgThljU
Rio Bravo (1959)
This Western drama action is about a gunslinger named Joe Burdette, played by Claude Akins, who murders a man in a saloon. The sheriff, John T Chance, played by the famed Western actor John Wayne, arrests him for the crime, helped by a cowboy named Dude, played b y Dean Martin, who is known as the town drunk. It isn't long before Burdette's brother Nathan, played by John Russell rides into town to break his brother out of jail and the drama ensues.
https://www.youtube.com/watch?v=VoGPBQd6eA8
Tombstone (1993)
Actor Kurt Russell is Wyatt Earp. He and his brothers Virgil, played by Sam Elliott and Morgan (Bill Paxton), all decide that it's time to leave their gunslinging life behind and settle down with their new wives and new lives to start a business in the Town of Tombstone, Arizona. They're not there to start any trouble, but it seems to find them. This version of the Wyatt Earp story portrays the famous gunfight at the OK corral, but it goes more in depth about the life of Earp and a poignant narration is given by Robert Mitchum at the end of the film, giving us an overview of the life of Wyatt Earp.
The Good, the Bad and the Ugly (1966)
This Western action adventure film is about a mysterious stranger named Joe, played by Clint Eastwood. After the Civil War, a Mexican outlaw named Tuco, played by Eli Wallach become uneasy partners but Joe turns him in to get the reward money, but he rescues him just as he is about to be hanged in a money making scheme. He shoots the rope just before the criminal meets his end.
Butch Cassidy and the Sundance Kid (1969)
Robert Redford and Paul Newman play the lead roles of Butch Cassidy and the Sundance Kid in this true story about wild riding, past draws, encounters with posses, bank and train robberies and a torrid love affair. Did Butch and Sundance really get away to start a new life in Bolivia or were they killed before they made it there? This film won an Academy Award for Best Original Screenplay.
Stagecoach (1939)
This film is considered to be director John Ford's landmark Western. He and John Wayne worked together on several Western films, but this is one of the best. The movie centers around a group of passengers on the Overland stagecoach headed for Lordsburg, New Mexico in the 1880s era. There is a brothel worker, a philosopher who is fond of the drink, and a timid liquor salesman. The group is confronted by thee Ringo Kid, an escaped outlaw played by John Wayne, and together they must face the dangers of traveling through Apache territory as they make their way through the Wild West.
The Wild Bunch (1969)
William Holden plays outlaw Pike Bishop who is getting ready to retire his life of crime after he makes just one last robbery. Ernest Borgnine plays Dutch Engstrom, along with Warren Oates as Lyle and Ben Johnson as Tector Gorch, the rest of the gang. They join Bishop in his last hurrah only to discover that thee heist is a setup that has been orchestrated by his old pal Deke Thornton, played by actor Robert Ryan. The gang heads to the Mexican territory to hide while Thornton tracks them down. There are plenty of gunfights.
The Magnificent Seven (1960)
This thriller, adventure Western has become a classic with an all star cast. The film is about a Mexican village that is raided and tormented by Calvera, the ruthless leader of a band of outlaws who take advantage of the villagers and invade their town at will. The people of the town are too frightened to fight back, so they hire seven American gunslingers to deal with the bandits and free them from their oppressors. Yul Brenner, James Coburn, Steve McQueen, Charles Bronson and Robert Vaughn star in this American classic.
The Man Who Shot Liberty Valance (1962)
Jimmy Stewart plays the part of Senator Stoddard, who attends the funeral of John Wayne's character Tom Doniphon is a tiny western town. The film is created with a series of flash backs that tell their story from the beginning. Ddoniphon saved Stoddard when he was still just a lawyer when a group of outlaws came through to terrorize the townspeople. Liberty Valence, played by Lee Marvin was the leader. Stoddard and Doniphon were the only two men who were brave enough to stand up to the criminal.
A Fistful of Dollars (1964)
Clint Eastwood plays the man with no name who enters a Mexican Village in the middle of an intense battle among the three Robo Brothers and the town's sheriff. The Rojos waylay a regiment of Mexican soldiers to rob them of the gold that is intended to finance the next battle. This film is a part off the Dollars Trilogy Eastwood made popular.
The Outlaw Josey Wales (1976)
Clint Eastwood is Josey Wales, who is forced to watch helplessly as Union men murder his wife and child under the leadership of Captain Terrill played by Bill McKinney. Wales joins the confederate Army to seek his revenge. He refuses to surrender while his fellow soldiers hand over their guns and are killed by Terrill. He escapes and flees to make a new life for himself and finds a surrogate family that is worth changing his life for.
https://www.youtube.com/watch?v=bZJdhq0_Moo
Dances with Wolves (1990)
This is an Academy Award winning film that tells the story of a Civil War soldier who forms a strong relationship with a group of Lakota Indians who live near the deserted outpost he was assigned to by a batty commander who took his own life. It's a touching story about how he becomes welcomed by the tribe and becomes a part of their tribe. Kevin Costner stars in the lead role.
Red River (1948)
John Wayne stars as headstrong Thomas Dunson who is aided by his faithful trail hand Groot, played by Walter Brennan and Matt Garth played by Montgomery Clift in starting a huge Texas cattle ranch. Garth is an orphan that Dunson took under his wing when he was just a young lad. The story shows the group driving cattle through rugged terrain and perils on the way to market in Missouri. This film was nominated for an Academy Award for Best Film Editing.
Blazing Saddles (1974)
This film is a hilarious satire about Westerns in general. Bart, played by Cleavon Little is elected as the first Black sheriff of thee town of Rock Ridge. The town is about to be taken out to make room for the new railroad that is set to come directly through its streets. It's up to their new leader along with his new drunken sidekick played by Gene Wilder to defend the town of the thugs that were sent by the railroad to get rid of them.
3:10 to Yuma (2007)
Russell Crowe stars in the role of outlaw Ben Wade who has spent much of his life terrorizing the territory in Arizona in thee 1800s. He's fond of targeting the Southern Railroad until he is caught by law enforcement. The film centers around his escort to the trial that he will face, where he knows that inevitably, he will be convicted and hung. Christian Bale plays Dan Evans, the owner of a failing ranch that must escort him to the train that will take him to the trial. The journey is plagued with dangers from the criminal's men who are bound to free their leader.
Open Range (2003)
Robert Duvall is Boss Spearman. He and his cowhands Mose, played by Abraham Benrubi and Charley, played by Kevin Costner drive cattle through a massive expanse of the Western country. When Mose comes across a tiny village to get supplies, he is met with violence and hostility from one of the rich landowners, Denton Baxter, played by Michael Gambon. Mose doesn't return so Boss and Charley set out to discover what happened and they form a plot to release him and get revenge on his captors.
Maverick (1994)
Mel Gibson is a cardsharp that does everything within his power to raise money for the entrance fee to a high stakes poker game that has a really high payoff for the winner. He goes through a series of humorous situations to build his stake. He scams a wide variety of people and when he meets Annabelle played by Jodie Foster, it becomes clear that he has met his match. She's also a schemer who gets the goods on him on more than one occasion. James Garner plays the Marshal who is on his trail, but as it turns out, he is actually Maverick's father and the two planned together how they would end up with the big winnings.
True Grit (1969)
Tom Chaney, played by Jeff Corey takes the life of a 14 year old girl's father. Mattie Ross, (Kim Darby) may be young, but she's not willing to let the murderer get away with his crime, so she enlists the help of US Marshall Rooster Cogburn played by John Wayne, because she has heard that he is a man of "true grit." The two set off in search of Chaney, when they are joined by Texas Ranger La Boef, played by Glen Campbell. Together the three track down the criminal in a series of perils and tense moments, to bring him to justice.