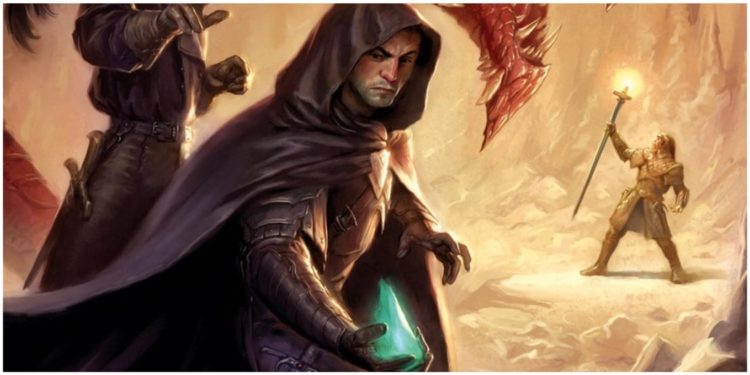 Does anyone remember that very, very terrible Dungeons & Dragons movie from 2000? I watched it on TV a while ago and I only remember Marlon Wayans for some reason. Actually, I remember him dying and the main character crying about it. I honestly don't even remember the actor who played the main character. Oh, and Jeremy Irons was also in it. He's awesome and he usually makes everything better, even when it's complete trash. Well, even his presence couldn't save that dumpster fire of a movie. I'm pretty sure he was a warlock of some kind, but like I said, I barely remember. I think my fondest memory of that movie was when it ended. It's a good thing I never actually went to the theater to actually pay for it. And the here's the big kicker: I'm not really a big Dungeons & Dragons nut.
Well, just in case you are an avid Dungeons & Dragons player, you should know that Hollywood is taking another shot at it. Only this time, Chris Pine will be starring in it. Although I'm not really into playing the game, I'll watch anything with Chris Pine. Having him attached to the project does enhance my excitement level. However, I'm still very confused on how this movie will work.
If you're not familiar with Dungeons & Dragons, I can quickly sum it up by saying that it's a role-playing board game. There dices involved, and books, and papers, and…. math. Look, it's been a while since I've played. I have several buddies who are into it and they've invited me to some dungeon sessions. Is that even what you call it? I just remember the "Dungeon Master" giving us redundant quest each game and my character was pretty lame. In all honesty, the game didn't grab me. Or maybe it's just that my buddies weren't so good at it? Just kidding, fellas.
The point is, the name of the game is creating your own character, then go on quests with your friend's characters. There is no set story, no main missions, you just leave it to your imagination. Think of it as Skyrim, but the board game version. Perhaps I'll give it another try in the near-future.
Now when I heard the news about an upcoming Dungeons & Dragons movie, I thought to myself, "How will this actually work?". There is no story for the writers and directors to follow. Will Chris Pine act as the Dungeon Master and give his party members quests? I kind of imagine it as having him dress up as a medieval fantasy warrior and cutting through all kinds of mythical beasts. On paper, it sounds like the typical fantasy story. As cliche as it sounds, I think there is a way to really make this work.
First of all, we need to talk about who's directing it. It won't be one director, but two. The underrated directing duo of Jonathan Goldstein and John Francis Daley will be helming the project, and that gets me even more excited. If you keep up with superhero movie news, these guys were the latest directors who were attached to The Flash movie before Andy Muschietti came aboard. Yes, Goldstein and Daley were among the many would-be directors of The Flash movie. Why did they leave? The same reason directors usually leave projects: creative differences. It's a shame, because I really wanted to see their vision for The Flash, but after seeing It: Chapter 2, I'm really rooting for Muschietti.
I'm excited for seeing how Goldstein and Daley will pursue the Dungeons & Dragons movie because of what they did with their last movie. If you've haven't seen Game Night starring Jason Bateman and Rachel McAdams, you're seriously missing out. For real, that movie was way better than I thought it would be. It was funny, as all comedies should be, but Goldstein and Daley brought their own kind of dark comedy to the table. For me, it proved their worth as directors and now I'm very anxious to see what else they can do.
With Goldstein and Daley directing and Chris Pine starring, this upcoming Dungeons & Dragons movie already has the right ingredients. The next key ingredient they need is a good story. With Dungeons & Dragons being an RPG, it presents many story opportunities for the film. If they just want to make another fun and entertaining fantasy/action movie, the easy plan is to just have Chris Pine fighting dragons and evil wizards. However, if they want to make it different from the average fantasy/action movie, they got to add some new ingredients to the recipe.
My guess is that Goldstein and Daley can throw in their dark humor. Now it doesn't have to be goofy. I mean, that's why that atrocious 2000 Dungeons & Dragons movie failed. Seriously, why did they add Marlon Wayans? Dungeons & Dragons isn't about silly comedy.
I really think that Goldstein and Daley can bring some dark comedy to the Dungeons & Dragons movie without having it come off as gimmicky. That kind of humor isn't often seen in fantasy movies and including it would really make it stand out. They're must be awesome fantasy action and they're must be dragons, but why not throw in some comedy? With Goldstein and Daley behind it, the movie can really be a blast to watch. There's nothing wrong with making people laugh, even when dragons are involved.
Now what are they going to do with Chris Pine? That's really the trickiest part. Again, Dungeons & Dragons is an RPG. The story can be pretty much anything. He can be a warrior mage or a thief who relies on stealth, or even a character that isn't human. They're probably going to show Chris Pine's face, but no matter what kind of character he is, he just needs to fight lots of monsters. If the movie wants to avoid the fantasy movie cliche, don't have the main antagonist be an evil wizard. That's overplayed and it was very poorly done in the 2000 movie. Heck, the main villain can be a dragon. If there's a big and epic fight scene at the end, we'll be all for it.
What are your thoughts on another Dungeons & Dragons movie? Let's just hope it's better than the last one. If they don't get Marlon Wayans, that's already a start.