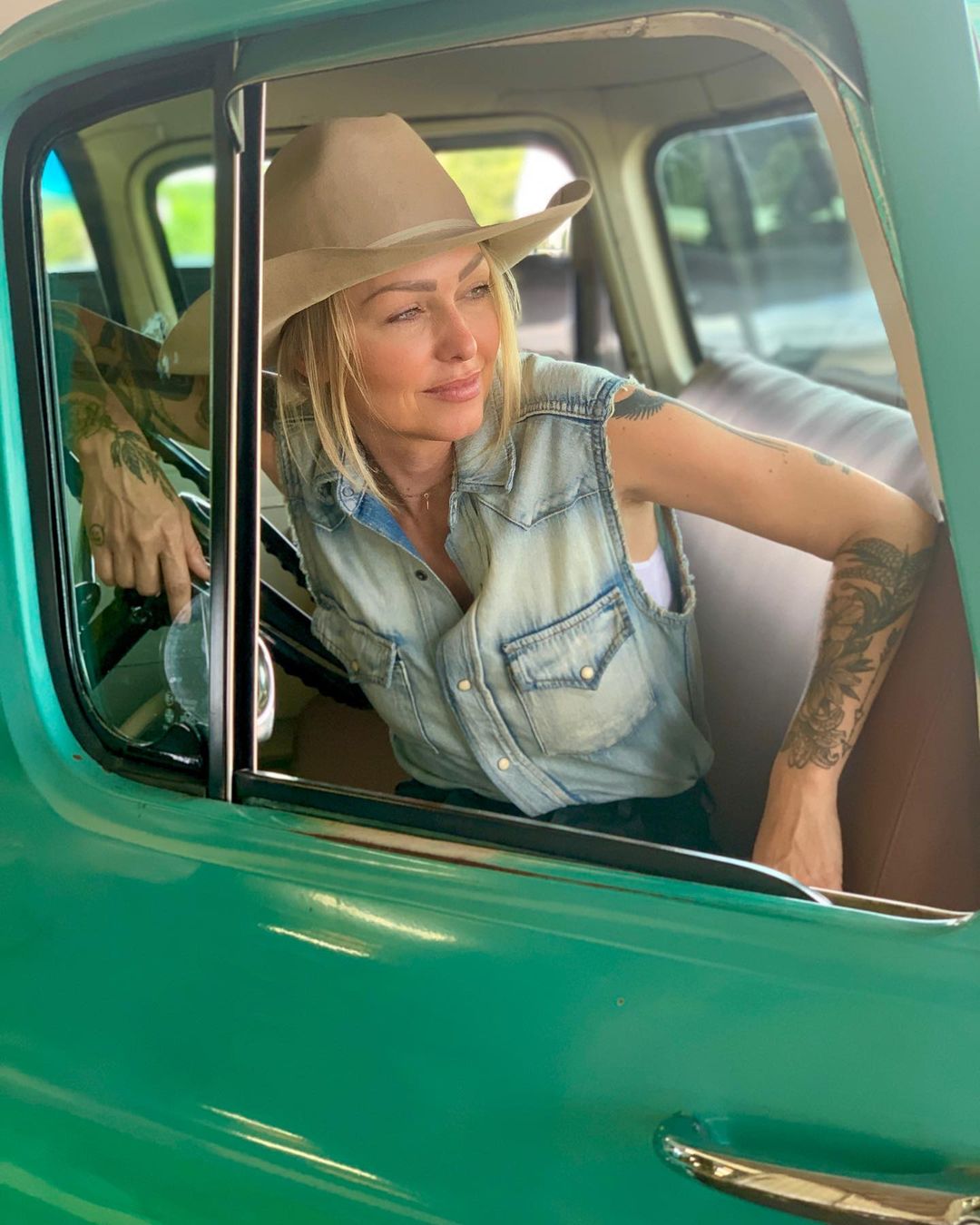 When Mike Wolfe of American Pickers fame announced that he and his wife of many years were separating, the world was shocked. The couple seemed like such a good match, but even reality stars have their secrets from the rest of the world. However, when Wolfe stepped out with a new lady friend on his arm, curiosity peaked among fans. As it happens, his new lady love is a lovely woman named Leticia Cline. Fans want to know every single thing. Who is Mike Wolfe's girlfriend, Leticia Cline?
1. She is Older Than You Think
She looks as if she is significantly younger than her new man, but Cline is older than she appears. While she's certainly not old, she is 43. She is taking great care of herself. As a model, of course, her appearance is essential for her to take care of her outward appearance. Her date of birth is October 1, 1978.
2. She's Been Modeling Most of Her Life
Modeling is not a new job for the lovely blonde. She's been at it since she was barely a teenager. Her first modeling job happened when she was only 14, and her career has only taken off. She's got a lot going for her in terms of her talent.
3. Where Did She Go to College
She chose a school in the SEC that's well-known for its outstanding athletics. She's a Kentucky Wildcat from the University of Kentucky. She also holds two degrees from the impressive university. She has a degree in finance to start. She also holds a degree in psychology. These two careers seem far from one another, but it tells us she has some diverse interests.
4. She's a Divorced Woman
Much like her new love interest, she's a divorced woman. We know very little about her previous marriage, however. All we know is that she was married, is divorced, and shares a son with her ex-husband. Their marriage did not work out, but other aspects of their life seemed to work.
5. She is a Business Owner
Cline is not just a pretty face. She has a business of her own. It's founded and based in Orlando, Florida. Her company is Standard Motorcycle Co. She and another friend co-founded the company back in 2014. While we know very little about it, it does seem that the company is up and running successfully as of 2022.
6. She is an Actress
She grew during the years young actors such as Devon Sawa were huge. He was a total heartthrob. If young Cline is anything like the rest of us as teens, she likely had her Teen Beat photos of the young actor on her bedroom walls. She probably dreamed of meeting him, but she never dreamed of starring in a movie with him. She did, though. In 2019, they filmed Disturbing the Peace together.
7. She Posed for Playboy
There are two types of people in the world. Some think being able to pose for a magazine such as Playboy is how you know you made it. Then, some would never. She's part of the former. She posed in 2008 for a famous magazine, which was a successful shoot. She made history, and it's exciting for her to say she did in her life. It's an accomplishment.
8. She Owns a Bar
Her family is important to her. She spends a lot of time with them. She and her mother, and her sister all opened a bar together. The lovely model moved home to Kentucky in 2018, and she and her family went into business together. They own a bar called The Dive. It is located in Cave City, Kentucky, where the model was born and raised.
9. She's Loved Motorcycles Her Entire Life
She has an affinity for motorcycles, and it is all thanks to her father. He spent a great deal of time working on motorcycles, building them, and teaching his daughter everything he knew. Some of her earliest and best memories involve spending time with her dad and bikes.
10. Riding is a Language for Cline
Her love of motorcycles is not just loved. It's her language with her father. She knows how to speak to him with motorcycles, and it's her way of being close to him. Her love of riding is many things to her, including a way of finding freedom. She uses it to express herself, and it's always worked for her.
Tell us what's wrong with this post? How could we improve it? :)
Let us improve this post!