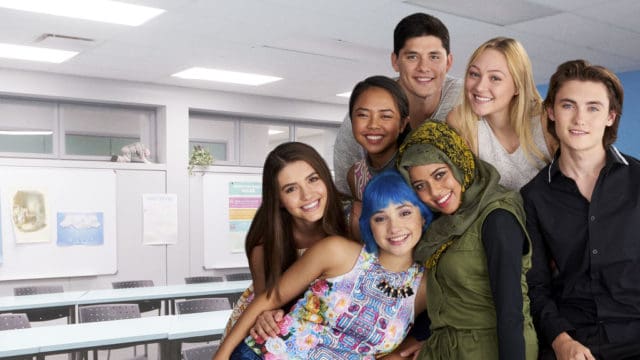 'Degrassi: Next Class' is the fifth teen drama television series in the Degrassi franchise. It was created by Linda Schuyler and Kit Hood and is set in the Degrassi Universe. This series was launched in Canada and the United States in January 2016. It was then shown in Australia from May onwards and has been available for streaming on Netflix and the Family Channel App since 2017. If you were a fan of this series, you have probably wondered what the cast has been up to ever since. Here is what the cast members have been up to since the end of 'Degrassi: Next Class'.
Amanda Arcuri
Amanda Arcuri, who played Lola Pacini, has continued to work in both television and film. When 'Degrassi: Next Generation' came to an end, her next role was Sophie Killer in the television series 'Played'. She then landed the role of Rebecca in 'Every Day' which is set for release in 2018′. She is also playing the role of Chelsea in the 2019 film 'Do Not Reply'.
Amir Bageria
In 'Degrassi: Next Class', Amir Bageria played the role of Baaz Nahir. His most recent role since has been playing Louis in the 2018 television series 'Behind the Black Curtain'. This involves a rotating cast of actors performing some of the best scenes from movies.
Jamie Bloch
Jamie Bloch played Yael Baron in the teen drama series. Since the end of the show, she has had just one job. This was portraying the character Liv in the television short film 'Reflection' in 2017. She was also a co-writer of this film, which was directed by C.A. Meyer. It also starred Spencer Macpherson.
Stefan Brogren
Stefan Brogren was one of the few adult actors who was a main cast member in 'Degrassi: Next Class' as he played Principal Archie 'Snake' Simpson. Following this series, he has played Mr. Carlisle in a 2018 television movie called 'Very, Very, Valentine'. This was written by Marcy Holland and directed by Don McBrearty.
Soma Chhaya
In 'Degrassi: Next Class', Soma Chhaya played Goldi Nahir. Since then, she has appeared in a series of TV shorts called 'Teenagers' in the role of Vesper. Also in 2017, she played Monica in the television movie 'A Very Country Christmas', and Falak Ali in two episodes of 'Saving Hope. She also provided the voice for Shauzia in 'The Breadwinner'.
Ana Golja
Ana Golja played the role of Zoe Rivas in 'Degrassi: Next Class'. In 2017, she appeared as Janet in five episodes of 'Fare Trade'. The following year, she played Rachel in a short film called 'Victim'. She has three movies set for release in 2018. In 'Moose' she is playing Leah, she is portraying London in 'Crazy for the Boys, and she is playing Sasha in the television movie 'A Father's Nightmare'. In 2019, she will appear as Mina in 'The Cuban'.
Ricardo Hoyos
Ricardo Hoyos played Zigmund 'Zig' Novak in 'Degrassi: Next Class'. His next role will be in the 2018 film 'Bumblebee'. This action-adventure sci-fi film was written by Christina Hodson and directed by Travis Knight. Hoyos' role in this film has not been confirmed. The film also stars Hailee Steinfeld, Marcella Bragio, John Cena, Pamela Adlon, Martin Short, and Megyn Price.