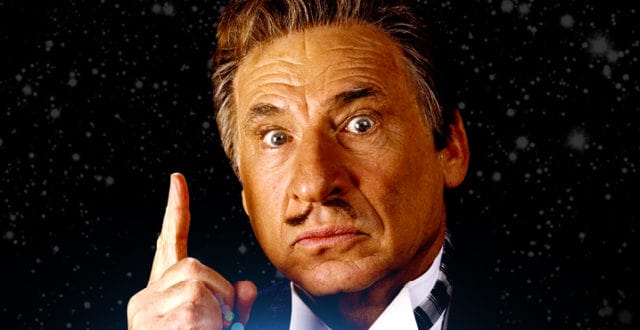 Mel Brooks is the kind of guy that seems to excel in producing crude and unyielding humor, but he's undeniably funny and honest in his delivery. It's hard not to laugh at his material since it doesn't so much break down societal norms and mores but reaches out and slaps them in the face as a way of challenging them to be better or accept something different. A lot of people would seek to condemn his brand of humor as something that's just crass and doesn't belong in cinema but thankfully those folks have been overruled for a number of years since Mel Brooks has been one of the funniest guys in Hollywood for decades. His sense of humor might seem a little off kilter at times but one thing that can't be denied by any means is that he knows how to present material in a way that makes people laugh.
Check your sensitivity at the door if you're watching a Mel Brooks movie, you'll be glad you did.
10. Bad taste is simply saying the truth before it should be said.
There's no point in pulling punches sometimes if something needs to be said. Just say it and have done with it.
9. Hope for the best, expect the worst. Life is a play. We're unrehearsed.
No one comes into this life with a script in hand and ready to perform the role of a lifetime. We do the best with what we've got and roll with it.
8. Life literally abounds in comedy if you just look around you.
If you can't laugh at life or find anything amusing then you might want to check your pulse.
7. Well, just being stupid and politically incorrect doesn't work. You can be politically incorrect if you're smart.
You might want to know what you're talking about so that you can understand why people are protesting your right to talk about it.
6. You got to be brave. If you feel something, you've really got to risk it.
Don't let fear of something stop you from doing it, or you might just stop living altogether.
5. Rhetoric does not get you anywhere, because Hitler and Mussolini are just as good at rhetoric. But if you can bring these people down with comedy, they stand no chance.
If you can destroy someone with a laugh then they didn't have any real power to start with.
4. If you're quiet you're not living. You've got to be noisy and colorful and lively.
There are moments for quiet reflection, but the rest of life needs to be noisy and filled with something other than silence.
3. It's talent. Either you got it or you ain't.
Everyone's got some talent, they just need to figure out where it applies.
2. Everything we do in life is based on fear, especially love.
Fear is a great motivator so long as it's not dwelt on for too long.
1. As long as the world is turning and spinning, we're gonna be dizzy and we're gonna make mistakes.
We're human, right? We're going to make mistakes.
He's a funny man and a wise man, or maybe just a wise guy. In any case he's someone worth listening to.