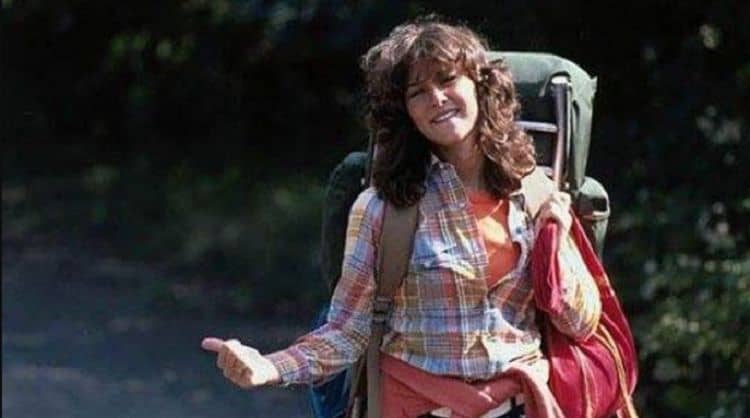 It's fair to say that a lot of people won't recognize the name Robbi Morgan since she did kind of come into the business and then drift away for a good while. One can easily think that she was raising her kids with her husband and wanted to spend more time with her family, which is understandable since anyone with kids knows that it's a full-time job. But apart from doing whatever else has kept her busy for this long, she has had a kind of sparse history in show business that has seen a couple of roles, one that people might remember her in since it took place in one of the most well-known slasher flicks that was ever made. Apart from that, she hasn't done much in her career if one looks at her IMDb page, which isn't always a perfect way to gauge a person's fame but is updated often enough to show whether or not the person is still active, which Robbi definitely is. Whether a lot of people are going to take note of her is hard to say, but the hope is that every article about those that people don't recognize could possibly push them into the spotlight, or as close to it as possible. The goal of course is to talk about these people and make it known that they've contributed to the industry in their own way, which is something that people need to learn how to be thankful for, especially since if they hadn't been there one can easily assume that things might have been different, and not always for the better.
Robbi doesn't have a whole lot of credits to her resume, but at the very least she can say that she was in Friday the 13th, the first movie no less, and can say that she was the first victim of Pamela Voorhees since the two that happened before she was taken out were flashbacks and therefore probably shouldn't be counted in the same manner as current-day kills. That sounds kind of morbid doesn't it? It also sounds like something that fanboys would be happy to argue about, amusingly enough. But the fact is that she was one of the many casualties that took place during the movie, and as such has been immortalized in some way due to this since it's not just everyone that gets hacked and slashed by a notorious killer in a movie. It's kind of a dubious honor to be certain, but it's still one that managed to get her a place in the horror hall of fame in some manner, even if hers is a name that needs to be looked up. She did go on to work on other projects after this, but it's apparent that apart from appearing on documentaries or TV shows as herself to talk about this or that, Robbi has bounced around in show business as she sees fit, which is fine and all, but it does make her harder to discuss since there's not quite as much about her that can be relayed to those that are willing to read.
She did perform a few stunts in the movie The Great Outdoors, which is kind of interesting since the movie was pretty funny, but one has to wonder just where her contributions came in since it's fair to say that she couldn't have done any of John Candy or Dan Aykroyd's stunts since it would have been a little too obvious. But the fact is that a lot of people are still likely to be thankful for her involvement since as I mentioned, those that work in Hollywood and don't soak up all of the glory but still do their job are valuable since they take up a spot that another person doesn't have to pull double duty for, and they fill areas within a plot, a setting, or something within the movie that might have otherwise felt incomplete. This is something that is necessary no matter how the story is told since it could be something as innocuous as providing inspiration for a project, but people such as Robbi are necessary since they're bound to do something to help a project along, no matter how big or small it might be. That's one thing that's a bit irritating when it comes to Hollywood, as the recognition for those that don't often get a lot of notice is often ignored in favor of building up those that do very little at times. There's no need to thank everyone over and over for their contributions, but it does feel necessary to mention that every last person within the industry carries some importance. Apart from that, it's business as usual, and actresses such as Robbi are no doubt still there since there's something they love about the job.