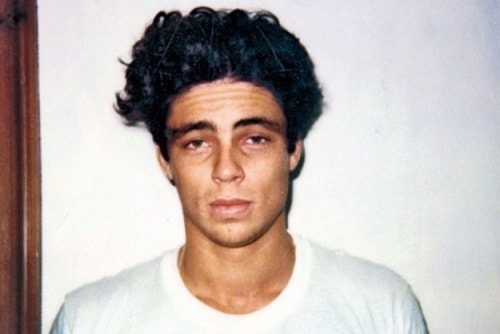 As a young man Benecio del Toro wasn't much of anything since despite coming from a family in which lawyers and influential people were quite prevalent it took him a while to really get noticed. By the time he was in college he was likely already thinking of acting since at one point he finally dropped out and made his way into the industry. It took him a while to get noticed however and he had to go the same route that a lot of people have done, which means working for it and hoping that he could land that one part that would finally get him into the public eye where people would start remembering his name.
Obviously he found that moment and went with it.
5. He lost his mother at the age of nine.
Sadly she passed away due to hepatitis. He, his brother, and his father moved to Pennsylvania when he was 15 and he spent a rather unremarkable adolescence there. It wouldn't be until he was accepted at the University of California that he would start down a path that would finally see him gain the kind of recognition that he was likely looking for when he decided to move towards acting.
4. He played mostly thugs and drug dealers on TV for a while.
In fact he still does from time to time. The role kind of suits him as he looks like a dangerous guy, but he's also taken on other roles that have allowed him to show that he has talent in other areas as well. But really the drug dealers, the thugs, and the most dangerous men in the room seem to be the roles that he's been playing for a while since when he decides to give a certain look he just looks flat out menacing.
3. He dropped out of college to pursue acting.
It might not have been what his father would have advised but it was something that he was determined to go for and it's a good thing he did. Some of his roles have been less than stellar but those that have been remembered are those in which he put the greatest amount of effort into most often and have helped to make his career.
2. He was pursuing a business degree at the University of California in San Diego at one point.
This was done on the advice of his father and while it was great advice, seeing as how business is a wise degree to have in this day and age, it wasn't what he was really wanting at that time. It's hard to know whether or not his father approved, but obviously Benecio made something of himself rather than pursue the degree he'd been seeking at the time.
1. He had a role in Big Top Pee-Wee.
Unless you take a look at the credits it's very hard to tell that he's in this movie. On top of that this second Pee-Wee movie didn't do nearly as well as the first, which isn't saying much. But unlike the first one it didn't even reach cult status.
If you're wondering, he was the dog-faced boy.