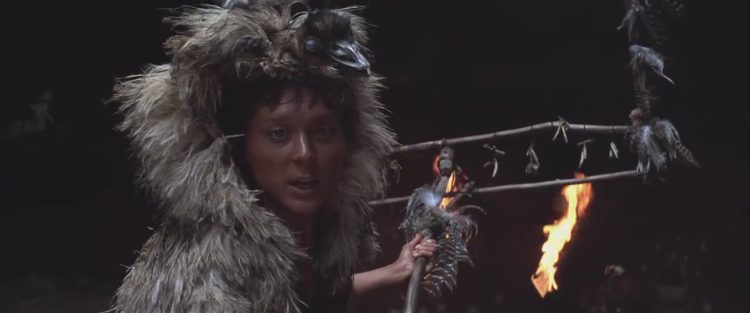 The expression of someone being a closed book best describes Helen Buday. For someone whose career dates back to the early 80s, you would expect her to be as popular as Jennifer Beals, who has maintained a glamorous acting career to this day. Unfortunately, Helen has faded into the background, but even when she was actively involved in films and movies, she never revealed much about herself. All we know is that her parents were German and Hungarian who immigrated to Australia as refugees due to World War 2. We are therefore tempted to investigate her life from how she started her career to what she is doing now, and here are our findings.
Her first love was music
According to various sources, Helen is both an actress and a singer, but as per her biography on IMDb she began by dance classes that comprised jazz, classical and tap at the age of eight. The actress then went to Melbourne Conservatorium of Music, where she majored in mezzo-soprano. The music school is a part of the University of Melbourne and prides itself as not only the oldest music institution but also the most prestigious one in Australia.
It is not clear when her focus shifted from singing to acting, but the actress went ahead to study at the National Institute of Dramatic Art (NIDA) and graduated in 1983. While at the institute, she portrayed her improvisation talents during a performance of Shakespeare's "Romeo & Juliet" where she was cast as Juliet. Romeo forgot to bring a dagger that Juliet would use to stab herself to death, and since he was already dead, Juliet jumped into a casket and banged her head against it until she died. Her musical training did not go to waste because Helen got cast in the lead roles of several musicals, including "Cabaret," "My Fair Lady," and "High Society."
Making her debut in the film industry
Helen made her film debut by being cast as Savanna Mix in "Mad Max Beyond Thunderdome." She plays the leader of a group of feral children who survived the crash of a Boeing 747. She leads the other children to find "Tomorrow-morrow Land," and once they settle, Savannah keeps the memory of the past alive through telling stories at night to the other children. While it was her first movie, according to AMC, Mel Gibson had already made his first lead role through the first installment of "Mad Max" while he was still a drama student. By then, it was 1979, and he was paid $10,000, but by the time the sequel came out in 1985, Mel was a star earning $1 million for his role in the movie.
Of course, Helen did not make as much; most likely, she got a few thousand dollars. However, it was still a step in the right direction for her career, especially since she was acting alongside famous people like Mel Gibson and Tina Turner. Indeed it opened doors for her television career as well because from 1984 to 2003, she juggled between television and film. Her film career is what earned her accolades because she was nominated for four awards due to her work in "Love Alone" and "Alexandra's Project." In 2003, she won the Best Actress during the Valladolid International Film Festival.
What is she known for now?
Although her Wikipedia page published that Helen's last credits were in 2003, the actress has been busy since then in theater. From 2004 to 2006, she played Mrs. Houseman in "Dirty Dancing" during the Australian national tour. Later on, in 2014, she was cast in a stage play, "Once in Royal David's City," that was performed at the Belvoir Street Theater. In 2016, Helen was also featured as Goneril in "King Lear," a stage play performed at the Sydney Theater Company. While all these are great accomplishments, the theatre actress is now famous, not for her acting talents but for the testimony she gave during Geoffrey Rush's defamation trial.
One actress, Eryn Jean Norvill, accused Geoffrey Rush of sexual harassment through a pattern of daily groping gestures and sexual innuendo that made her feel trapped and frightened. Eryn played Cordelia, King Lear's daughter, and since she dies in the play, King Lear, played by Geoffrey Rush, rushed to cradle his daughter's body. It is during this time that the actress claimed that Rush deliberately traced a hand across her right breast as more than 900 people watched, adding that the touch was slow and intent.
Of course, witnesses had to be called before passing out judgment and the director of the play, Neil Armfield said that he watched the stage like a hawk and did not witness any inappropriate behavior by Geoffrey during the entire production. Neil added that he had worked with the actor for over 22 years, and Rush was among the greatest actors in the world. Helen Buday, however, is the actress who delivered the most dramatic testimony, according to ABC.
Helen burst into song with a line from "Truly Scrumptious" that was in the 1968 film, "Chitty Chitty Bang Bang." She then gave her testimony that cemented Neil's claims of never seeing any inappropriate behavior by Rush during the play's production; Helen said that she had never heard Geoffrey say a female actor looked "scrumptious" during the play's rehearsals. The actress even said that the emoji of a tongue hanging out that Rush sent to Eryn was delightful, and Eryn was reading something that was not there. In the end, the judge used her testimony as well as that of Neil to rule in favor of Rush, explaining that Eryn was prone to exaggeration and embellishment.
What is she up to now?
Besides delivering testimonies, the actress has not forgotten about her passion in theater. Therefore when she talked to Languedoc Living, Helen said, after living in France and getting a French husband who knew nothing about Australia, she decided to do something about it. She consequently had the concept of Le Bout de Monde festival, and every year, for the last decade, she organizes it to try and blend France and Australia cultures.