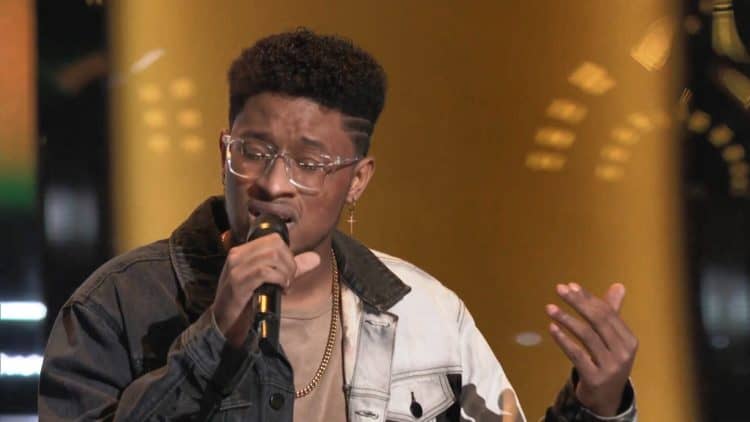 Every performer who steps on stage during the blind auditions for The Voice is hoping that they'll get at least one judge who's interested enough to turn around. 21-year-old Zae Romeo was able to do that and then some. All four of the judges turned their chairs during his performance of "Falling" by Harry Styles. Zae's unique sound and immense control over his voice were clear from the moment the song began. While the decision wasn't an easy one to make, Zae decided to join Nick's team and he's ready to see where the competition can take him. So far, there are a lot of people who think he can make it to the end. Keep reading to learn 10 things you didn't know about Zae Romeo.
1. He Left Home At 16
Zae didn't have the easiest upbringing and things at home eventually got too difficult to deal with. When he was 16-years-old, he left home and walked all the way from his hometown of McKinney, TX to Dallas. While the decision to make such a drastic change probably wasn't easy, it ended up working out well for Zae.
2. He's A Photographer
At this point, the world is most familiar with Zae as a singer, but that isn't the only creative talent he has. He's also a fan of the visual arts and, according to his Instagram bio, he is a photographer. Sadly, we weren't able to track down any of his photography work.
3. He's A Dog Person z
Zae may not have any children, but that doesn't mean he isn't a parent in his own right. He is a proud dog dad to his fur baby, Bella. Although Bella doesn't have her own Instagram account, she has her very own highlight section on Zae's account where he he posts all sorts of cute photos and videos featuring her.
4. He's A Music Teacher
Not only does Zae love sharing his talent with the world through his performances, but he also loves sharing his knowledge with the world. He is currently working as a music and art teacher and he enjoys getting the chance to help educate the next generation of creators.
5. He's Active In The Church Community
Zae is a devout Christian and his faith remains at the center of his life. He is very involved in his local church and is currently the worship leader. While things in life haven't always been easy for Zae, he has always been able to lean on his belief in God to get him through the hard times.
6. He Has A YouTube Channel
After Zae's performance on The Voice, there are lots of people who are very excited to hear more from him. The good news is that you won't have to wait until the next time he sings on the show. He has a YouTube channel where he's posted several videos of himself singing covers. His channel only has 255 subscribers at the moment, but that probably won't be the case for much longer.
7. He's Dealt With Depression
Mental health is a topic that many people don't feel comfortable about, but it's something that everyone has to confront at one time or another. Zae has been very open about his struggles with mental health and he has shared that he has had to face depression and anxiety.
8. He Hasn't Released Any Music
Zae is incredibly talented and he has been performing covers for the last several years. There are probably a lot of people who would love for him to release some original music, but he hasn't done so yet. We weren't able to find any information to indicate that he has any projects in the works at this time.
9. He's Into Fashion
Zae's voice wasn't the only thing that got people talking during his blind audition. Many viewers were also impressed with his outfit and his obvious sense of style. In an Instagram post Zae wrote, "For those of y'all that are asking about the fit, it's all my own clothes ;) I made the jacket with a lot bleach and hard work ;)"
10. He Doesn't Post much On Social Media
Social media can be a very powerful tool, especially for people who are trying to make it in the entertainment industry. While Zae has social media accounts, it doens't appear that he's put too much focus on building a large social media presence just yet. Instagram is where he's the most active, but he rarely posts on Twitter. Of course, he will likely be spending more time on social media as his following grows thanks to the show.