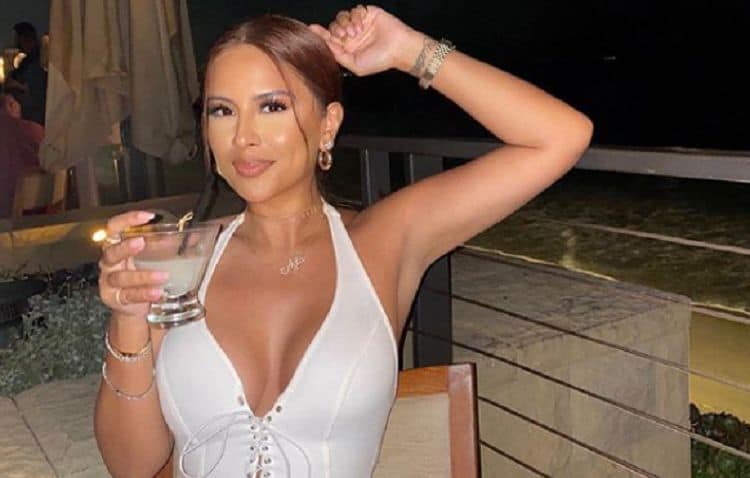 Yris (pronounced Iris) Palmer's rise through the social media ranks is proof that posting things online can be much more than a hobby. What started off as YouTube and Instagram content for fun has turned into lots of opportunities in real life. Yris is well-known on Instagram and YouTube. In addition to being a content creator, she is also popular for her friendship with Kylie Jenner and her relationship with NBA player, Troy Daniels. Yris is truly living her best life and there are still a lot of other things she hopes to accomplish as she continues to grow her business and build her brand. Keep reading for 10 things you didn't know about Yris Palmer.
1. Christina Milian Was Her First Celebrity Client
When Yris started her lash business, she couldn't have imagined just how big it would become. Now known for serving a wide variety of celebrity clientele, she got her first opportunity with Christina Milian. Yris told Beauty Launch Pad, "My first celebrity client was [singer] Christina Milian who found me on Instagram and started following my feed. Once I did her lashes she posted [the results] on her Instagram page, and every client after that has been entirely word of mouth."
2. A Trip To London Inspired Her To Start Her Business
Inspiration can come from the most unexpected places, and that's exactly what happened to Yris. During a trip to London several years ago, she started to notice that many people had beautiful lash extensions. She also wanted to achieve the look but didn't know of anybody in Los Angeles who was offering such a service. She decided to do some research and took a course in London to become a lash technician. What started as a side hustle eventually became a full fledged business.
3. She Wanted To Be An Actress
Being a business owner wasn't always on Yris' list of things to do. Instead, she always dreamed of becoming an actress. Although she went on some auditions, things with her acting career never took off. As far as we can tell, she never made any on screen appearances. Fortunately though, things ended up working out for her in other ways.
4. She Comes From Humble Beginnings
The lifestyle Yris lives now is something she only could have dreamed of when she was younger. She didn't come from a wealthy family and at one time was living in a two bedroom apartment with seven other people. She started working when she was 15-years-old and says "I always wanted what I didn't have."
5. She's Always Loved Fashion
Yris is the type of person who has always loved to express herself through her clothing. Even though she didn't have much money growing up, she liked to save up to buy shoes she wanted. Her work in the beauty industry goes hand in hand with her love for fashion.
6. She's A California Native
Yris has El Salvadorian roots and she is very proud of her culture, however, she was born and raised in the Los Angeles are and still lives there today. Although most people see Los Angeles as a superficial place to chase dreams, Yris sees it as home and she is very proud of where she's from.
7. She Loves To Get Massages
Everybody has at least one thing they like to over indulge on. For Yris, that thing is massages. She told The Spotlyte, " I [used] to get weekly massages. That [was] a must. They're so relaxing, and my body will crave them. I only get them probably twice a month now, but I used to go way more often. "
8. She Plans To Teach Her Daughter All About The Business
Yris loves to share her knowledge with the people around her ands he is particularly passionate about sharing it with her daughter. Although her daughter is only a baby now, Yris wants to teach her everything she knows about the business and about the beauty industry as a whole.
9. She Likes To Invest In Other Businesses Owned By Women
Yris is very proud of success and she also wants to help other people be successful. In an interview with Girl Talk HQ, she said, "I have invested in another female-founded business called SEV Laser, which is a medical spa in Calabasas. It is owned by another boss lady, Sevana Petrosian. She has 13 locations and is an amazing businesswoman! I think it's our job as women to support each other. I want to see more female-owned businesses and I look forward to investing in more."
10. She Encourages People To Never Stop Learning
Being an entrepreneur means that you constantly have to stay up to date with what's going on and have the ability to be flexible. For those reasons, Yris encourages people who want to be successful to always be willing to educate themselves. This doesn't neccesarily mean pursuing education in the formal sense, but it's always good to stay on top of what's happening in your industry.
Tell us what's wrong with this post? How could we improve it? :)
Let us improve this post!