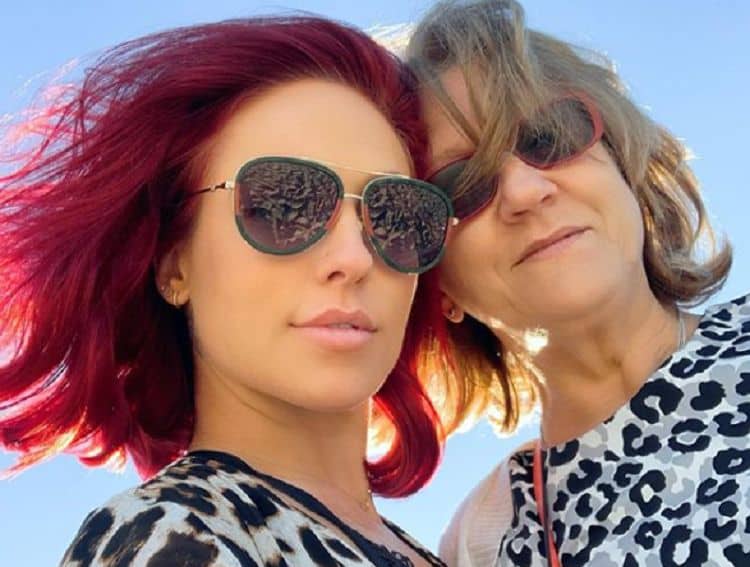 Sharna Burgess, who was born in Wagga Wagga, was destined to be a good dancer from a young age. Since childhood, Sharna began sharpening her dancing skills by training in jazz, gymnastics, and ballet. At the age of eight, her love and passion for ballroom dancing became even more evident immediately she began training. Soon after her training classes, she won both state and national accolades. She has been a dancer for the bigger part of her life, and she now holds a prestigious spot as one of the well-acclaimed dancers on CBS' Dancing with the Stars TV show — a position that she is well recognized for. Sharna is an all-rounded kind of person with diverse interests. She is tough as she is elegant, and she does not mind sharing some aspects of her private life publicly. Most importantly, she talented and beautiful, but what other aspects of her life experience do we know? If you hope to know more about her, read on to find ten things you probably did not know before.
1. Dancing with the Stars
Sharna has once made an appearance on the Australian spin-off of the TV show, So You Think You Can Dance. On the show's thirteenth season, Sharna was introduced as a troupe member. During this time, she operated on both the American and Australian versions of the TV show. On the sixteenth season of the show, Sharna was paired with Andy Dick. The two were eliminated in the seventh week of the competition. Since then, she had numerous partners to dance with on the show, but you always seem to remember your first partner. In a recent interview with Glamour, Sharna said that her partner in the eighteenth season, Charlie, remained close to her. She is also very close to Nick Carter, with whom she partnered with in season 21.
2. Favorite Partners
In the past, we have been served with good drama concerning the professional dancers and their partners not getting along very well. Even though Sharna has not been a subject of any terrible experience in the past, she has her favorites.
3. She had a spot on Burn The Floor
At the age of 18, Sharna relocated to London and shortly after she got a place on the much-acclaimed show: Simply Ballroom. Jason Gilkison, who was a dance choreographer on the show, offered her a position on Burn the Floor. She followed the show as a member even when they got into Broadway.
4. Tomboy
Sharna, while younger, behaved like a tomboy. When not dancing, she would climb trees and act tough — well, acting tough included shooting guns. While most girls fear everything about firearms, Sharna likes the shot, and she spends so much of her time perfecting her skills. Apparently, she has developed into the sure-shot, and she can also handle a rifle as well as any guy. Even more on her behavior as a kid, she admits to being the kind of toddler who would always run, especially while in stores. As a child, she would often play hide and seek as her mother did the shopping — even though her mother never thought that it was a game. However, her mum got tires of such stunts, and in order to keep a leash on her, she used a leash.
5. She once got lost while petting a dog
Sharna confesses to one rather embarrassing ordeal she encountered while about three years of age. An innocent act of taking a neighbor's pet for a walk ended in the police being called. Immediately she returned the dog to the owner, she took the wrong turn for home and subsequently got lost for a few hours. That might sound rather embarrassing, but everything turned out to be okay.
6. The Mile High Club
You might have heard about the prestigious Mile High Club; if you understand any detail about its image and brand, then you might look at Sharna a bit differently. This is because, according to her, she is a proud member of this exclusive and notorious club.
7. Her Net Worth
Even with all her successes in dancing for many years, and always showing up on Dancing with the Stars, Sharna prides in a humble net worth of about 750 thousand US dollars. While such an amount is not something to scoff at, it seems lowly if graded against Hollywood income standards. Obviously, there remains a very good chance that her net worth has increased in the last few years since such estimations were made public, but CBS is always keen to keep the income and salaries of its pro dancers under the wraps.
8. She Fears Heights
This is not an uncommon characteristic since many people fear heights; however, Sharna seems to harbor an abnormal and severe fear for heights, which she is not afraid to admit. With such an acute fear, it is a wonder how she performs so well while dancing, especially while doing routines that would need her to be thrown or lifted into the air.
9. Short Bio
Sharna Burgess was born in South Wales, Australia to Lucy and Ray Burgess. She was raised in Australia before they moved to London where she has won numerous titles and made many tours with the TV show, Simply Ballroom. During one of the trips with the show, she was offered a position on Burn the Floor where she participated in the show as a performer for about six years. Sharna has once made an appearance on the Australian spin-off of the TV show, So You Think You Can Dance. During this time, she operated on both the American and Australian versions of the TV show.
10. Other Works
Other than Dancing with the Stars, Sharna's dancing skills have landed her an excellent job as a dance choreographer for the hit movie Street Dance 2. She met her ex-boyfriend, Paul Kirkland, while working on the film. The two dated from 2010 to 2015.