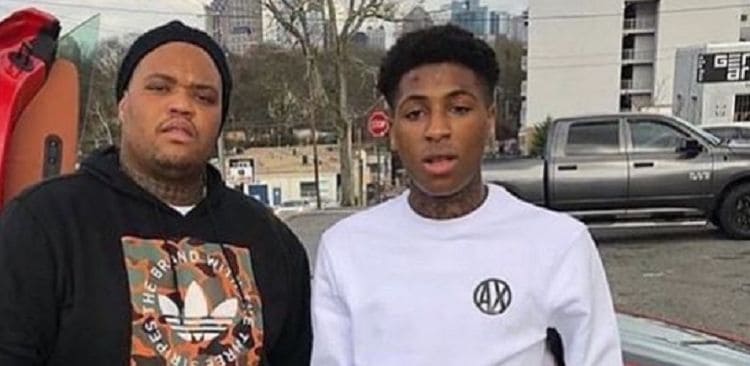 YoungBoy Never Broke Again (or to give him his birth name, Kentrell DeSean Gaulden) burst onto the scene in 2015, acquiring a loyal following with his authentic, uncompromising hip hop style. After releasing 8 independent mixtapes, he was signed to Atlantic Records in 2017. A year later, he released his highest-charting single to date, "Outside Today", which reached 31 on the Billboard Hot 100 chart and predicted the success of his follow up debut studio album, Until Death Call My Name. October 2019 sees the release of his 2nd album, Lonely Child, an album that's set to send his career stratospheric. Find out more with these 10 fast facts.
1. He broke his neck when he was a toddler
Look closely and you may notice 3 deep scars engraved on YoungBoy's forehead. The marks are the lasting legacy of a childhood accident that could well have proven fatal. YoungBoy, who was born on October 20, 1999, in Baton Rouge, Louisiana, suffered a broken neck after a game of wrestling took a devastating turn. The injury forced him to wear a head brace until the spinal injuries healed, with the scars left as a permanent reminder of the brace.
2. He has four sons with three different mothers
Despite being just 19 years old, YoungBoy is already a father to four sons (Kayden, Kamron, Taylin, Kamiri and Kacey) with three different mothers. In June 2018, YoungBoy revealed he'd found out that one of his son's (identified only by the moniker Baby K), was not biologically his, but he was determined to be a father figure to the child none-the-less. He made the announcement on Facebook, saying "Wanna Be First To Tell Yall I Officially Found Out Baby K Isn't My Child, But The Man I Am I'm Going To Keep Raising Him Like He's Mine I Can't Lie It Hurt To Find Out The Truth But Life Goes On."
3. He was raised by his grandmother
YoungBoy, who was born the middle of three children, was raised predominantly by his maternal grandmother after his mother left the neighborhood and his father was sentenced to 55 years in jail for robbery. When his grandmother died in 2010, he was taken in by the family of his friend, 3Three.
4. He dropped out of school in 8th grade
By the time he reached 8th grade, YoungBoy was already writing and performing music. After deciding he couldn't focus on his studies at the same time as building his career, he dropped out of school. "I wanted to be a rapper and I couldn't focus and do that," he told The Fader. "I didn't even have the clothes for that. I really felt like I wasn't smart enough, so what I'm there for?" Shortly after, he bought his first microphone from Walmart and began recording and releasing songs of his own.
5. He's the unofficial "King of YouTube"
It's not unreasonable to suggest YouTube has done more for YoungBoys's success than anything else. Since he first started using the outlet to release his tracks, his fanbase has grown exponentially. He now ranks as the most-watched artist across all genres, having spent over 101 weeks on YouTube's Top Artists list, over 19 weeks at number, and averaged 8 million global views per day.
6. He's done jail time
In November 2016, YoungBoy was arrested just before a concert in Austin on suspicion of two counts of attempted murder. It was alleged that he'd jumped out of a vehicle and opened fire on a group of people on a street in South Baton Rouge. The rapper was subsequently sentenced to jail, serving 9 months between December 2016 and August 2017. "I don't think they really target,"' he told XXL in his first interview from jail. "If you got a name, they know who you are, you do something, they gonna come get you, and whoever you're with and whatever they do, you're accountable for it just because you got the biggest name."
7. He was arrested again for attacking his girlfriend
Less than 6 months after YoungBoy was released from prison and given a suspended 10-year prison term and three years of probation for his involvement in a drive-by shooting, he was arrested again on allegations of assault, weapons violations, and kidnapping. After camera footage showing him throwing his then-girlfriend Jania to the ground and dragging her into a hotel room was leaked to TMZ, he was arrested and jailed. He was eventually released from prison in March 2018 after paying $75,000 bail.
8. He's still on probation
If body slamming his girlfriend wasn't enough, YoungBoy's criminal record has been tarnished further by yet another incident involving the death of an innocent man in a drive-by shooting in Miami. Another victim of the incident was the rapper's 19-year-old girlfriend, Kay Marie, who sustained a gunshot wound to her upper arm. A five-year-old buy also suffered an injury after being grazed by a stray bullet. Further to his involvement, YoungBoy was sentenced to probation for 14 months.
9. He's on house arrest
Don't expect to see YoungBoy on tour anytime soon… following a violation of his probation in February, the rapper is currently serving the remainder of his 14-month probation under house arrest. The terms of his arrest allow him to record music in his house but prohibit him from stepping foot in an outside studio. Aptly enough, his first single to be released in September 2019 after a 9-month absence from the music scene was entitled "House Arrest Tingz".
10. He's been nominated for a Bet award
In 2019, YoungBoy won his first award nomination after being selected in the category for Best Impact Track at the Bet Hip Hop Awards for "I Am Who They Say I Am" (with Kevin Gates and Quando Rondo). He ultimately lost out to J Cole for his track, "Middle Child".
Tell us what's wrong with this post? How could we improve it? :)
Let us improve this post!