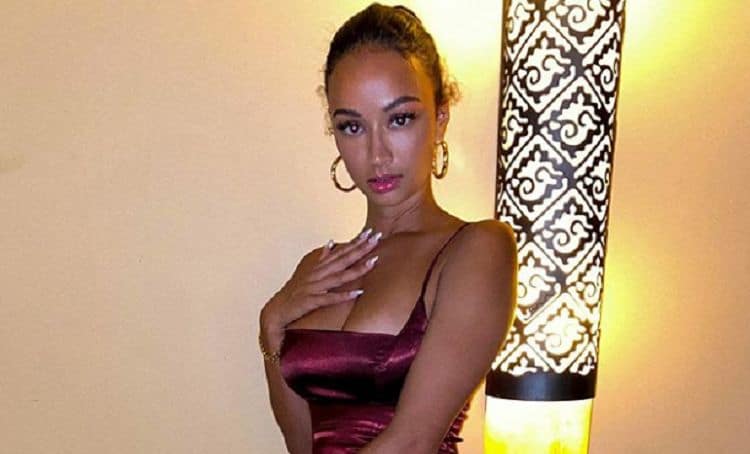 Draya Michele is one of those people who lots of people have heard of, but most people can't remember exactly what she's famous for. The reality is that Draya is actually well-known for quite a few things. From reality TV, to modeling, to dating celebrities, Draya has been in the spotlight for several reasons. Unfortunately, they haven't always been good. She recently dealt with criticism after making some tasteless comments in regards to Megan Thee Stallion being shot. However, if there's one thing we can say about Draya, it's that she always finds a way to bounce back. Keep reading for 10 things you didn't know about Draya Michele.
1. She's A Brand Ambassador For Rihanna's Company
Draya is well-known for her good looks and as a result she's spent a lot of time in front of the camera. Over the years she has worked with several brands and she is currently a brand ambassador for Rihanna's Savage X Fenty brand. However, some people are calling for the brand to remove her from her position after the comments she made regarding Megan Thee Stallion.
2. She Started A Swimwear Line
On top of being a model and a reality TV star, Draya is also an entrepreneur. In 2011, she started a swimsuit line called Mint Swim. According to the website, the line was "created and designed with all shapes and sizes in mind. Targeting the woman that wants to feel sexy and enhance all the right curves while staying fashionable. " She started the line with $12,000 of her own money.
3. She's From Pennsylvania
Draya has been a Los Angeles relative for many years, but she's actually from Pennsylvania. Like most people, Draya couldn't wait to grow up and get away from her home town. Although moving away from Pennsylvania was a huge risk, it worked out for Draya in the long run.
4. She Regrets Her Time On Basketball Wives
One of the things Draya is best-known for is being a cast member on the VH1 show Basketball Wives L.A. Despite the fact that the show is partially responsible for her fame, she wishes she never did it. She said, "Basketball Wives has this stereotype of these angry Black women and I feel like more than just Black people watch it. People who aren't familiar with Black culture take that and they think that is what they are. I feel really, really bad that I was a part of that and contributed to that. Black women, we're queens. We're so much more than arguing with each other over stupid stuff. I never want people think I'm this aggressive Black woman because I'm not."
5. She Wanted To Be An Aesthetician
If there's one thing most people can relate to, it's the fact that life usually takes unexpected twists and turns. Even though it seems like Draya was destined to live a life in the spotlight, she actually initially planned on doing something entirely different. She has always been fascinated with skin, and went to school to become an aesthetician.
6. She Used To Work At Hooters
Draya is a true hustler at heart and she has always worked hard for her money. When she first moved to California, she worked at a local Hooters restaurant where she was able to meet and interact with lots of different people. The restaurant industry may not be glamorous, it taught Draya lots of important skills.
7. She Uses A Fake Name At Starbucks
Starbucks is famous for writing (and shouting) customers' names when they place orders. But for what ever reason, Draya doesn't like to use her real name. Instead, she prefers to use the name Nicole. She didn't explain why she does this, but it's definitely a good tactic for staying low key.
8. She Loves To Workout
It's no secret that aesthetics are a huge part of the entertainment industry. So it's no surprise that looking good has become a part of Draya's brand. With that being said, she she spends a lot of time in the gym. Working out is part of Draya's regular routine and she shares a lot of exercises on Instagram.
9. She's A Big Victoria Beckham Fan
Like many other millennials, Draya was a big fan of the Spice Girls growing up and Posh Spice was her favorite. Although the girl group is no longer a thing, Draya's admiration for Victoria Beckham is still strong. She told Who What Wear, "I really, really love Victoria Beckham as a person and what she represents as a designer."
10. Time Management Is One Of Her Top Priorities
Draya is a business woman and staying on top of everything isn't always easy. One of the most important skills she's learned over the years is how to properly manage her time. Being able to prioritize what needs to be done has helped her tremendously on the path to success.
Tell us what's wrong with this post? How could we improve it? :)
Let us improve this post!