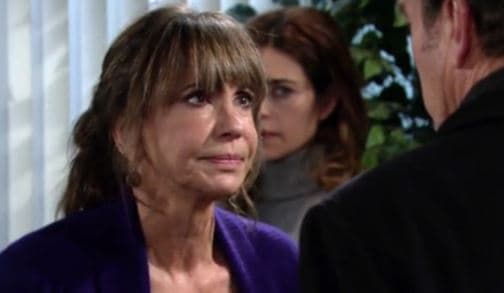 Young and the Restless spoilers indicated that there might be a chance someone would return with a bad attitude, and it turns out it might be Jill. She's coming home to tell her son that he needs to get his life together. She wants Billy to make the right choices in his life, and she's not sure he is making them. We have no idea if this problem she has is because he is with Phyllis or if she wants him to get his head out of his rear end and figure out that he must stop this nonsense with this brother or even with his ex-wife.
She's going to give him some lessons in history, and we have a feeling it will not be okay for any of them. She's not happy, and she's looking to meddle in his life in a way he will not appreciate. He's recently found a way to finally be happy with his life, and she's not really all that welcome in it now that she's back and looking to make amends.
He's got to deal with this on top of everything else that he's dealing with, and it's not going to work well for anyone. This is not the kind of problem he can really afford right now in the middle of all that he's got going on, and finding time to deal with his mother is not something he wants to put on his list of things to do at the moment.