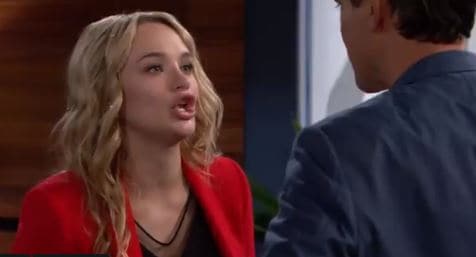 Young and the Restless fans are always watching as these people make a mess of their own lives. We know that Dina is not happy with Phyllis and vice versa, but what about Dina going missing? This is a woman with serious memory issues, and they are constantly letting her out of their sight to do what she wants to do like she's aware and cognitive about life. Thankfully, Kyle found her and she's all right. She's not happy with Phyllis, but we are certain she'll forget all about that in the near future. She's got her own issues to work through, and they don't always involve remembering what had her all upset in the first place. She's a disaster of epic proportions, and we know that she's got her own issues to work through in this moment. There's a lot happening, and she's a disaster about all of it.
Lily is having a difficult time in prison. She's been sentenced, and we watched her sit in there and cry while she looked at photos of the twins. She's beyond upset by her future, and we get it. She's being punished, but she's also paying a big price for something she did not intend to do. She's upset, her family is crushed, and her own brother doesn't care. He refuses to visit her, nor does he seem to care that this is not just about his sister. This is about her own children, who are now being forced to spend their life without their mother because their uncle was so mad at her. He's right to be angry, but is he right to do this to her when it was just an accident? Is he right to make her own kids suffer like this to make himself feel better?
What's Happening on Young and the Restless
https://twitter.com/YandR_CBS/status/1037029521520648192?ref_src=twsrc%5Etfw
We can't even handle what happened when Lily was sentenced, and it's not something we can handle to watch again. Did things go the way you thought they would go? Do you agree with what the judge handed down to her in terms of her punishment for her involvement in the accident that killed Hilary and her unborn baby? What do you see happening her? What do you think is going to happen next? We can't handle the emotions.
What's Next on Young and the Restless
Kyle plays hero today on #YR. pic.twitter.com/AGBu7xrOeK

— Young and Restless (@YandR_CBS) September 5, 2018
Billy is good at making a mess of his life, and today is no exception to that rule. He's really good at telling people things that make them upset or that ruin his own life, and today he will do just that. He has an admission to make, and we have a feeling it's going to be one of those things that makes him look really bad in front of people that don't do him any justice. He will never, ever learn. That's our theory on this entire situation. He simply will not learn to let it go, to move on, and to get his life together. He's a mess, and we don't know that he can handle what is coming for him in terms of Phyllis and Summer — and probably Nick and everyone else in the near future. He's got too much to deal with.
And then there is the fact that Abby once again has to stand up for Arturo. We don't know that this is going to end well for her now that Rey is here, and he's got his brother's ear. We also know that there is a sister coming in the near future, and that won't go well, either. There's too much here that can cause problems that no one wants to have happen, and we don't know that there is anything they can do to make this all stop. Right now, they have to focus on the fact that there is a lot happening, and she's go to defend him every time she turns around.
Stay tuned for more Young and the Restless and be sure to check out TVOvermind daily for the latest Young and the Restless spoilers, news, and updates.