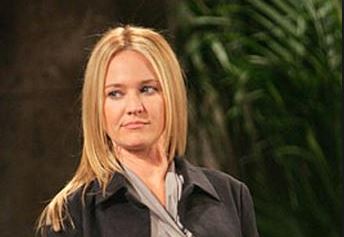 Young and the Restless fans are still amazed that Sharon has kept her mouth shut this long, but we all know that things will turn around sooner rather than later. She's not yet told Nick that things have changed for them in the fact that she's kind of guilty of hiding a very ugly secret alongside three other women in his life. They've recently decided that they would make it a goal in their own lives to get their relationship back on track, so this will not come as very good news to him, if that's allowed to be mentioned. They have a lot to work with right now, but it will not work out well for them.
And that is not going to end well for her today when she comes up with a plan of her own to get him to stop investigating what happened to JT and the entire situation that surrounds that. She's been working very hard to get him to stop looking into this and to just let it go, and she's got a plan to make it happen. However, we all know Sharon is a terrible liar and not all that good at the plan-making situation. She's not someone who covers up things very well — which is so unfortunate for the women she's working with right now — and things will not work as she thought they would. In fact, we hear a rumor that what she's doing might make the truth more obvious to Nick.
Sharon is not good at keeping secrets or doing anything overly devious in terms of getting what she wants, but she's good at doing things like telling Nick how she feels and making sure he knows that he is important to her. So that might work for her, but things will backfire and this might send him into the truth faster than she had anticipated. This won't go over well for others, either. Phyllis and Nikki might just lose their minds on her, and that will not end well. This is not a good time for Sharon and her life.
Stay tuned for more Young and the Restless and be sure to check TVOvermind daily for the latest Young and the Restless spoilers, news, and updates.