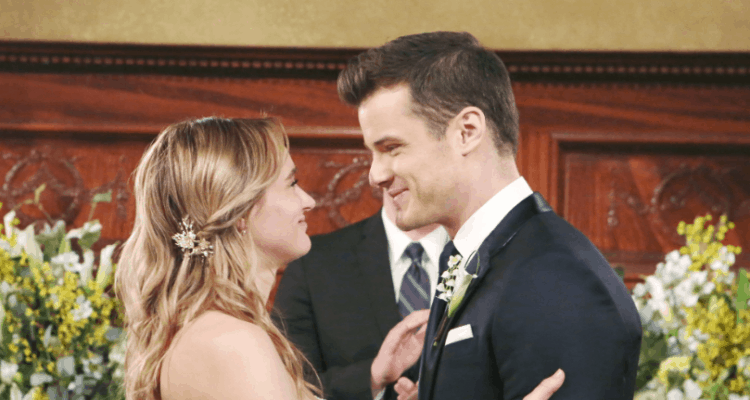 Young and the Restless fans are not sure how Nick and Rey are going to deal with the fact that these women are now officially released, but only because they are in the custody of these two men. They are now responsible for keeping them safe, out of harm's way, and from doing anything stupid. Clearly, they have their work cut out for them in this moment. They are not going to have much else to say about this other than the fact that there is so much going on we don't know about. We don't know if there is much we can do about anything at this point, but we do know that there is a lot happening that might just make it easier for everyone to get on board with this situation. On another note, though, Summer is worried. She's a married woman now, and she's loving that she managed to win Kyle even if it's for all the wrong reasons.
And she wants to keep him. She's terrified that he will leave her once the surgery is over and she no longer needs him, but that's all there is to it. He will, and we all know it. He wants to be with Lola. On that note, we do have to say that Mia is working hard to get what she wants, including Arturo's help. She will tell everyone they spent the night together recently if he doesn't make it a point to help her, and that will be the undoing of him and his engagement to Abby. She will not forgive him for this at all, and she will end this for good. And then there is the fact that she is fake pregnant, which will only make things worse for her as she's looking for a new place to live.
What's Happening on Young and the Restless
Victoria can always count on her dad. ❤️ #YR pic.twitter.com/toh0mRb4Wi

— Young and Restless (@YandR_CBS) March 14, 2019
Can her father make this right for her and the rest of the women involved in her fight?
What's Next on Young and the Restless
Think J.T. could still be alive? See if Nick and Billy can solve the mystery this week on #YR! pic.twitter.com/eDBcli6T6X

— Young and Restless (@YandR_CBS) March 17, 2019
Things are getting a little crazy in the moment. There is a chance that things will not take a good turn for Billy and Nick. They are working on something together that might just make them a bigger mess than they already are, and we cannot help but wonder if there is anything we can do to change this. Is there a chance that we can see them succeed, and will this work even a little? And, does this have anything to do with the fact that Kerry is about to bail on Genoa City and Jack in the end? She was never going to stick around, and that's something we've known for some time, but there is not much else we can do other than focus on how this might even work a little bit, or how it might just make them even more miserable.
Nick should, at this point, spend some more of his time focused on keeping the women in his life and family safe. They are probably going to do something stupid, and we know that he is going to end up in a lot of trouble if they do — but how can he make this right in some way? They have nothing else to do with any of this, and there really is nothing we can do for them. They will not make a good choice, but we also have the privilege of knowing that they will eventually find things working out for them.
Stay tuned for more Young and the Restless and be sure to check out TVOvermind daily for the latest Young and the Restless spoilers, news, and updates.