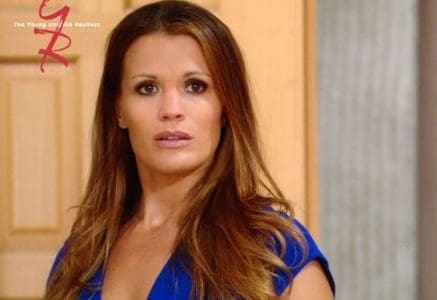 Young and the Restless fans are excited about all that's coming in the next week. We will see that Chelsea has some secrets of her own she doesn't want anyone to know, but she might not be able to make it that easy. She's going to be out and about minding her own business when she unexpectedly runs into Jordan. It turns out they have a former history together, and they haven't told anyone about it. We hear their encounter is going to involve a conversation that includes them agreeing not to mention their former "friendship" with one another. We want to know whether their friendship was a physical one or if it was a job they were doing for or against someone. Only time will tell at this point.
Chelsea is visibly uncomfortably during this exchange, and we have a feeling she's got more to lose than Jordan if people find out what is being discussed. Will she want people to remember she used to spend her time conning people out of their money and their items to help her out? Is Jordan someone she worked with in the past? We know many people might think it's all about romance, but we see these two having worked together in an illegal capacity at some point. That's where we stand with things right now.
Jordan is a little shady sometimes, and we think that he might want to get Chelsea's help on a little something. She's been clean for a while, but she might realize he has some information about her that might hurt her and her family if anyone finds out about them. Will she be blackmailed by him? Or will they be able to get past what's bothering her and move on? We hope whatever it is she's able to deny and keep going with her good life.