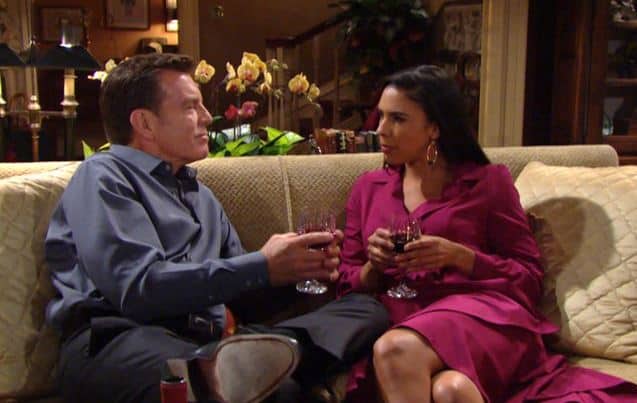 Young and the Restless fans are watching Nikki as she connects with Victor. We haven't seen much of him lately as he's been around and out and not really present, but she's got to warm him up because she knows she might need him in the near future. She's got something to prove and that's that she and her daughter and Sharon and Phyllis didn't kill and bury JT, even though that's exactly what they did. She has to keep this a secret, and she knows that if it gets out and things seem to point to them, he is the man who can save them and make it all look like it didn't have much else to do with them. Cane is worried about Devon. Devon is spiraling out of control, and not in a good way. He's changed so much all of a sudden that no one seems to know what the heck is going on with him or his life, and that's not good news.
And then there is the fact that Mariah has some tough decisions to make. Is she going to end things with Tessa? She's been lying to her, she knows Tessa has been lying back to her, and she's smart enough to know that this is not the best way to go about having a relationship with anyone. So we do wonder if there is a chance that they might just have a moment to deal with this before it all goes too far. Will they have a moment to go about doing their lives as they saw fit, or will they have a chance to move on at all? Will she end things and make it right in her own life, or will she allow this to go on?
What's Happening on Young and the Restless
✨ SWEEPSTAKES ✨ It's the fourth and final week of FANsgiving, so we're giving away a #YR superfan prize pack! @CJLeBlanc is excited about this amazing prize…are you?? 👏 Enter for a chance to win here: https://t.co/Tuv3thrFTX pic.twitter.com/mFyrYGWYLR

— Young and Restless (@YandR_CBS) November 26, 2018
We love this concept, and we hope that you do, too. There's a lot at stake here (see what we did, there?) and we think that you really do have a shot at taking home this kind of awesomeness.
What's Next on Young and the Restless
Boundaries will be set and boundaries will be crossed. ❌ PLUS, will Devon's behavior spiral out of control? Find out this week on #YR. pic.twitter.com/LrBdxs93kE

— Young and Restless (@YandR_CBS) November 25, 2018
Devon is not happy with the way things are going when Devon gets a new sister. Her name is Ana, and she's going to show up on his doorstep to see him. And that might not be a good thing. He is already in the middle of a complete and total break down and this might not help his situation at all considering he did just put his other sister in prison for killing his fiancé turned wife and almost baby mama and the baby she was carrying. This was all ugly for him, and a new sister showing up after all these years might not do well for him or his attitude at this point in his life.
And what about the fact that Kyle's going to be surprised by Lola? She's not as into him as he is into her, and that's a problem for him. He's also dealing with the fact that Summer will do anything and everything to get him for herself, so this is not working out for him at all. And that's not all, either. There is a lot that people might have to deal with otherwise, and we can't figure out if there is much going on in terms of what is being presented around here. She's showing him some interest again, and he can't decide what to do. He's confused, and not in a good way or the kind of way that will change his life and his heart in any way.
Stay tuned for more Young and the Restless and be sure to check out TVOvermind daily for the latest Young and the Restless spoilers, news, and updates.