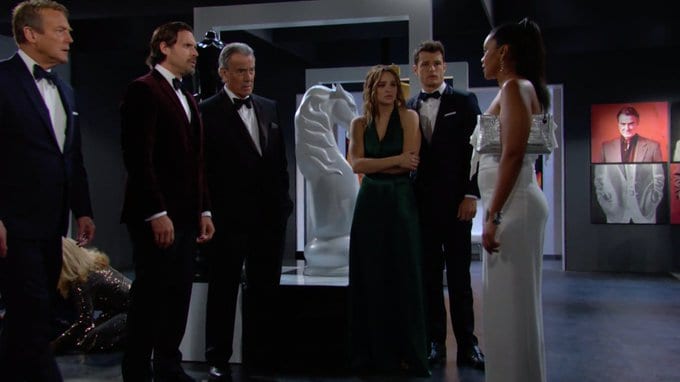 Young and the Restless fans are just sitting over here like Nikki is the greatest thing that ever happened, and we are sure we are correct that she is. She has just told Billy that he is not about to waltz around here and do what he wants and be there for Victoria after leaving her, and that he is not part of her family or her life anymore. She told him where he stands, what she needs him to do in his life, and she literally put him in his place right then and there, and we are all for it. That's what we like, and we are down with her words. She's so calm about it too, and that's what we love about her. Her husband is the one who yells and raises his voice and scares people, but her quiet words are terrifying in a way that Victor could never accomplish.
Kevin also had a lot to do today. He helped crack a code, and we are just wondering what this means. Is this something important, or is this not really anything that will make a difference in the long run? We cannot be sure, but we are certain that there is a bit more to this than meets the eye. We also have our eye on Tanner. We think that he is a bit too much into the lives of Tessa and Mariah, and we really think that he is going to cause some problems in the meantime. He's going to get in the way, and it will be easy since they are always on such a shaky ground with one another already. We cannot be sure, but we don't see this one ending well, but we do see it ending with heartbreak and sadness for Mariah.
What's Happening on Days of Our Lives
We are all devastated by the passing of Lee Phillip Bell. A television pioneer and powerhouse in her own right, she elevated daytime television in co-creating "The Young and the Restless" with her equally iconic husband, Bill Bell. We sadly mourn our true matriarch. 🙏🏻💜 pic.twitter.com/V5nUaz4N5E

— Melody Thomas Scott (@MelodyThomasSco) February 26, 2020
Our hearts hurt for everyone. There's a lot of sadness in Hollywood today.
What's Next on Days of Our Lives
We are deeply saddened by the news of the passing of a member of our CBS family and Daytime community, Emmy Award winning broadcast journalist, and co-creator of Y&R and B&B, Lee Phillip Bell. She was a pioneer in television and will be missed dearly. pic.twitter.com/4IGhjltKKO

— Bold & The Beautiful (@BandB_CBS) February 26, 2020
Victoria is all right, thankfully. She's not in a good place right now, but she will be. She's shaken up and not happy about what happened to her, and she's upset by so many other things on top of that. But, she's not going to let anyone cause her anymore harm than they have already done. She's on the mend, but she's got a few things on her mind, such as what is going on with her life. She's in need of answers right now, and she's not going to get them if she's stuck in a hospital bed, so she's trying to do what she can to work that out. She needs to know what happened, why it happened, and how this is going to affect the rest of her life.
In the wake of all that is going on right now, Jack has learned something. He has some news to share with everyone, but it's not news that is going to go over well. He's got to share that there are a few things in the town that are not quite right, and what he's sharking is more than upsetting. It's disturbing, and he cannot do anything about it. He has to figure out what's next, how to stop what is going on, and he has to make sure that things are going to go that way for him. He's a mess right now, but he will make sure that there is nothing that makes this worse than it already is, even though we are pretty sure it can't get worse.
Stay tuned for more Young and the Restless and be sure to check out TVOvermind daily for the latest Young and the Restless spoilers, news, and updates.