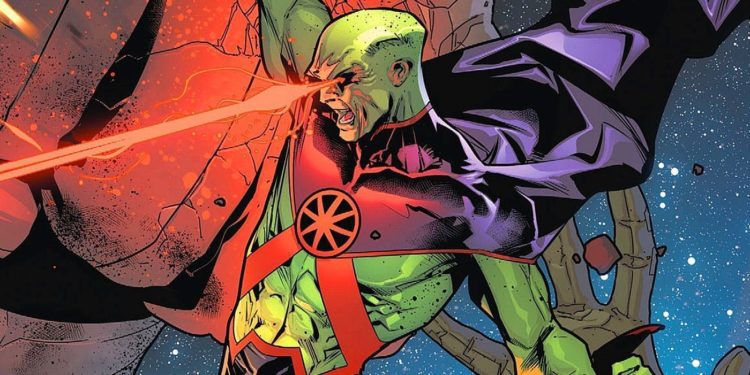 If there's one superhero who really needs his live-action debut soon, it's J'onn J'onzz, better known as Martian Manhunter. If you're a DC fan, this is one alien superhero that you've been itching to see in a movie. I'm one of them, and now that the DC Cinematic Universe is finally starting to properly flourish, now is as good as time as any to include him. Speaking of the DCEU, it seems we'll be getting the live-action of Martian Manhunter sooner than we thought. By now, everyone is aware of Zack Snyder finally getting the chance to show us what he originally had in mind for Justice League. He's currently doing some additional reshoots for his own "Snyder Cut" and will be released next year on HBO Max. That's awesome for us fans and it's just another reason to be excited for 2021.
It's no secret how much Zack Snyder loves the characters of DC Comics. He himself stated that he's a fan of Martian Manhunter and wishes to include him in future DCEU projects. In fact, it turns out that he secretly had the alien hidden in plain sight since the beginning. Just in case you're not familiar with Martian Manhunter, I'll give you a brief summary of his powers. To make it short, he's very powerful, basically on Superman's level. He can fly, has super strength, he can turn invisible and become intangible, and also has heat vision. His most signature power, however, is his shapeshifting abilities. He can transform himself into pretty much anything or anyone. That's how he actually got his regular superhero look. One look at Superman and bam, he shapeshifted a cape and uniform for himself.
So since Martian Manhunter is a shapeshifter, it's highly possible that he's been living on Earth in the form of a regular human being. Well, according to Zack Snyder, he has been, but he's no regular human. Snyder confirmed that J'on J'onzz actually took the form of General Calvin Swanwick. In the early development stages of Justice League, this revelation would've come to light during a conversation with Lois Lane and Martha Kent. Their conversation ends, Martha leaves and as Lois watches from a distance, J'on J'onzz reveals himself. He and Lois Lane lock eyes, she doesn't seem too surprised and he's perfectly calm, and then shapeshifts back into General Swanwick. Snyder revealed this concept art on his social media (long after the release of Justice League), confirming that the idea was indeed on the table.
It's a crying shame he didn't go through with it sooner, but then again, his Batman vs. Superman and Justice League were overcrowded as it is. Heck, his actual Justice League seems overcrowded but since it'll be shown in the form of a mini-series, he has the advantage of telling the stories of more characters. I reckon one of the characters he has in mind is Martian Manhunter. He's had the idea of including him since the beginning, so honestly, why not give him his long-awaited live-action debut?
Well, in a recent interview Snyder had with The Nerd Queens, he revealed some more concept art of Martian Manhunter. All he had to do was pull up the picture on his phone and showed them what he had in mind. The concept art he had on his phone is pretty much exactly what you would expect Martian Manhunter to look like. He had the big X on his chest, the blue cape, and the funny-shaped head. It's good look for him so far, but let's keep in mind that it's still concept art.
Now I firmly believe that Zack Snyder is planning on including Martian Manhunter in his cut of Justice League. The concept art that he showed might not be the final look he'll be giving him. There might be some little nuances he'll want to change to make him look slightly different than how we're used to seeing him. Understandable, especially since Snyder is just the expert at making his characters look awesome. I'll give him the benefit of the doubt in that area, but I'm very curious to see how he'll use Martian Manhunter in his cut.
For one, I always wondered why Snyder had J'onn J'onzz take the form of General Swanwick. The best reason I can think of is that J'onn wants to be in a position of power so he can keep an eye on world events. Except when Superman is first revealed to the world, he initially doesn't trust him. That seems odd to me, because Superman is an alien and he's an alien. Plus, one of his main powers is telepathy. If he didn't trust Superman, couldn't of he just read his mind? Perhaps he just didn't want to give himself away, but I find it odd that he was so skeptical of Superman in the beginning. If Snyder still wants to go with this route, then these are some questions he needs to answer.
Since the Snyder Cut will be a mini-series, Martian Manhunter's inclusion can be more than a cameo. Keep in mind, Zack Snyder has had several years to rethink his story for Justice League. I reckon there are some things he had in mind before that he now wants to change. One of those things can be how he reveals Martian Manhunter. He could still have him reveal his martian form after the Lois Lane conversation, but he probably thought of something bigger. Snyder will be including not only Steppenwolf, but he'll also give us a taste of Darkseid. Now that's a villain we've been waiting to see on the big-screen for years and he's finally coming.
If Snyder is giving us Darkseid, the Justice League will need more members. Anyone remember the whole "Unite the Seven" poster with Jason Momoa on the cover? I just don't believe he was referring to the seven seas. In the beginning, there were seven members of the Justice League in the comics. In the movie, there is only six members. Now, can we also expect Green Lantern? Maybe Hal Jordan, but he might not become the Green Lantern right away. Martian Manhunter, on the other hand, would be a formidable ally for the League. He's an immensely powerful hero who can take on armies of parademons by himself. If he's in the form of General Swanwick, he could be waiting for the best moment to reveal himself. That's probably what Snyder was rethinking all these years.
If he's bringing back supporting characters from other DCEU films, he can add new ones. This is his show now and I believe he has new and interesting ideas for us to see. He's keeping details about Martian Manhunter under the wraps, so we just have to wait and see. We could be finally getting the real Justice League soon.