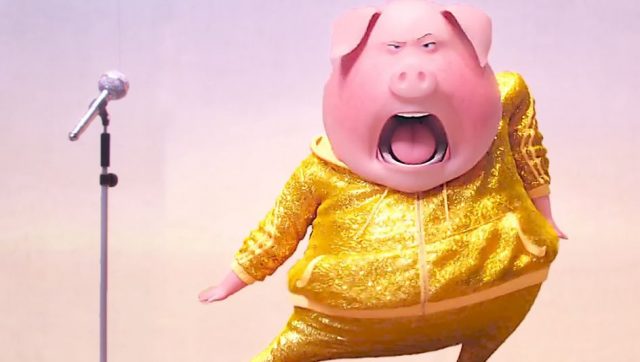 Every once in a while, in a market of over-saturated animated films, one film stands-out and truly makes an impact on audiences. This season, that film is Sing. Illumination Entertainment's Sing is one of those rare near-perfect films that is filled to the brim with ingenuity, imagination and inspiration. Sing is a wonderful masterpiece and a beautiful tribute to music, one that's filled with great character development and emotion, making it one of the most well-rounded films of the season.
Although Illumination's quality has been drastically decreasing with lackluster films like Despicable Me 2 and most notably the mess that was Minions, their newest film Sing not only stands out as their best films yet, but possibly one of the best animated films of the year. The magic behind the film is tied together by director Garth Brooks' clever vision for the film and its loving tribute to classic and current music. It's a lovely story about not giving up on yourself even when things look rough, and that true success is only determined by how hard you are willing to fight for it.
Sing features a wide range of leading characters leading to an abundance of subplots interweaved together, but the film learns to balance each story with precision and giving each character arc the attention it deserves without ever bogging down the story. The strength of the film lies within the strength of the characters and each one is carefully crafted and driven, and brought together by their passion to sing, and their determination to succeed. The cast of Sing believes in themselves when others don't, but that doesn't let that stop them. Underlying Sing is a beautiful message about believing in yourself, and that the best part about hitting rock bottom is that there is only one way left to go, and that's up.
While being poignant and beautiful, Sing is also hilarious, yet clever. The comedy within Sing, for the most part rises above what Illumination derives its reputation from, and aside from one instance, the film isn't filled with unneeded fart jokes and goofy voices, it's clever and witty. The best thing to be said about Sing is that it doesn't fall into the tropes that Illumination is known for, and the film stays true to itself. The film shows that clever and intelligent animated comedies can succeed and that's certainly something the studio should keep in mind with future projects.
Sing stars a wide variety of big name stars. Most notably, Matthew McConaughey (surprisingly) shines as lead character Buster Moon, who brings the cast of Sing together through his ambitious singing competition. Some of the characters he unites are Rosita (Reese Witherspoon), Johnny (Taron Egerton), Mike (Seth McFarlane), Ash (Scarlett Johansen) and Meena (Tori Kelly). The actors shine through their characters and each performance adds something unique and spectacular. The film unites a lot of unlikely actors who surprisingly slide into their roles fairly easily.
Sing is a wonderful delight of a film which is not afraid to push the boundaries of animated storytelling. It's well rounded and expertly crafted, while being a stunning tribute to the golden age of music. Sing will make you laugh, cry, and maybe even beg for an encore. It's a delightful film which is sure to cherished for a long way to come.