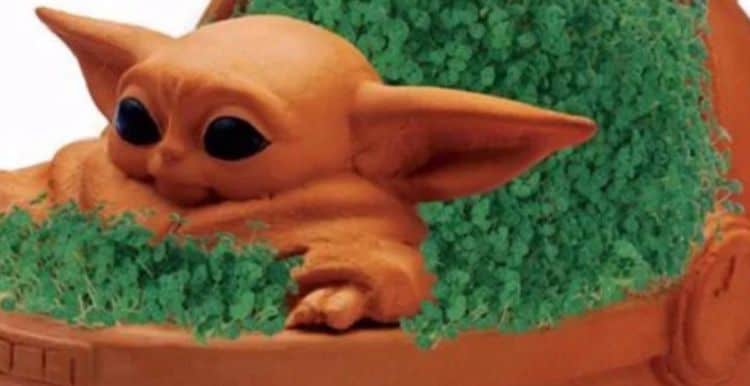 Of COURSE there's a Baby Yoda Chia pet. Did you expect anything less? The only deal with this is that if anyone is really wanting their own terracotta sculpture they'd best get to ordering or they're going to miss out since anyone and everyone that wants one has been ordering up Baby Yoda merchandise like mad and it's likely that supplies could run low before the release date. This piece actually won't be available until around July while a lot of other stuff has been going like crazy as well since people just can't get enough of the little green guy from The Mandalorian. Kevin Burwick of MovieWeb is right, a lot of people really can't wait for October since that's when The Mandalorian season 2 is supposedly going to be coming out and fans will finally get to find out just where Mando and Baby Yoda are headed since the Armorer tasked Mando with returning The Child to his own people or to someone that knows how to care for a Force-user. But since the Mandalorian's have such a fierce distrust of those that use the Force, and consider them sorcerers in their own manner, it's bound to be tough to see Mando trusting anyone that displays any affinity for the Force even if they happen to lean towards the light.
The next season is bound to be off the charts since the first season was a hit and the idea that so many characters will be returning is only making it better, as is the idea that fan favorite Ahsoka Tano will be showing up, played by none other than Rosario Dawson. Whether that's a concrete fact or not is kind of a debate right now since some people say yes and others don't really know, but the idea is that she will be there at the moment, so fans are remaining hopeful that nothing will change at this time. Plus, other characters such as Cara Dune, Greef Karga, and of course Moff Gideon will be back, and we'll likely get to see the Moff either targeting Cara and Greef to find out where the Mando is going or possibly just head out after Mando on his own. I've said it a couple of times but I still think it should happen that the Armorer should come back since she proved beyond any doubt that she's one helluva fighter in the finale and that she might have another role to play moving forward, especially if The Mandalorian is given more than two seasons.
It's going to be interesting to see how the show shapes up in this coming season since there are a few new faces that are likely to be seen and there are returning faces that will hold a grudge against Mando no doubt as he's been less than cordial with those that have tried to betray him, for good reason. The life of a bounty hunter in the Star Wars universe however is definitely a lonely and dangerous existence, which makes the presence of Baby Yoda and his connection to Mando even more of a complication that he brought on himself. It might be interesting to think that there could be a passage of time between the two seasons, as it might push the story forward a bit, or it could simply be continuous so as to maintain the integrity and the idea that nothing has really changed that much since the season 1 finale. Whatever happens the idea is the with Jon Favreau behind the writing it's bound to come out as something that people are going to pay close attention to since a lot of fans are hooked now and would gladly say that they enjoyed the first season of the show more than all three movies of the most recent trilogy. Paul Tassi of Forbes has more to say on that matter. That's a bit harsh really since each one of the movies had their good points, but it's not inaccurate since there's been a lot of hate going around the Star Wars universe lately after The Last Jedi hit the big screen. There was a bit of dissent following The Force Awakens, and it was to be expected since nothing went according to canon, and the idea of a young Force-user suddenly being able to beat down a trained fighter with a lightsaber was hard to grasp.
With The Mandalorian at least the main character has had to earn his stripes along the way, getting beat up and battered with each episode as he's had to do his best just to survive. Somehow that sounds like it might be the one defining characteristic that a lot of people are looking for in Star Wars, that overall struggle that the first trilogy had, and most of the best stories have had. Without that struggle it really doesn't work, as otherwise it doesn't feel like anything's been gained since it hasn't been earned.