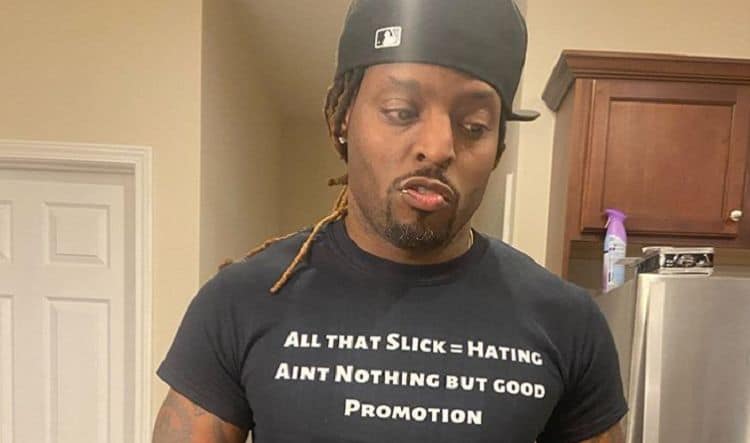 Since it's debut in 2012, VH1's Love & Hip Hop: Atlanta has launched the careers of more than a dozen reality TV stars. Even people who were never officially cast members have benefited from the show's popularity. One of those people is none other than Shooter Gates, the ex-husband of cast member, Sierra Gates. Shooter's reputation has been on a bit of a roller coaster since his ex-wife joined the cast for season six. For the most part, viewers have only gotten to know him from Sierra's perspective. But there's much more to Shooter and his story than LHH has been able to show. So, what is Shooter Gates really about? Continue reading for 10 things you didn't know about Shooter Gates.
1. His First Name Is Rod
It's not uncommon for people who appear on LHH to use some sort of stage name. As you may have already guessed, Shooter is just a nickname. Shooter's government name is Rodricous (Rod) Gates. However, the story behind the nickname isn't as easy to guess. He was given the nickname because he is a very talented dice player who rolled his way into earning some serious winnings.
2. One Of His Sons Passed Away
In the summer of 2017, Shooter Gates' life changed forever when his son, Rod Gates Jr. died. Although some outlets incorrectly reported that Rod Jr. had been involved in a car accident, the truth is that he was shot. According to news sources, Rod Jr. got into an altercation outside of an apartment building and the situation quickly turned deadly. Shooter says his son was a good kid who never got into any trouble. Rod Jr. was a standout football player in high school and continued to play in college at Albany State University.
3. He Was Supportive Of Sierra Being On LHH
The decision to be on reality TV probably isn't an easy one. Although it can present an opportunity to put your name and your brand 'out there', it also opens your life up to plenty of unwanted scrutiny. Even with the negative aspects in mind, Shooter Gates was open to Sierra, his wife at the time, joining the LHH cast. When she brought the idea to him, he was fully supportive of her taking the opportunity.
4. He Wasn't Surprised When His 'Secret' Affair Was Revealed
Everyone has heard the old saying "what's done in the dark will eventually come to light". Shooter Gates experienced this first-hand during season 6 of LHH ATL when his affair with Sierra's assistant, Moriah, became part of the story line. Things quickly became messy when Sierra found out that her husband had been cheating on her with someone close to her. Shooter says that being on the show definitely caused Sierra to find out sooner than he anticipated, but he always knew he would eventually get exposed.
5. He Was In A YouTube Series
Shooter Gates' reality TV days may be over, but that doesn't mean he's given up on being in front of the camera. Shooter starred in a YouTube series called ATL Street that was uploaded a few years ago. He also has his own YouTube channel and appears to be working on some new projects of his own.
6. He Gets Child Support From Sierra
Sierra and Shooter Gates finalized their divorce in 2018. The two was able to settle most of their differences out of court and agreed to co-parent their two children. In a somewhat shocking turn of events, the courts decided that Sierra would have to pay shooter $128 a month in child support. According to Georgia law, child support falls on the parent with the highest income and Sierra makes about $1,000 more per month than Shooter.
7. He's A Dedicated Father
Shooter Gates may not have been the world's best husband, but he's definitely taking his role as a father very seriously. During his marriage with Sierra, the couple had two children together. In 2019, he uploaded a video on his YouTube channel that showed him enjoying some quality time with his children.
8. He Has A Strong Relationship With God
Shooter Gates has been through a lot of things in his life, but losing his son was the hardest thing he's ever had to endure. As a result of the loss, Shooter says that he turned to God to help deal with the grief. In an interview, Shooter said, "God sustained me. He carried me through. If not, I would've lost my mind. It's deep."
9. He's Worked With Akon
Despite being labeled as a music producer when he appeared on LHH ATL, Shooter Gates' work with Akon doesn't have anything to do with music. On his YouTube channel, Shooter appears to be working on a new web series called The Pressure. He uploaded a clip from one of the episodes in which Akon made an appearance as a guest star.
10. He's All About Health And Fitness
After getting caught up in all the reality TV drama, Shooter Gates has decided that it's time to take a different approach to life. He is working on improving his overall health through diet and exercise. At one point, he committed to a diet that excluded meat, cheese, bread, and sugar.