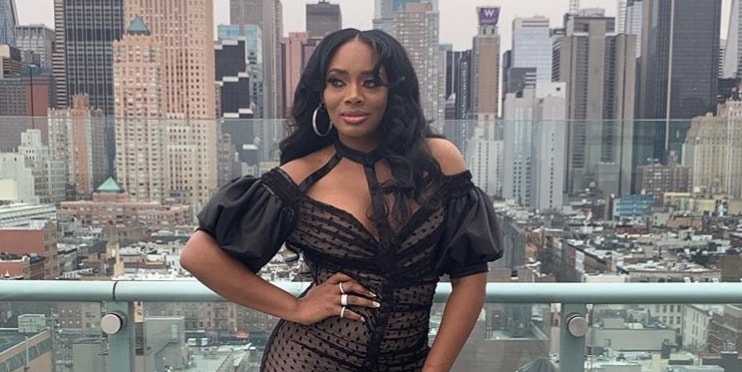 Yandy Smith is an actress, producer, entrepreneur and reality TV star who has paved her way in the entertainment world after receiving her college degree. Yandy Smith was born in Harlem to Ralph and Laura Smith in March of 1982. Her birth name is Yandy, and she has a brother, Juelz Santana, however, that is about all the information given on her family. Although Yandy has a well-rounded resume, she has become particularly well-known in a couple areas of the entertainment world, and that is, reality TV and music. If you are a fan of the popular reality TV show, Love & Hip-Hop: New York, you probably already recognize the name, but here are 10 things you didn't know about Yandy Smith.
1. She started her acting career on a VH1 realty show
Yandy Smith got her first shot in the entertainment field when she landed her role on the popular VH1 reality TV show, Love & Hip-Hop: New York. Although the show is a reality TV series, it gave Smith the 'acting industry bug,' and she went on to involve herself with producing films of of her own.
2. She produced a short drama and Off-Broadway musical
Smith expanded her career in entertainment by producing a short crime drama that she also acted in, titled, Two Days in Harlem. During the same year, Smith also co-produced an Off-Broadway musical and has c0-produced an independent film with a good friend of hers, producer, Noel Calloway. The film was made in 2012 and was titled, Life, Love, Soul.
3. A television show inspired her to get her education
Inspiration for life's choices can come in any form. Many celebrities will tell you who or what inspired them to make the decisions they did, and for Smith, she has discussed in interviews where her inspiration to go to college and get her degree stemmed from. Smith claims is was the 1990's hit television show, A Different World, that inspired her to get her college degree. If you aren't familiar with the show, it depicted a fictional black college situated in Virginia and followed the lives of students as they worked toward their degrees.
4. Her first job out of college was in management
Smith earned her degree in Business Management and got her first job in the field right out of college, working as an assistant for Violator Management. She has talked about her position with the company during interviews and said that she used most of the money she made with Violator Management to pay back her student loans.
5. She's managed an array of popular rappers
According to Celebrity Divorce, after leaving her job at Violator Management, Smith took a job with Warner Bros. Music managing the rapper Jim Jones. Other big names Smith has had the good fortune of managing include, Missy Elliot, 50 Cent, and LL Cool J.
6. She was ranked as a top Executive
Smith has been recognized for her business accomplishments, even early on. In 2008, her recognition came from Billboard Magazine. She was listed in Billboard Magazine as one of the "Top 30 Executives Under 30" for 2008.
7. She was pepper-sprayed at a rally
Lots of celebrities adopt a cause along the way in life. They support what they believe in, and sometimes the cause they support stems from something they, themselves, have experienced, or someone close to them has. This was the case for Smith. With her husband behind bars, Smith took a personal interest in the conditions behind bars, which lead to her joining in on a protest that took place on February 3, 2019 outside the Metropolitan Detention Center in Brooklyn, NY. During the protest, Smith was a victim of an assault when an assailant approached her and pepper sprayed her.
8. She's the brand manager of her own lifestyle brand
Outside of television and film production, Smith showed her entrepreneurship side by starting her own lifestyle brand. Smith is the owner and brand manager of 'Everything Girls Love,' which also puts out a magazine under the same name. The brand covers a wide variety of topics for young women, including, wellness, fashion, love and finance.
9. She is a published author
Smith didn't stop at managing singers or starting her own business label and magazine. She is also a published author and the topic is related to what she did; branding a business. The book is titled, The Beauty of Branding in Business, and was released as an eBook and meant to inspire entrepreneurs. But keep your eye out for more from Smith, because she plans to publish more books, however, these will be children's books and the target audience will be, working moms.
#10. She was married and has two children
Smith is married to Mendeecees Harris, her co-star on Love & Hip-Hop: New York, who is also in the music industry. Harris and his brother own a record label, but that's not all he's known for. According to Celebrity Net Worth, Harris has been in trouble with the law, including being charged for molesting a 15 year old girl, and was charged with drug trafficking. The charges were dropped on the drug trafficking charges, but ultimately Harris was found guilty on the molestation charges and sent to prison for several years and is now due to be released over the next few months. The couple share two children together, both boys; Omere and Skylar Harris.