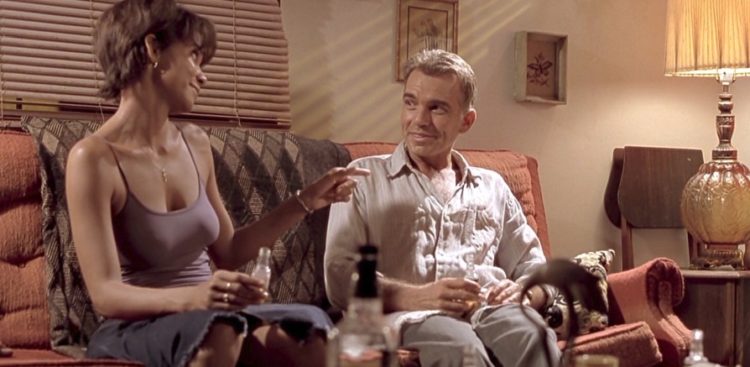 Call it plastic surgery, Botox, a face lift, or whatever, surgically altering your aging body is commonplace in Hollywood and among celebrities. Multiple surgeries are required for some to keep things uplifting. But there are more than a few bright, aging stars who have avoided the knife. Julia Roberts, approaching the half century mark, told Elle magazine in 2010, "I want my kids to know when I'm upset, when I'm happy, and when I'm confounded." Julia is best known for being able to express her emotions through her face and eyes, perhaps more than any actress of the last 20 years, so her opinion is worth listening to.
The list that follows has in it some of the biggest stars and most beautiful people seen on the big screen going back 40 years or more. There are also some of the most talented actors and actresses that won multiple Academy Awards, proving that you can succeed even if you don't have the face of a new born baby.
1. Halle Berry
It is hard to think of the James Bond movie Die Another Day without remembering the beach scene when Jinx, played by Halle Berry, emerged from the water, followed by a dialogue heavily doused with double entendres with star Pierce Brosnan. Having crossed the 50 plateau on August 14th, she still retains her great form without the help of pins, needles, or other sharp instruments. Her avoidance of face or body altering procedures has not diminished her attractiveness or sex appeal. But she needs to find love in all the right places as she has been married three times, the latest to Olivier Martinez who she divorced in 2016.
2. Michele Pfeiffer
It has been a while since we have seen Michelle in a movie that had the cultural and career impact of Scarface in 1983, when she played Tony Montana's girlfriend Elvira Hancock. She has been active as an actress, playing Ruth Madoff in the HBO television movie The Wizard of Lies this year and earning her first Emmy award nomination. 2018 will be a memorable year for her, as she reaches the age of 60 while also planning on celebrating her 25 years of marriage to husband David Kelley. About plastic alterations she says, "I don't believe men want women to have grotesque plastic surgery or be undernourished and bony. All the plastic surgery in the world can't stop you getting older." Being married 25 years to the same man is likely to influence one's perspective. That is a positive thing."
3. Meryl Streep
Meryl Streep has been in the headlines recently, but not just in the entertainment section. She has been an active political voice, criticizing the current White House administration. At age 68 she remains active in movies, in large part due to her incredible talent and huge number of followers. The idea of growing older and actually looking old is not something she seems terribly worried about. She was once asked where her source of consolation was given she continues to age in a culture where female actresses have fewer opportunities as they pass the 50 yard line: "Consolation? I'm not sure I have it." Looking ahead to your future is a good way of not spending too much time looking in the mirror.
4. Michele Obama
As a former first lady, she has firsthand experience in sharing the pressures of being president with her husband. It is obvious that time has taken its toll on Barack Obama, but Michelle has avoided the ill-effects of dealing with the responsibilities of not only being the first lady, but also raising two teenage children. But her position on Botox walks on the middle of the road, "Women should have the freedom to do whatever they need to do to feel good about themselves. Right now, I don't imagine that I would go that route, but I've also learned to never say never." She will turn 54 next January and since this list is about people over 50, the likelihood of her opting to go under the knife is small.
5. Jodie Foster
Jodie Foster is one of those people who seems to have the kind of face that ages well over time. Who needs Botox? Foster's view is simple and direct, "As time goes on, I will play characters who get older: I don't want to be some botoxed weirdo." Her acting career technically began in 1965 when she was the Coppertone girl. (It was a very popular choice of suntan lotion.) At 12 she played a teenage prostitute in Taxi Driver despite objections saying the movie content was too violent for her to be exposed to. Another decade passed when she transitioned into a woman who was raped, in The Accused. But it didn't take another decade for her to win her ultimate Oscar as Agent Starling in The Silence of the Lambs. Though we are not halfway through the list, it seems that acting talent trumps plastic surgery.
6. Kim Basinger
Late last year there were rumors all over the Internet, posting "before and after" pictures of Basinger's face making the claim that she had succumbed to the knife and had some type of Botox treatment done to make her face appear more youthful Some Beverly Hills plastic surgeons came to her defense, saying that there needs to be evidence supporting the claim, making the case that without actual medical records, pictures can be deceptive in trying to evaluate whether an actual surgery has been performed. In support of her mother, Ireland said that mom has a system of staying young looking, which includes staying out of the sun. Given all the recent health warnings about overexposure to the sun, this is a point not to be overlooked. We remain committed to her Botox-free face until accurate information hits our desk.
7. Salma Hayek
It's hard to argue against the natural beauty of Salma Hayek, and we are not only talking about her from the neck up. What makes her an interesting addition to the list is that she would seem to be someone who would look at plastic surgery as a reasonable alternative to keep her looks in prime form. But she clearly has an unwavering opinion that speaks more to natural beauty than the procedure itself. "Plastic surgery is like the uniform of a generation. And it's not necessarily beautiful. It's not wrinkled-looking, but it's not beautiful." She doesn't oppose women having plastic surgery done, but what she does apparently oppose is the idea it actually helps a woman to keep her natural beauty.
8. Brigitte Bardot
If you are under 50, you likely are not familiar with this French actress who was considered one of Hollywood's premiere "kittens", having just the right looks and attitude of a liberated woman back in 1957. She starred in the controversial film And God Created Woman, which is the American translation of the French title. When it came to the United States to be shown on the silver screen, it was heavily edited due to its explicit sexual content. To meet the demands of American movie goers, a more palatable version of the movie was done in 1988. But Bardot quickly became an international star and American men were part of her followers. How compelling were her looks? From 1969 to 1978, Brigette's face was the official face that represented the liberty of France. With this kind of resume, why would she even consider going under the knife? For the record, she refuses.
9. Brad Pitt
Yes, there are both men and women on this list, and though long time Hollywood duo Brangelina have gone their separate ways, it wasn't because of Brad having a lack of Botox treatments. In fact, the case currently being made about the star's aging face is that it makes him look more distinguished, opening the door for future and new types of acting roles. He is quoted as saying, "I'm one of those people you hate because of genetics. It's the truth." This may be more than a snarky comment because you have to ask why the actors and actresses who chose to go under the knife did so in the first place. Pitt is more likely to be remembered as one of the most socially active and popular actors, but not likely as one of the best in his craft. Of course, this may be a case of a double standard because Pitt seems to arguing that good looks is enough to become successful, and if it were said by a woman there would be the expected amount of outrage.
10. Al Pacino
It's never a good idea to yell at Al because he is likely to yell back in dramatic fashion. His trademark high energy verbal explosions have nothing to do with his looks. But he is one of Hollywood's consistent box office draws and arguably in the top 10 talented actors Hollywood has ever seen. Here is a guy who plays the devil in The Devil's Advocate and waits until the end of the movie to say, "Vanity is my favorite sin." At 77, the only vanity he might have is in dating a woman 40 years his junior. Then again, he probably realized that love is blind, like when he danced the tango in Scent of a Woman. If you make a mistake then you just tango on. Life can be simple.
11. Clint Eastwood
The question is, even though Clint has reached the 83 year mark of his life, would plastic surgery have negatively impacted his career? He has the kind of face that is recognizable everywhere in the world, and if he did anything to alter it — even at 83 — he would lose all credibility. Think about his role in Gran Torino where he plays the curmudgeonly widower trying to hold on to traditions and the past after his wife dies early in the movie. He wouldn't have earned the respect of his neighbors in the movie, and smoothing out his face would have resulted with him losing credibility with people who were on the outside watching the movie. You have to admit, he looks better in real life than he did in 1966 in The Good, the Bad, and the Ugly when he was just 36 (!) But if you look at recent pictures of Pacino and Eastwood, it seems both guys need to do something with their hair.
12. Jack Nicholson
If any man can have an opinion about the potential of plastic surgery to your face, it is Jack. "I haven't had surgery. I don't want to be judgmental, but some of the things you see these days in Hollywood are a bit horrifying. I mean, I don't know what's going on here, but I don't want to scare people." Who knows more about playing creepy, scary, and non-judgmental characters than Nicholson? Just ask Nurse Ratched. He is turning an amazing 81 next year (it doesn't seem that long) and hasn't been married since 1968. Another actor who can be ranked in the top 10 of Hollywood's most talented bunch, his diversity in characters ranges from a normal guy stuck in a mental hospital in One Flew Over the Cuckoo's Nest to the obsessive-compulsive writer in As Good As It Gets. He is one of a few actors who have been awarded 3 Oscars.
13. Johnny Depp
As someone who is in the Guinness Book of World Records as the highest paid actor of 2012 (grossing $75 million per film) he is not someone who balks at the cost of plastic surgery procedures. Most popularly known for his Pirates of the Caribbean movies, he has had consistent success in theatrically acclaimed productions including Donnie Brasco and Charlie and the Chocolate Factory. His decision to forego any facial operations is more of a broader perspective of life rather than the procedure itself. He believes that it can be fun to grow old as long as your keep your "child-side" alive throughout your life. He says, "The notion is beautiful, the idea of staying a boy and a child forever, and I think you can. I have known plenty of people who, in their later years, had the energy of children and the kind of curiosity and fascination with things like little children." Growing old and looking old are two different sides to life after 50.
14. Julianne Moore
Having passed double nickels in the age category, Julianne Moore has had a number of movie successes, including the prequel to Silence of the Lambs in which lead actor Anthony Hopkins said she was far more delightful to work with than Jodie Foster. Her most recent appearances in film are in The Hunger Games as she continues her successful acting career. As for the Botox games, she admits that though seeing herself go through the aging process is uncomfortable, she says, "I don't like products that freeze your face in time." It is an interesting way to look at the Botox crowd. She sees her acting career continuing, having the opportunity to play older women as her looks change over time.
15. Sigourney Weaver
Sigourney Weaver is one of those women who has a unique type of beauty that is hard to put your finger on. (Her first name is really Susan.) Believe it or not, she is approaching the 70 year mark of life, and it is a long way since her appearance as the first female science fiction hero as Ripley in Aliens. She played the president's wife in the movie Dave and is still going strong in her latest performance in 2017's The Defenders. Her take on her face is unique and is yet another reason to sidestep the Botox treatment: "It's not for me. It's more interesting to learn how to get strong, and be strong. My face is my canvass and I think it's much more interesting now than it ever was." We're not suggesting here that Sigourney is saying that people who undergo a certain surgical procedure are weak, but her use of the world "strong" is worth a second look.
16. Diane Keaton
We can start with Keaton's perspective on plastic surgery: "My thinking about plastic surgery is this. I haven't had it, but never say never. Because when you do, you are definitely going to go there." It makes you wonder how many of the celebrities on this list have always rejected the idea. At 71, Keaton is ahead of most of the people on this list, and yet still says there is a possibility of going under the knife. But in all honesty, it is hard to imagine why she would go down that road with her long list of professional successes and the fact that she adopted her first of two children at age 50. She said that having a child was a "humbling" experience, and when there is a second opinion lurking in the shadows (her children) your final decision about plastic surgery can be subliminally influenced.
17. Kevin Costner
Kevin Costner is one of the most well-known and popular actors in Hollywood. But his attitude towards life and changing his look unnaturally can be seen in this statement: "I am never going for a hairpiece, dye, or nips and tucks. You will always have to take me as you find me." The two Oscars he won were both for the same film, as director and leading actor in Dances with Wolves despite his many star roles such as Eliot Ness in The Untouchables and Frank Farmer in The Bodyguard. OK, he did have that one huge bomb in Waterworld, but nobody's perfect. He has kept busy in life, as he has 7 children. One interesting reality about Costner in the roles he plays is that most of them are with the "take me as I am" attitude. He really hasn't changed much with age, except for the obvious receding hairline.
18. Russell Crowe
Crowe, from New Zealand (not Australia) is more direct about the issue of plastic surgery. He said, "When are you not you any more? At what point do you have to get a name change too? You can end up looking like a startled chimpanzee. The eyes are gone, the lips are like rubber tires — or more like an orangutan that has been kicked in the a**." Umm … OK. Most people have not seen an orangutan kicked in the a** so we'll take his word for it. Consider though he is not an American and has seen the long term effects on people who rank appearance above reality. Given his roles in Gladiator and LA Confidential, he seems to be in agreement with Costner — take me as I am.
19. Judi Dench
Judi Dench earns a spot on this list because she continues to turn out top rate acting performances after joining the octogenarian group at age 82. On the issue of plastic surgery she says, "I've considered it, but I'm too old now." Judi makes the one statement that is absent from everyone on the list — that there is a point of no return. Some celebs on this list say they always swore off any face altering procedures, but Dench admits it was worthy of consideration. But what does age have to do with it? Her answer: "Every time I go to America I wonder if there is some process where it could all be sucked out and I could be out of there in time for dinner, but I'm frightened it would all drop off under the anesthetic." Not to worry. She got great reviews on her latest roles in Victoria and Abdul as Queen Victoria.
20. Robert DeNiro
Ending the list is an actor who is as common a household name as Al Pacino. Audiences wait to see these two superb actors together in films such as Heat. He recalled talking with another celebrity on the list, Meryl Streep, about the subject and said, "Getting old is a natural thing. And you'd better embrace it, 'cause you've got no choice."
The talent on this list is stunning. Whether an actor or actress, the issue seems to be one of making the most of your talents and stop worrying about your looks. There is also a consistent theme of self-confidence that runs through the actors' thoughts and lives. If all you have to go on is your looks, then maybe plastic surgery is the only solution. Most of the people on this list steered clear of criticizing their colleagues who opted for the surgery, saying it is a personal choice. But there is not a single word of regret found in their decisions, which may say more than the decision itself.
Tell us what's wrong with this post? How could we improve it? :)
Let us improve this post!