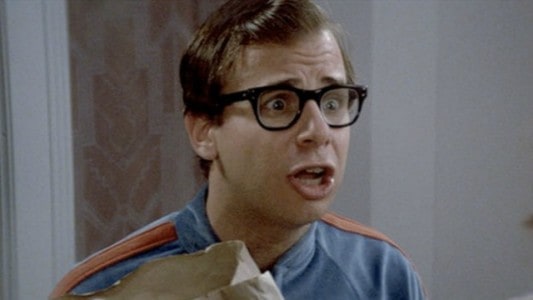 The reasons each of these men are now single dads may differ, but what is the same for all of them is that they stepped up, becoming awesome single dads when for their children. Unfortunately, we don't see a lot of single dads so it's really great that these famous single dads are in the spotlight, making wonderful role models for other dads, single or not. It's fairly common these days for moms and dads to not still be together, but most of the time, it's the moms who take the children. Of course, in some cases, the mom has abandoned their families or worse case scenario, has died. Whatever the reasons, single dads everywhere need to be given the recognition they deserve. After all, they are few and far between. Here's 20 of the most famous single dads.
1. Tom Cruise
Before his divorce from Katie Holmes, Tom Cruise was already a full-time single dad to his children Connor and Isabella. Cruise was previously married to Nicole Kidman. The couple was married on December 24, 1990. Because Kidman initially had trouble conceiving, the two decided to adopt. The adopted two children, Isabella Jane Kidman Cruise, who was born in 1992, and Connor Antony Cruise who was born in 1995. Kidman openly admitted that that she never really had a very strong relationship with the two children. In fact, neither ever called her "mom." It was only appropriate when Cruise filed for divorce in February 2001, that the children chose to stay with Cruise. Cruise later married Katie Holmes, who was pregnant at the time, on November 18, 2006. The two had a daughter, Suri. Holmes then filed for divorce from Cruise on June 29, 2012. Although Holmes retained custody of their young daughter, Cruise is known for his total dedication to all of his children.
2. Johnny Depp
Johnny Depp is known for playing unconventional roles, but what a lot of people don't know is that he lives the role of single dad to his two children, Lily-Rose and Jack. Depp began dating French actor Vanessa Paradis when they met while he was in France filming the The Ninth Gate in 1998. They had two children, Lily-Rose Melody, who was born in 1999, and John "Jack" Christoper Depp III, who was born in 2002. Depp has stated many times that his children gave him a "real foundation" and that fatherhood "was destiny."
When his daughter was hospitalized due to temporary kidney failure which was a result of a serious E. coli infection, Depp showed his gratitude for the hospital at which she recovered in 2007 by arriving there dressed as Captain Jack Sparrow, spending four hours reading to the children. In addition, the following year he also donated a million dollars to the same hospital. When he and Paradis announced their separation in June 2012, Depp kept accepted the role of single dad in stride.
3. Liam Neeson
Liam Neeson is known for his perfect on-screen roles as a badass dad and in real life, he's just as dedicated to his two sons. Neeson met his wife Natasha Richardson while performing in a play on Broadway in 1993. The couple later married on July 3, 1994. They had two sons, Micheal Richard Antonio, born June 22, 1995, and Daniel Jack, born August 27, 1996. Unfortunately, Richardson died tragically on March 18, 2009, from injuries she received from a skiing accident in which she suffered severe head trauma. After this deadly accident, Neeson became a single father of their two sons. It's been said that not only is Neeson a terrific dad, but that he's also very protective of his two sons.
4. Al Pacino
You may not have known that Al Pacino is another single dad. Although he wasn't ever married, he has three children. His oldest daughter, Julie Marie, who was born in 1989, is his daughter from a relationship with acting coach Jan Tarrant. In addition, he also has twins, Olivia Rose and Anton James, who were born January 25, 2001 with actress Beverly D'Angelo. Pacino and the twins' mother had a relationship from 1996 until they split in 2003. The two share the equal custody of the twins, however, so that each of them gets a fair amount of time and responsibility with them. Pacino didn't have a relationship with his dad so he wanted to make sure his own children didn't succumb to the same fate.
5. Usher
Usher began dating Tameka Foster, who had worked for him for several years as his stylist. The two were married in August 2007. The two of them had two sons, Cinco, who was born in November 2007, and Naviyd, who was born in December of the following year. Usher filed for divorce in June 2009 and the divorce was finalized in November 2009, preceding a highly publicized dispute of child custody which ended up lasting three years. Eventually, however, Usher was granted full custody of his two sons. Usher had claimed Foster was unable to bond with either child and in addition was unstable, unable to care for them. Although the custody has been revisited several times, Usher retained full custody. Usher is clearly a proud father, often tweeting pictures of his two boys, and obviously he is a very caring father as well.
6. Jamie Foxx
Most of you probably don't know that Jamie Foxx was born as Eric Marlon Bishop; Jamie Foxx is how he's known professionally as an actor, comedian, singer/songwriter, and producer. Another title some may not be aware of is single dad. He has two daughters, Corinne Foxx, who was born in 1994, and Annalise Bishop, who was born in August of 2009. Yes, it's hard to believe Jamie Foxx has a daughter who is twenty-three/twenty-four years old, but he does; he just chooses to keep his daughters (and their mothers) out of the limelight. Foxx has been secretive about both the relationships with the mothers and the subsequent birth of his daughters. Corrine did post a pic of her mother on Veteran's Day admitting how proud she was of her mother who served in the Air Force, but that's about all that is known about her and nothing has been made public of Annalise's mother. However, it's been said that Foxx is a dedicated father and does all he can for both daughters.
7. Seal
Henry Olusegun Adeola Samuel is professionally known as Seal, who is a singer/songwriter. He and Heidi Klum seemed to have been the perfect couple; they renewed their vowels each year even including their children once they were born. However, it just wasn't meant to be, apparently, because the two divorced in 2014. When the two married, Klum was pregnant with her ex's baby, Flavio Briatore, but he never participated in the girl's life and Seal eventually adopted her. Besides the adopted daughter, Leni, the couple had three other children, Henry, born September 12, 2005, Johan, born November 22, 2006, and Lou, born October 9, 2009. Seal is said to be an incredible father, having infinite love and patience for his kids. Although Seal and Heidi are no longer a couple, the two still put aside their differences in order to have the occasional family outing.
8. Cristiano Ronaldo
Cristiano Ronaldo is one of the most famous soccer players in the world. In 2011, he announced that he was a single father of son Cristiano Junior of which he has sole custody. In fact, who the child's mother is remains to be a mystery, not to just the public, but to his son as well. Ronaldo says he will one day tell his son who his mother is. Rumors are that she was paid a large sum of money to keep her mouth closed about her maternity. Ronaldo says his mother, Dolores Alveiro, is always on hand to help babysitting. Needless to say, any man who takes full responsibility of a child must be a great dad. In addition to Junior, Ronaldo also confirmed in June 2017 that he'd become the father of twins. Then, in November of that same year, his girlfriend Georgina Rodgriguez gave birth to their daughter, bringing Ronaldo's kid total to four.
9. Colin Farrell
In addition to being a single dad, Colin Farrell was actually pinned "Hottest Single Celebrity Dad" in 2009 by Perfectmatch.com. Of course, this is probably due to his Irish charm, but also to the fact that he's accepted his role as a single dad as well. His oldest son, James, was born in 2003 with a rare neuro-genetic disorder called Angleman Syndrome, which is characterized by intellectual and developmental delays, lack of proper speech and ability to communicate, sleep disturbance, and an excitable, albeit happy demeanor. Farrell has openly supported his son and has spoke for the Foundation for Angelman Syndrome Therapeutics. The mother of that child is Kim Bordenave. Farrell also had a second son, Henry, who was born in October 2009 with Polish actress Alicja Bachleda-Curus, although their relationship ended in mid-2010, leaving Farrell to be a single father once again.
10. Nelly
Cornell Iral Haynes Jr., who is professionally known as Nelly, is another single dad. Although not much is known about his children, he does have two biological kids, Chanel and Cornell and in addition, he is also the legal guardian of Sean and Sydney Thomas, his nephew and niece. Nelly may come off as a tough guy to some, but it's obvious that deep down, he's just a big softie! He obviously cares about his children, all four of them! It's been said that Nelly's publicly defended his children on social media and there's no doubt that he cares about their future. Furthermore, he cares about kids' futures in general and their educations; Nelly pays college tuition every year for two children from disadvantaged backgrounds, hoping to make a difference in their lives. It would be a much better world if everyone who had the means gave back to those who don't.
11. James Marsden
The actor James Marsden is what some feel is a candidate for hottest single father. When the X-Men star got a divorce in 2011 from wife Lisa Linde, Marsden became the single father of son Jack, born on February 1, 2001, and daughter Mary, born on August 10, 2005. It seems the two still share parenting duties, both trying to be in their kids' lives as much as possible. In addition, Marsden is also father to another son, William, born on December 14, 2012 with then girlfriend Rose Costa. The two have since split up. Marsden says he tries teaching all of his kids to stay true to themselves and to always have respect for others. Sounds like good advice!
12. Ryan Phillipe
Ryan Phillipe became a single father when he and wife Reese Witherspoon split after seven years of marriage. The two had daughter Ava in 1999, who was named after Ava Gardner, the actress and their son, Deacon in 2003, who was named after Pittsburgh Pirates pitcher Deacon Phillipe, who was also Ryan's ancestor. Phillipe and Witherspoon received joint custody of the children; Phillipe asked for joint physical custody because Witherspoon was asking for sole physical custody of both children.
Phillipe began dating actress/model Alexis Knapp during the summer of 2010, but the relationship only lasted a few months. Once the two had split up, however, she discovered she was pregnant. She gave birth to their daughter, Kailani in 2011. Phillipe says he has learned a lot from his children and that he hopes that they also learn from him. It says keeping them in mind also helps to keep him more balanced. He also says that his kids have been raised to not be the "little monsters" that sometimes comes from famous couples. Good for them!
13. Sean Combs
You may know him by Puff Daddy or P.Diddy, but there are six children who know him as dad. His first son was born in 1993 to high school sweetheart, Misa Hylton-Brim. Combs had a sometimes on-sometimes off relationship with Kimberly Porter from 1994 until July 2007. She had a son, Quincy, who was born in 1991 when she was in a relationship with Al B. Sure which Combs adopted once they got together. The couple then had son, Christian, who was born in 1998, and D'Lila Star and Jessie James, twin daughters who were born on December 21, 2006. Additionally, he also had a daughter Chance, who was born five months before the twins with Sarah Chapman. Combs took legal responsibility for Chance in October 2007.
So, Combs has three sons and three daughters who, although have different mothers, seem to all be the lights of his life. He doesn't seem to treat any one of them any differently than the others; he loves them and supports them all the same.
14. David Arquette
David Arquette and Courtney Cox married in 1999. The couple had their daughter, Coco, in 2004. Just a bit of trivia, Coco's godmother is actually Jennifer Aniston! Anyway, in October of 2010, the couple announced they were taking a trial separation, but it turned out that even though the two were supposedly still deeply in love, Arquette filed for divorce two years later. It became final in May of 2013, making him a single father of Coco. Cox and Arquette both spend separate time with their daughter, but the two put aside their differences as well in order to have family time, too. As a matter of fact, both daughter Coco and Cox cheered on Arquette while he competed on Dancing with the Stars. Arquette says Coco is not only beautiful, but that she's the love of his life!
15. Ricky Martin
Enrique Martín Morales, known as Ricky Martin, became the father of twin boys, Matteo and Valentino, born in August of 2008 via surrogate mother. He adopted both boys which really makes Martin one of our top single dads; he chose to become a single dad. This Latin pop star really shows not only how brave he is, but also how badly he wanted children. He decided to have children on his own, adopting the two boys after the surrogate mother gave birth to them. Since then he has been a proud Papa, showing off his boys whenever possible. He says he loves them more than anything and that he finds it hard to give them the kind of freedom he got as a child because he fears the world has become such a scary place; he just wants to keep them both safe. He also says that he will always love them unconditionally and support them no matter what they choose to do in life and no matter who they love.
16. Lenny Kravitz
Lenny Kravitz and Lisa Bonet eloped to Las Vegas on her twentieth birthday, getting married on November 16, 1987. Kravitz actually went by Romeo Blue back then and this little escapade put him in the news. The two had a daughter the following December 1, Zoe Isabella. Kravitz and Bonet ended up getting a divorce, albeit an amicable one, in 1993, and Kravitz became a single dad. Zoe, who was eleven at the time, continued living with her father after the divorce and says being single didn't make her dad any less strict. Zoe says her dad was also brought up strict and would tell her if her dress was too short. As far as Kravitz is concerned, he says that his relationship with his daughter is the best thing he has in this world.
17. Dean Cain
Dean Cain played as a television Superman and in real life, he's a really super dad as well. He and former girlfriend, Playboy's Samantha Torres had son Christoper Dean on June 11, 2000. Cain has kept his son since 2011, flying solo in the parent department. He's one of only a few celebrity dads who do it on their own after winning a bitter custody battle. Cain says he and Torres just couldn't agree on how to raise young Christopher. Now Cain says he and his son couldn't be any closer and that his son is his favorite person in the world; Christopher seems to feel the same about his dad. Cain claims he's better at being a dad than he's ever been at anything else.
18. Rick Moranis
Rick Moranis' story is a sad one. He married Ann Belsky, a costume designer, in 1986 and they had two children together, Mitchell and Rachel. Belsky died not long after of breast cancer in 1991. Moranis has been a single father to their children ever since. It all got to be too much and, putting his children's needs first, he gave up acting in 1996 so that he could be a full-time dad, focusing on that role instead.
19. Charles, Prince of Wales
This story about Charles, Prince of Wales is one just about everyone of a certain age knows. Prince Charles, while visiting a woman named Sarah, first met her sister, Lady Diana in 1977. He did not think of Diana romantically until the middle of 1980. Once they began accompanying one another publicly, however, their courtship attracted excessive attention from both paparazzi and the press. So much so that Charles' father advised him to proceed in order to not harm Diana's reputation. Prince Charles then proposed to Diana in February 1981, to which she accepted. The two were married later that same year on July 29. The couple had two sons, Prince William in 1982 and Prince Henry, who is known as Harry, in 1984. Prince Charles actually set a royal precedent, being the first royal dad to be present at the births of his children.
Unfortunately, due to incompatibility, a thirteen year age difference, and Diana's justified concern of Charles' ex-girlfriend Camilla, the marriage found trouble all too soon. The two were so unhappy that the press called them "The Glums." They finally divorced in August of 1996. Princess Diana was killed in a car crash while being chased by paparazzi the following year on August 31. After such a sad turn of events, Prince Charles has been a single father ever since. Maybe because he's a royal, but people don't usually look at him as a single father, but that's exactly what he was and still is.
20. Shaquille O'Neal
The child of an abusive father, O'Neal holds no grudges against the man who would regularly discipline him. But in an interview with Parenting, he says he has opted for a gentler approach with his own five kids. It must be working: earlier this year the National Father's Day Council dubbed him father of the year. "I've won a lot of awards. You know, I got an Oscar for Kazaam," he joked at the time about his cinematic debut. "But this award is among the most prestigious."
The day that changed my life was my father told me 'if you do well in school, I got a surprise for you.' I came home with a couple A's, a couple B's. So we jump on a train and go to New York. We get to madison square garden and we don't have good seats. But I got to see my man Dr J. He threw it down. I said "that's what I want to do." And my father said "if that's what you want to do, get an education, stay out of trouble and go work on your game. We don't have money for babysitters. So when you get out of school, go to the Boys and Girls Club around the corner and stay there until one of us picks you up."
Tell us what's wrong with this post? How could we improve it? :)
Let us improve this post!