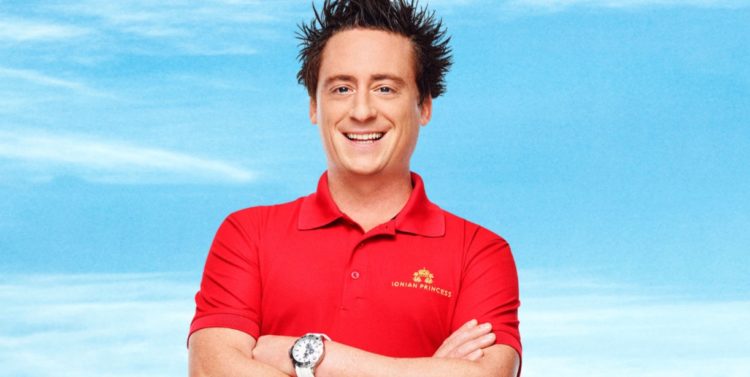 Ben Robinson is a famous chef who made a name for himself on the reality television series "Below Deck Mediterranean." Robinson has been aboard the ship for several charter seasons and he's a veteran of the show, cooking up his amazing cuisine. Although we've learned a lot about him during his tenure with the crew, there are still more things yet to be discovered. With this in mind, here are ten things that you most likely didn't know about Chef Ben Robinson.
1. Chef Ben plays the digeridoo
Robinson is highly skilled in the culinary arts and he does an excellent job of managing a challenging schedule aboard ship, but there's something else that he's good at. He plays a musical instrument that is called the digeridoo. This is an indigenous instrument that is played by Australian aboriginals and it's one that he's mastered himself.
2. He doesn't take small things for granted
Chef Ben Robinson sees a lot of different places in his travels. When aboard the charters, he gets to see a lot of beautiful places and he takes advantages of these opportunities. He preserves the moments with photographs and he shares them with the entire world.
3. He's an entrepreneur
Ben Robinson has established several of his own businesses. Below Deck isn't his only resource when it comes to making a living. He's a chef who is in-demand. His last established home is in California where he established a merchandise line that stocks items such as chef's knives. He also runs a team with several on staff for catering events.
4. This may be his last season with "Below Deck Mediterranean
Robinson is still a young man as he is not yet 40 years of age, but for a chef aboard a yacht that caters to a clientele with high expectations, the job is extremely challenging and it does take its toll. There are rumors that Ben will retire from the show after this season and he has even confirmed that the job is very stressful and physically demanding. He also said that it's for a younger man, but he hasn't said one way or another for certain if he will stay on with the show or move on to run the businesses that he has formed.
5. Ben learned to cook with his mom
When Ben was just 5 years old, he started cooking with his mother. It was at this age that he first realized that he enjoyed cooking. His mother taught him how to cook and this was the beginning of his passion for the culinary arts. It would culminate in him becoming a chef and as such, his career would take him around the world.
6. He grew up on Cape Cod
Chef Ben was raised on Cape Cod. There he enjoyed fishing for eels, striped bass, and bluefish. He also dug clams. Although he attended boarding school in England during the school year, he was always at Cape Cod for his summers and these are some of his fondest memories.
7. He gained success early
Ben achieved the status of head Chef when he was just in his twenties. He was hired to head the galley crew aboard a schooner called the Athena. James Clark was the owner of the sailing yacht, which at the time was the largest of its class in the entire world. There was a crew of 28 members. The pace of work was fast, and this gave him his first introduction of what life was like to be a chef aboard a yacht. He decided to get out of this kind of work and go for something on land, but he saw an ad for "Below Deck," applied and got the job.
8. Ben looks at food differently than others
Chef Ben Robinson has a different view of food than the average consumer. While the majority look at it as sustenance, desirable, tasty or beautiful in appearance, he sees it from a whole other perspective. We learned that he views food as a melding of taste, chemistry, and art. Further, he has to tell stories throughout the creation process when he's preparing his tasty dishes. He's really an interesting guy to watch when he's on the job.
9. He learned from the best
When Chef Ben Robinson was in training to become a chef, he studied in Florence under the instruction of the Italian master chefs. He had earned an apprenticeship at The Fat Duck which is a 3 Michelin Star restaurant. This was a formative time in the development of his culinary skills and he went about it the right way by learning from the very best.
10. He has a strong sense of fair play
When it comes to cooking, Ben is an expert and he knows the demands of being a yacht chef. It can be grueling work, but we learned that he speaks his mind, but he's fair in his assessments of other chefs. When Mila Kolomeiseva totally screwed up the galley and disappointed guests with the disappointing fare, he acknowledged that she wasn't a good fit and made some big mistakes. He didn't go as hard on her as some others have though. He also threw in the fact that being a chef on a yacht is something that can take a toll on anyone. He ventured that her inexperience and young age left her unprepared for the rigors of the job. His response to the situation was gracious and he avoided being overly judgmental. He was asked to come back after the fiasco with Mila, and he accepted the offer. We're not sure if he'll just be back for the season or if he plans to stay for longer. Time will tell, but he's a tremendous asset to Sandy Yawn, the crew and the guests aboard.
Tell us what's wrong with this post? How could we improve it? :)
Let us improve this post!