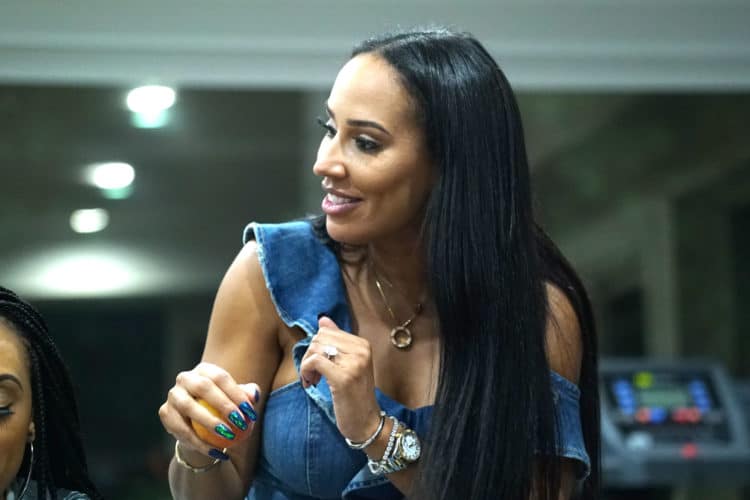 She might not be on your personal radar as of now, or she might, but Tanya Sam has become a person of interest as of late and it would seem that talking about her is what people want to do. It's kind of funny how people go from being mentioned now and again when they show up on a program that people watch to finally coming around again when it's time for them to shine again. Tanya seems like someone that kind of flits into and out of the spotlight from time to time, though it would appear that enough people want to talk about her and see when they might be able to take note of her again, as she is someone that's been mentioned lately and is seemingly worth the moments it will take to read about her and brush up on just who she is and what she's done. She does seem like a fairly interesting person.
Here are a few things you might not have known about Tanya.
10. She's active on social media but not quite as much as others.
Judging just by her numbers it would seem she's either not on social media that much or people just aren't paying as much attention. With the many upon many people that are seen as highly popular on social media it's kind of hard to imagine that she'd be able to top a lot of them in terms of popularity.
9. There's not really a lot known about her family.
This is usually because of a careful omission on the part of the family or the individual, but it's usually not a big deal to most people who just want to know about the individual. You could say that they're trying to keep things private since not everyone's family wants to be placed in the spotlight at their side.
8. She graduated from McGill University with a Bachelor's in Applied Science.
It would seem she never really had a desire to go into drama or anything related to it since she's been angling for something that requires more of an intellectual touch and a lot more study than it would take to get into film school. Not to knock film school, but the route that Tanya took required a little more in-depth study.
7. Tanya was an oncology nurse for a while.
Oncology has a lot to do with those that have cancer and how to treat them, and the nurses and doctors in this profession tend to get very close to their patients since cancer isn't something that just up and goes away with the right antibiotics. This is the kind of job in which you kind of have to like people, or at least be able to get to know them a bit.
6. She's appeared on Real Housewives of Atlanta.
Tanya was more of a recurring guest character and not a main character, which probably works in her favor to be honest since it would seem that the drama that goes on throughout these shows is something that a lot of people might want to avoid.
5. Her net worth hasn't really been established.
There's really nothing there to see as far as her net worth, though chances are she's worth a good amount since she's been pretty steady in her career, having been an oncology nurse for about a decade before moving on to another profession.
4. The amount of information on her over the internet is kind of patchy.
You'll find that a lot of articles will likely give you the rundown that you've already seen and a little more, while others will focus on what she's done on the Real Housewives of Atlanta. Otherwise there's not as much info as you might think.
3. She has a tech job now.
Tanya has definitely moved up a bit in terms of her earning power and the kind of work she does. She did enjoy her time as a nurse but obviously felt that it was time to move on as she took a tech job not long after meeting her husband.
2. Tanya is used to working in a high-paced environment.
She's also used to paying attention to detail in a big way since in a cancer ward the medications have got to be as exact as possible, meaning that a person has to be on top of things at all times and they have to understand just what they're doing so that their patients are given the absolute best care.
1. She is married to a serial entrepreneur.
Let's just say he's very successful and leave it there since his job title sounds like something that could take a while to explain. But all in all the two of them seem quite happy and they seem to compliment one another very well.
You might recognize her or you might not, but now you know of her at least.