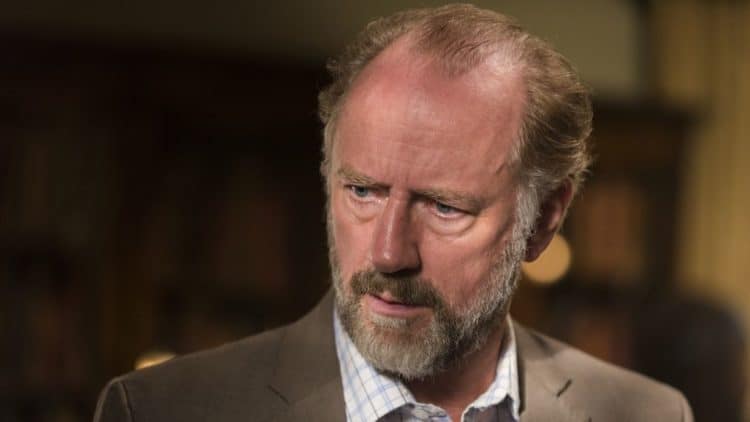 American actor Alexander Berkeley is best know for his role as Sheriff Thomas McAllister on the television series "The Mentalist," and as George mason in "24." We were interested in learning more about him so we took a look into his history and personal past and were surprised at the things that we discovered about him. Alexander is a fascinating person and there is much more to him than meets the eye, so we want to share these 10 interesting facts about him that you probably didn't know.
1. He's a native of the East Coast
Although he later relocated to California to be near Hollywood, Alexander Berkeley was born in Brooklyn, New York. His family moved to New Jersey and this is where most of his childhood was spent and where he grew up. His first work as an actor was in the New York area within the five college system of theaters that Hampton College, his alma mater was a part of .
2. Alexander Berkeley is a multi-millionaire
Although he's not among the richest actors in Hollywood, he's not doing badly for himself on the financial front. In fact, he's made a tidy fortune through his career as an actor. His current estimated net worth is standing at $2 million, and the bulk of his fortune has been made through acting.
3. His parents were also very talented
When it comes to talent, the apple doesn't fall far from the tree in the Berkeley family. We discovered that his father was a painter and his mother was a teacher who happened to have an extraordinary talent for swing costumes. She made the costumes for him that were highly preferred over toys and this may well be one of the factors that helped encouraged him to pursue a career on stage. He started performing when he was just 16 years of age.
4. He's gone by a variety of names
The birth name of Xander is Alexander Harper Berkeley. He was born in Brooklyn, New York on December 16,1955. Other names that he has gone by include Xander Berkley (note the spelling difference with the dropped "e"), Xander Berkeley, and Kander Berkeley.
5. Xander Berkeley found love on the set
There have been many Hollywood romances started on the set of a film or television series as it's a place where people tend to spend a lot of time working together. Xander co-starred with Sarah Clarke on the set of "24" and it's where they met and fell in love with one another. They ended up getting married in 2002 and have been together ever since.
6. He's a family man
Some very wonderful things came as a result of the romance that kindled between Xander and Sarah. After the two married, they were blessed with two lovely daughters. The couple's first child Olwyn Harper Berkeley was born in 2006. She was followed by a younger sister who was born in 2010. Her name is Rowan Amara Berkeley. The family had been moving around a bit at the time and Olwyn was born in Maine and Rowan was born in Los Angeles. With two young daughters to raise, Xander is busy splitting his time up between his family and his career.
7. Xander Berkeley is also an artist
Here is another fun fact that we discovered about Xander Berkeley. He's an actor as well as a talented artist. Like his father, he is an accomplished painter, but the younger Berkeley took his artistic endeavors beyond that of his dad's and also became gifted sculptor. His seemingly endless lists of skills and talents doesn't end there. He's also a skilled make up artist and he was even allowed to design his own makeup for the series "24" when his character changed in appearance due to the ravages of radiation sickness.
8. He was honored with a special award
One of Alexander Berkeley's child hood heroes was Art Carney. Can you imagine how delighted he was to become the recipient of an Art Carney Award? This honor was bestowed upon him at the Art Carney Awards held on October 29th of 2017. The special recognition elevated Xander to the status of being one of the top character actors in all of Hollywood.
9. He was on "The Twilight Zone"
Most of us remember the older version of 'The Twilight Zone' with Rod Serling as the host of the scary and often bizarre rendering of unusual stories from the 1960s. Xander appeared in both of the remakes that occurred in 1985, and then again in 2002. If the series had continued on as a weekly offering, we're sure he'd have been featured more often.
10. He's also an award winning song writer
Here is another fact about Xander Berkeley that we didn't know. He co-wrote the original song "Come Down Rain" with Peter Atanasoff. The two won a Best Original Song Award at the IndieFEST Film Awards in 2015.
Final Thoughts
As we look back over the new things that we discovered about him, we've come to know who he is as a person much better. There's a lot more to Xander than the characters he plays, although he is a very talented actor. He's a stage actor, film, television series, a sculptor, painter, makeup artist and above all, a husband and father. Berkeley has also made a small fortune through his career in acting and he's built a good sized base of fans who enjoy his contributions to any show that he appears in with his cutting edge realism that brings the characters to life in a real and meaningful way. He possesses a wealth of talent and his fans are looking forward to hearing more from the actor.
Tell us what's wrong with this post? How could we improve it? :)
Let us improve this post!