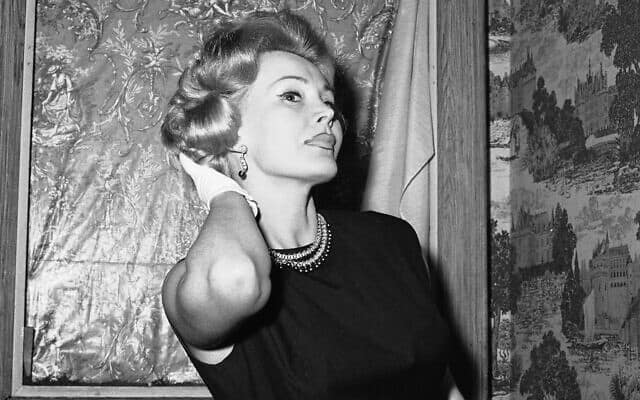 Well, one couldn't expect a woman of Zsa Zsa Gabor's status to just fade away into the twilight without having some sort of final trip that would see her, or rather the urn with her ashes inside, accompanied by her ninth and final husband, Frederic Prinz von Anhalt, make the trip to London, Germany, and finally, Budapest, where she would be laid to her final rest. This location was special to Gabor as her father was laid to rest here as well, and it was in her will that this would be her final resting place. There are bound to be a lot of people that will scoff at this, roll their eyes, shake their head, or possibly just ignore it, but trying to understand the lifestyles of the rich and famous is something that a lot of folks either want to do out of envy or a desire to follow in their footsteps or is something that people avoid since celebrities tend to make little sense. It's been said that certain quirks are pretty common when one has a lot of money and fame, and quite a few celebrities have made that clear over the years.
At the very least Gabor wasn't embalmed and kept in a coffin or frozen or anything like that. Being cremated and having one's ashes travel from place to place is a different thing altogether, but still, not being interred into her desired resting place until five years after her passing is kind of odd. But when one doesn't live the same lifestyle it's bound to appear and sound kind of odd since the truth is that we don't know enough about the manner in which Gabor lived, no matter how public a star's life can be at times. What is known is that during her time, she was one of the most recognized actresses in the world and without a doubt one of the most well-respected.
Far be it from me to throw dirt on someone's grave, but the truth of Gabor's celebrity status is that she did allow her personal life to overshadow her professional life at one time since from one scandal to another and the feuds she became known for over the years, Zsa Zsa was a media sensation. Oftentimes conflict will make for better news than anything else, as this has been proven more than once over the course of human history. We tend to remember the trying times more than the triumphs a lot of times for various reasons. Plenty of people would love to argue with this since they want to believe the best of people and that humanity is not drawn to conflict so often. But the truth is that we're drawn to both, and Gabor managed to give people a good deal of entertainment when she was still young, but she also gave them plenty to gossip about over the years. For a long time, this has been counted as another part of the entertainment that people are willing to read, watch, and otherwise observe. It's kind of eye-opening to realize that as a species we're often drawn more to rumor, gossip, and conflict than the more uplifting and triumphant moments that are meant to inspire.
Gabor was undoubtedly someone who knew what she wanted and was bound and determined to get it, and by the end of her life not much had changed. Many upon many fans looked up to Gabor in a number of ways, even if others happened to find her a less than reliable source on how to get to rich, find happiness, or even remain a relevant figure and celebrity. She did what she could to keep her status current throughout much of her life, but at one point Gabor became more of a legend, and upon finding her way onto various shows of the day, it became apparent that while her name and reputation had faded a bit, her self-esteem certainly hadn't. It is interesting to think of how people keep the facade up, or whether they really think that they're worth the attention of their fans as they continue to age and slip into legendary status. To be certain, plenty of people would state that Gabor earned everything she had, while others might want to disagree just a bit.
In the end, it doesn't really matter since her will has been satisfied as far as her final resting place goes, and she was allowed to go out in style, as was befitting the image she had created over the years. It's fair to say that there might never be another individual like Gabor, though many will likely try to emulate the woman in their own way. With all due respect, the woman was unique in many ways, just as others should strive to be.