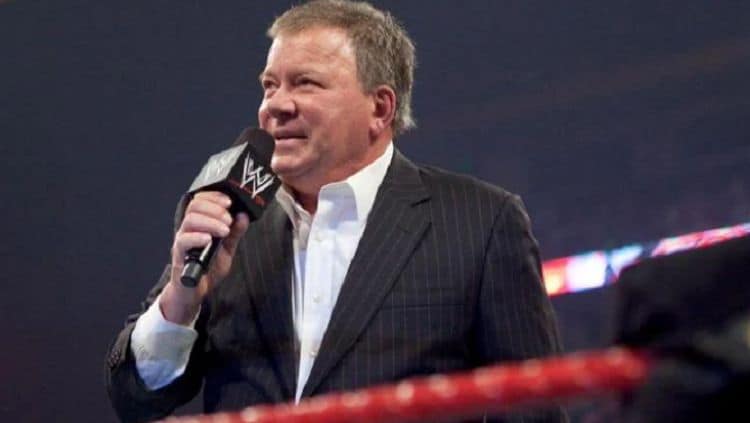 There might be a few people wondering why in the heck we're seeing an announcement for the WWE that includes William Shatner being inducted into the WWE Hall of Fame. But if anyone has been paying attention over the years, this HOF isn't all that exclusive to wrestling since various other names have made their way into the Hall as well, such as Pete Rose, William "The Refrigerator" Perry, Bob Uecker, Drew Carey, and several others over the years. This honor is essentially given to those that were allowed on the show and were impressive in one way or another, though any other criteria that might exist is kind of hard to say other than the idea that it has to do with how much involvement the celebrities have had with the show. Snoop Dogg and Kid Rock have even been inducted, so it's fair to say that as long as a celebrity has made their way to the show and been part of a spectacular show then they might have a shot at making the list. Shatner's actually a member of the 2020 class of inductees, but as most people can guess that didn't get to happen last year thanks to the onset of the pandemic, so this year two classes will be inducted, and while there's no word on who will speak on Shatner's behalf, many are thinking the honor should go to Jerry "The King" Lawler.
This has a lot to do with the fact that Shatner and Lawler have a history in the WWE since back in the 90s Lawler and Shatner had a feud in the ring the culminated with Shatner pulling a wrestling move on Lawler to get his payback. His time in the ring came again in 2010 when he feuded with Mr. McMahon as well, making Shatner one of the more prominent celebrities that's been around the WWE now and then. Over the years though it can be said that quite a number of Hollywood stars have had something to do with the show since it was seen at one time that there was a guest general manager every week, and some celebrities that came to the show caused more than a little bit of a stir, but thankfully all for the act. Stephen Amell, from the show Arrow, actually looked like was about to step in the ring to get a piece of someone during one segment, which is funny since now he and Alexander Ludwig from Vikings are starring in a show about two brothers that are both wrestlers. The WWE has seen no shortage of celebrities grace the ring over the years since at times it's turned into one giant circus as the Hollywood types have come traipsing in and out of the ring, sometimes putting on a great show and at others making a cringe-worthy attempt at creating a storyline that fell utterly flat and had no chance of redemption.
Shatner's contributions have been well-received largely because of who he is and what he's done over the years, and because his time spent feuding with Lawler was amusing, while the time he sided with Bret Hart and even decked Road Dogg and smashed his face into the turnbuckle. Obviously all of this was part of the act, but it was still a lot of fun when it happened since Shatner is still a decent actor and over the years has learned how to be part of what is essentially a comedic routine mixed in with the scripted action scenes. In other words, he's been able to play the part quite well and has added to the enjoyment of the fans, which is a part of why he's being inducted on April 6th along with many other noted and famous names. It's already been established that Glenn Jacobs, aka Kane, has been made aware of his induction, by Mark Calloway, aka the Undertaker no less. It would be nice if Lawler would induct Shatner since it would likely mean a lot to the fans and to both men, who are a part of a legacy that is still ongoing and despite any and all silliness, is still a show that millions upon millions of people enjoy watching.
The WWE HOF is kind of worth an eye roll since again, it's a way to congratulate a lot of worthwhile wrestlers on a job well done over the years and to honor the memory of those that have helped to make this show what it currently is. But the induction of celebrities is kind of silly sometimes, even though it's kind of a nice way to say thank you to those that have helped to keep the fun going and have involved themselves in one way or another in a show that is so much bigger than any one individual.